Archive: February, 2013
MONTRÉAL -- With the Flyers' second back-to-back set of the week on tap Saturday, the question will be raised again.
Who will be in net?
Whoever it is the for the Flyers will not face Carey Price, who is coming off a shutout and will miss the game with the flu. Canadiens backup Peter Budaj is 0-2-0 with a 4.50 goals against-average and a .842 save percentage in his career against the Flyers.
WINNIPEG, Manitoba -- Scott Hartnell could be back in the lineup before the Flyers wrap up this season-long, six-game road swing next week.
Hartnell will visit a doctor on Friday, hoping to receive clearance to begin skating on his surgically repaired foot on Saturday.
The Flyers are in New Jersey on Friday and visit Montreal on Saturday. With permission from the doctor, Hartnell could return as soon as next Wednesday in Pittsburgh, which would be just a shade unver 4 weeks since undergoing surgery.
Poll: Who are you giving up on for Lent?

(4913 votes)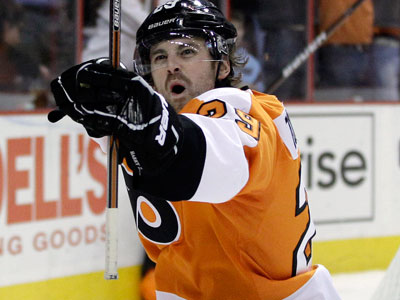 TORONTO -- In search of a spark, the Flyers have recalled forward Harry Zolnierczyk from Adirondack.
The Flyers sent Sean Couturier, who missed Monday's game with the flu, back to Philadelphia to rest and recover.
According to the Glens Falls Post-Star, Zolnierczyk will meet the team in Winnipeg on Tuesday. The Flyers, reeling after a 5-1 thumping in Toronto on Monday, will face the Jets for an 8 o'clock puck drop at MTS Centre.
Poll: Who are you giving up on for Lent?

(4913 votes)
TORONTO -- Nearly two years younger than his brother, Flyers forward Brayden Schenn has relied on his older brother, Luke, to help navigate the ropes of the NHL.
Luke Schenn had nearly 150 NHL games under his belt by the time Brayden finally got his chance with the Flyers last season.
This year, the protege has guided the veteran.
TORONTO -- When the Flyers land in Canada's cosmopolitan nerve center on Sunday afternoon, they will have a familiar face on-board their chartered jet.
The Flyers recalled goaltender Brian Boucher on Sunday from AHL Adirondack. Backup Michael Leighton suffered an upper-body injury recently, which will keep him out for 7-to-10 days, according to Flyers general manager Paul Holmgren.
Holmgren said the injury occurred in practice on Friday and worsened on Saturday. Leighton has not played since Jan. 27.
Flyers forward Wayne Simmonds returned to practice on Wednesday for the first time since sustaining a concussion last Friday in Washington.
Simmonds, 24, was wearing a yellow non-contact jersey but still participated in most drills.
"I think everything went well today," Simmonds said. "I feel good today, especially. I really don't know what's going to happen. We'll have to see, I honestly couldn't tell you whether I can play or not, it's for the medical staff to decide. It's obviously a touchy thing and you don't want to push it."
The first rule of "Fight Club" is that you do not talk about Fight Club.
Zac Rinaldo kept to that rule on Tuesday night, refusing to talk about his motivation for the beatdown he put on Tampa Bay's B.J. Crombeen during first period fisticuffs.
Still, an elated Tom Sestito - who netted his first NHL goals in 776 days - couldn't help but be proud of Rinaldo's effort to protect his teammates.
When the Lightning hit the ice on Tuesday night, they will carry a 7-1-1 mark against the Flyers into Philadelphia since the hiring of their coach, Guy Boucher, in 2010.
It's been well documented that the Flyers and their aggressive system struggles against teams that run a disciplined, trapping defensive system. Last year's shocking playoff loss to New Jersey and 0-6 mark against the Rangers proved that to be the case.
The Flyers have tried to combat that by bringing in right-handed defensemen, such as Luke Schenn, Bruno Gervais and Kurtis Foster, to cut off a disadvantageous overloading of the left corner. Previously, the Flyers' six left-handed defensemen would have to scoop pucks out of the right corner on their defensive zone on their backhand - and were targeted by teams like the Devils and Rangers for that.