Archive: February, 2011
The Flyers' Sean O'Donnell will be out 10-14 days with a knee injury. He suffered the injury in Sunday's victory over the Rangers.
Blair Betts (finger) will also not play tomorrow against Phoenix, but is possible for Thursday's game against the New York Islanders.
Also, Mike Richards (sick), and Ville Leino missed practice today.
---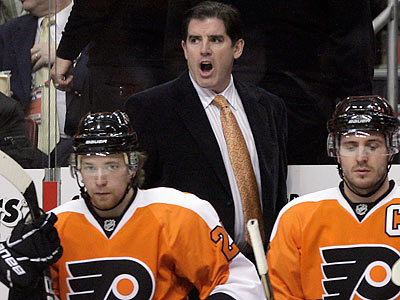 If there is one single thing that can be pointed out as most impressive about this year's Flyers team – aside from their depth, passion, and consistency – it would be their hatred for losing.
The Flyers take after their coach, Peter Laviolette, in that way.
Thanks to Sunday's win over the Rangers at Madison Square Garden, the Flyers avoided losing back-to-back games for the sixth time in a row – a span stretches 23 games of the season.
NEW YORK -- It's amazing the direction the Flyers and Rangers have gone in since last April 11.
Since Brian Boucher stopped Olli Jokinen in a shootout on that magical day in game No. 82, the Flyers went to the Stanley Cup Finals and the Rangers went to the country club.
And it's continued into this season, as the Flyers are in first place in the Eastern Conference and the Rangers are in danger of being out of playoff contention yet again.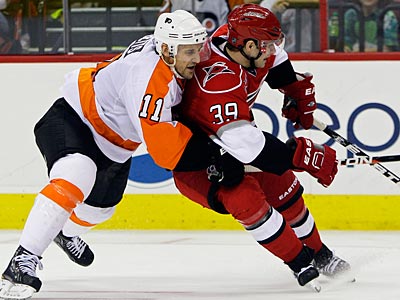 NEW YORK – Even though the Flyers lost on Friday night for just the fifth time since the calendar turned to 2011, they were fortunate that most of the damage was limited to the scoreboard.
They're likely going to be without their best penalty killer, Blair Betts, for Sunday's matinee at Madison Square Garden against the Rangers – but it doesn't sound like he will be out for a while.
The tip of Betts' right ring finger exploded with a pressure cut when he blocked a shot during a key 5-on-3 penalty kill in the second period on Friday night.
RALEIGH, N.C. -- Ville Leino will return to the Flyers' lineup tonight after missing Wednesday night's win in Florida.
Leino has been suffering from a lower-body injury believed to be a groin strain, causing him to rest it for two days.
Leino skated with his teammates at the morning skate at the RBC Center on Friday and looked like he was back to normal. He even took a little extra time to work on his shot after some of his teammates left the ice, which is a good sign.
Video: The Daily News' Frank Seravalli and Sporting News' Craig Custance chat about the Flyers' Cup chances and which goalie should be the one to lead the way.
---

Get exclusive videos and analysis in our new app for iPhone and Android. Download it here.
RALEIGH, N.C. -- One thousand, seven hundred.
It's a big number.
Last night, the Flyers picked up the 1,700th win in franchise history, giving them an overall record of 1700-1167-457-75 since they began playing at an empty Spectrum in October, 1967.
SUNRISE, Fla. -- At first glance, everything seemed to be normal with Ville Leino on Tuesday night in Tampa Bay.
Leino did not pick up any points but skated 15:53 in the Flyers' shootout win over the Lightning.
His movements, though, in timeouts and in between stoppages, painted an entirely different picture. Leino took every opportunity to stretch his legs and skate, even stretching as deep as the Flyers' tunnel in between the bench and their locker room.
SUNRISE, Fla. -- Kris Versteeg was nervous.
He said his heart was beating fast and his mind was racing during his first few shifts as a Philadelphia Flyer last night in Tampa Bay. But as the game wore on, Versteeg settled down and seemed to fit in more with his teammates and Peter Laviolette's system.
"I think I was more over-thinking things and being nervous than anything," Versteeg said. "I just tried to be in the right place at the right time, trying to mesh with my new teammates and line mates.
For our analysis of the trade for Kris Versteeg, click here.
TAMPA, Fla. -- Peter Laviolette is not a big believer in the term "statement game" or even the term "measuring stick," though it has been thrown around his locker room quite a bit.
With a 13-4-0 record since Jan. 1 and first place in the Eastern Conference, it's hard to have a measuring stick game against a team below you in the standings.