Archive: January, 2013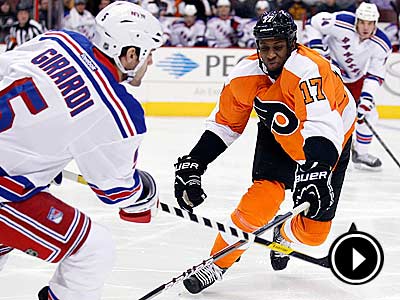 The Daily News' Frank Seravalli reports from the Wells Fargo Center where the Flyers defeated the New York Rangers, 2-1, for their first on the season and snap a six-game losing streak to the Rangers.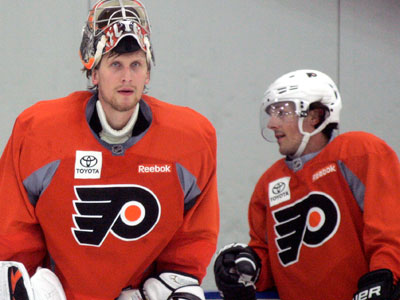 The Flyers have placed goaltender Niko Hovinen, who has spent the season with the Trenton Titans, on unconditional waivers with the intent of mutual termination of his contract.
Hovinen, a 6-foot-7 monster in net, did not impress in Phantoms training camp in September and was assigned to the ECHL. In Trenton, Hovinen sported an unsightly 3.14 goals against-average and .889 save percentage. There were whispers that the organization did not appreciate his lacking work ethic.
The deal works for both sides. Hovinen, it seems, would much rather go back and play in his native Finland, and the Flyers have a glut of goaltenders (3) in Adirondack: Scott Munroe, Cal Heeter and Brian Boucher.
UPDATE (6:30 p.m.): Flyers forward Scott Hartnell will be out indefinitely with a left foot injury, according to general manager Paul Holmgren. Details on the injury are below. The Flyers, 0-3-0 to start the season for the first time since 1994-95, will already be without suspended forward Brayden Schenn and Danny Briere (wrist) on Thursday night against the Rangers.
Holmgren said the Flyers will know more in a day or two after receiving results from tests.
__________
Flyers forward Brayden Schenn has the dubious distinction of being the subject of the NHL's first supplemental disciplinary hearing of this young season.
According to TSN's Bob McKenzie, Schenn will have a hearing with NHL vice president of player safety Brendan Shanahan at 1:30 p.m. on Wednesday to discuss his second period hit on New Jersey's Anton Volchenkov. The hearing will take place over the phone.
Video of Schenn's hit on Volchenkov is below.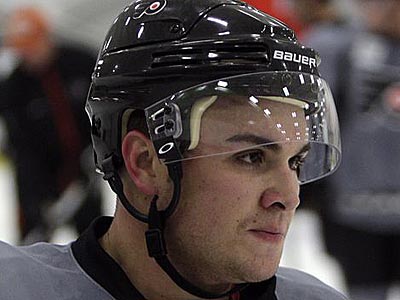 UPDATE (1:45 p.m.): Flyers confirm Rinaldo will be out a minimum of one week with a "thigh laceration," also confirming McGinn call-up.
BUFFALO, N.Y. -- Tye McGinn's stay with the Flyers during training camp did not last as long as he had hoped. With the season rapidly approaching, the Flyers sent McGinn - a 4th round pick in 2010 - back to AHL Adirondack last Wednesday.
Less than a week later, McGinn is back.
BUFFALO, N.Y. -- Five percent of the Flyers' season is gone, and they've yet to register a point in the standings. That's the unfortunate reality of the NHL's shortened, 48-game season.
Almost all of the Flyers' troubles on their opening weekend could be attributed to shoddy special teams play. Buffalo scored separate power play and shorthanded goals over the final 6 minutes to break a 2-2 tie, dropping the Flyers, 5-2, in their home-opener at the First Niagara Center.
The Flyers were back on the ice early Sunday for their second nationally-televised game of the weekend, less than 20 hours after going 0-for-5 on the power play while allowing 2-of-3 power play goals against Pittsburgh on Saturday.
The Flyers' first period on Saturday afternoon was just about the exact one you could expect after not skating together since May 8.
With 7 minutes remaining, the Flyers had more icing calls (4) against them than they had shots on goal. Passes were sloppy, bouncing off skates. Players were repeatedly whistled for being offsides.
Heading into Sunday's back-to-back matinee with Buffalo, the Flyers have plenty of positives to build on for Game 2. They dominated most of the second-half of Saturday's clash with the Penguins, but fell short.
During the NHL's marathon, 119-day work stoppage, NHL Players Association executive director Donald Fehr loved to say that he was "not in the prediction business."
Unfortunately, us media-types do not have the same luxury.
In a shortened season such as this 48-game sprint for Stanley's mug, some predictions will indeed prove foolish. That's never stopped me before.