Archive: March, 2012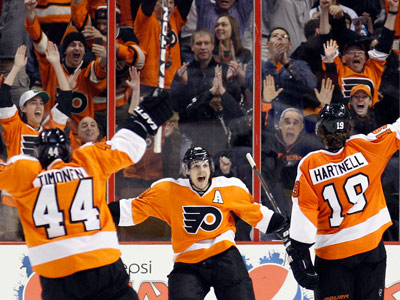 PITTSBURGH -- Across the Commonwealth, Danny Briere was stuffed on his shootout attempt on Saturday afternoon at the Wells Fargo Center in the Flyers' one last attempt to salvage an extra point in preparation for Sunday's battle with the Penguins.
It seemed like an awfully big point, one that would have given the Flyers a chance to overtake Pittsburgh for 4th place in the East.
Or, was it?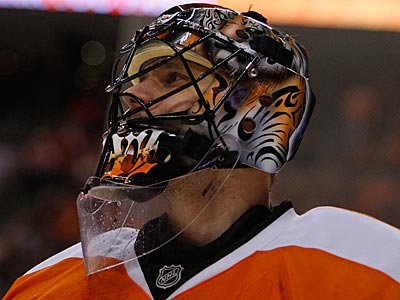 After much speculation, it appears that the Flyers are going to give Ilya Bryzgalov and the chip fracture in his right foot a chance to heal.
According to Flyers general manager Paul Holmgren, Bryzgalov is officially listed as "doubtful" for both games of the team's back-to-back set with Ottawa and Pittsburgh.
Bryzgalov practiced on Friday with the Flyers for the first time since sustaining the fracture in warm-ups against Tampa Bay on Monday. He moved well in net and looked sharp and agile, without much hesitation or favoritism.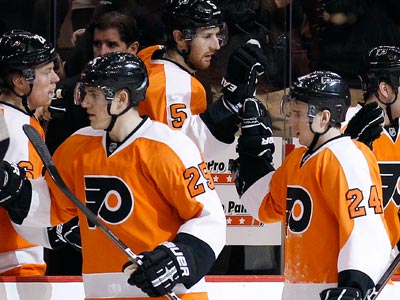 TORONTO -- With their silky-smooth victory over the Maple Leafs, err Laughs, the Flyers pushed their impressive record in the month of March to 11-3-1.
That's a good omen for playoff success.
Overall, it's just the 12th instance the Flyers have ever posted 11 or more wins in any month (out of 308 months over 44 seasons), but it's just the 5th time they've done it in March.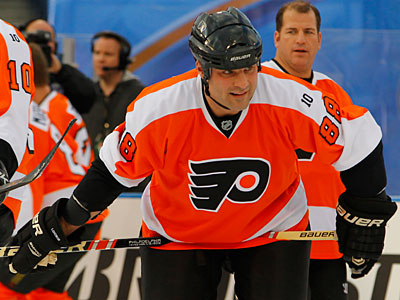 TORONTO -- The hulking body looked familiar, in a way, with his oversized shoulders and a few unpretentious wraps of tape around his stick.
At first glance in the bright Air Canada Centre, it appeared as if the Flyers added a giant to their lineup for the morning skate.
The only thing that stood out for Eric Lindros on Thursday was his black helmet, the one contrast between himself and the rest of the Flyers' white domes. Everything else looked the same as it ever did, in an orange jersey with the Flyers crest.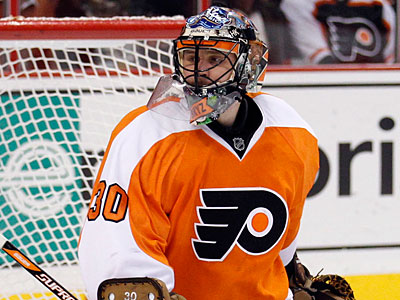 TORONTO — For the Flyers, it is undoubtedly a good sign that Ilya Bryzgalov felt well enough on Wednesday to be riding an stationary bike at their practice facility.
Paul Holmgren remained optimistic on Tuesday that Bryzgalov would be able to begin skating on Thursday back in Philadelphia, while his mates are busy preparing for the Maple Leafs here in Toronto.
For Bryzgalov, getting his right foot - with that chip fracture - back into his goalie skate will be the biggest test.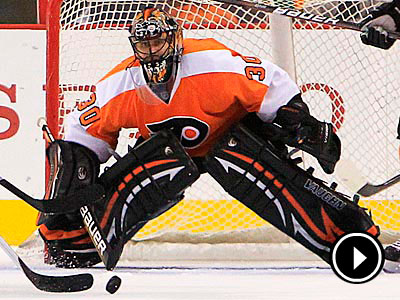 Video: Is Ilya Bryzgalov's injury a concern heading into the NHL Playoffs? Are the Penguins a tough matchup for the Flyers? CineSport's Noah Coslov & the Philadelphia Daily News' Frank Seravalli chat.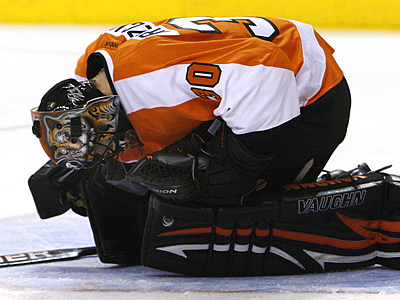 Ilya Bryzgalov was limping for a reason in the Flyers' locker room on Monday night.
And it wasn't because of the Flyers' crushing loss to Tampa Bay.
The Flyers announced on Tuesday afternoon that Bryzgalov has a chip fracture in his right foot. According to general manager Paul Holmgren, Bryzgalov is day-to-day.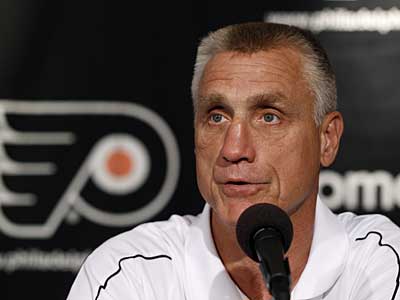 Flyers draft pick Nick Cousins loves to chirp.
Once, in an OHL game last November, Cousins was celebrating a third period goal which got a London Knights player so angry that he two-handed Cousins across the gut.
That slash started a game-ending melee on the ice.