Archive: January, 2010
Flyers general manager Paul Holmgren has said for weeks that he has been looking for a depth defenseman to round out his team.
On Friday, he found one – at least for the time being.
A team source has confirmed to the Daily News that the Flyers have signed Lukas Krajicek, who played with Tampa Bay this season, to a contract.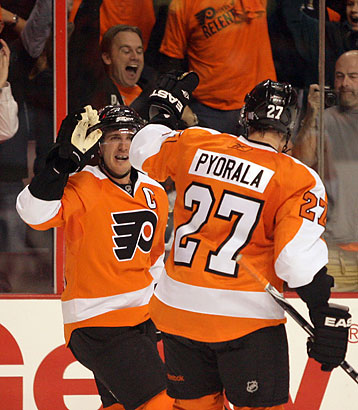 Flyers forward Mika Pyorala will not be joining the Flyers this afternoon when they leave Philadelphia for a three-game trip that begins in Western Canada.
Pyorala, who was a healthy scratch in today's game against the Islanders for the 17th time in 19 games, will be re-assigned to Adirondack (AHL) to sharpen his skills and get more playing time.
Pyorala's last game was Jan. 14 in Toronto, when he filled in for late scratch Scott Hartnell just prior to warmups. The Oulu, Finland, native played 36 consecutive games to start the season before his first scratch on Dec. 21. The defensively responsible, third line forward has two goals and two assists for four points.
With a little more than a month to go until the trade deadline, now is the time to start hashing out deals for your favorite players.
Just don't include Ilya Kovalchuk in a Flyers uniform.
Despite numerous reports to the contrary, including a Twitter post from USA Today yesterday, multiple team and league sources have told the Daily News that the Flyers are not interested in acquiring Kovalchuk from Atlanta.
Former Flyers coach John Stevens made his debut as a television analyst on Versus' Hockey Central on Monday night.
It was his first public appearance since being relieved of his duties on Dec. 4, 2009.
Stevens joined Keith Jones, Brian Engblom and Bill Patrick at the Versus studio in Stamford, Conn. He will also be on the program Tuesday night when Phoenix visits Detroit.
Frank Seravalli provides live updates from the Flyers-Penguins game Sunday afternoon:
In a move that was completely unsurprising, the Flyers announced on Saturday that defenseman Ryan Parent will undergo back surgery on Monday.
The Daily News first reported on Jan. 4 that Parent has a herniated disc in his lower back that could possibly need surgery.
Flyers general manager Paul Holmgren refuted the claim the following day.
On the heels of a well-played, 2-0 win over the New York Rangers on Thursday night – which brought the Flyers just two points out of 6th place in the Eastern Conference – let's take a look at the playoff picture.
According to PlayoffStatus.com, the Flyers have a 69% chance of making the playoffs this season: (Whether or not they should be in this position is another discussion for another time).
Note: All unplayed games (for the rest of the season) are assumed won/lost with a probability based upon relative team strengths.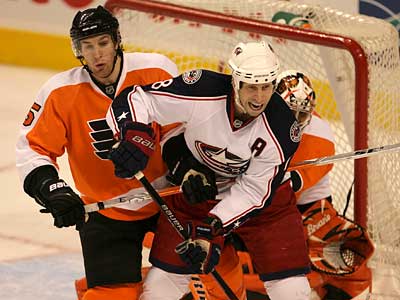 R.J. Umberger never wanted to leave Philadelphia.
The Flyers tattoo, that you can read about in Wednesday's Daily News, could probably tell you that much alone.
So could his play last night. Umberger nearly stole the spotlight from Jeff Carter and the Flyers as he scored two goals and came inches away from the hat trick.
WASHINGTON – Michael Leighton knows.
So does Ray Emery and Brian Boucher. So do the rest of the Flyers, for that matter.
Peter Laviolette made the decision on who is goaltender will be on Sunday, when the Flyers take on the Capitals here in Washington. He just hasn't told anyone outside the organization yet.