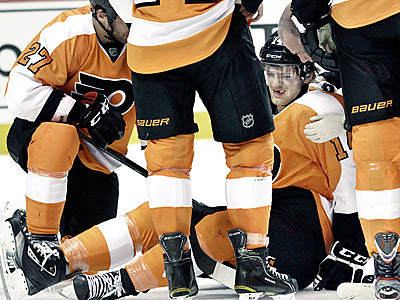 DENVER -- For the past 3 games, rookie Sean Couturier has been counted on to fill in for concussed star Claude Giroux.
Now, the Flyers are looking for a replacement for the replacement.
Couturier, 19, did not travel with the Flyers to the Mile High city on Saturday after taking a Kimmo Timonen shot to the back of the helmet on Saturday afternoon. He remained overnight at Pennsylvania Hospital on Saturday for observation. He is expected to be released at some point on Sunday, though the Flyers do not know when.

According to general manager Paul Holmgren, the doctors were checking for possible skull fractures and/or internal bleeding.
Since Couturier will likely not be returning to the ice any time soon, the Flyers have re-called center Ben Holmstrom from Adirondack to help fill the void down the middle. Holmstrom, 24, is a Colorado Springs native and has played 3 games for the Flyers over the past 2 seasons.