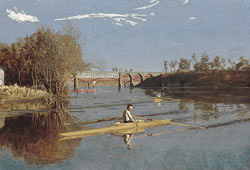 This weekend the Dad Vail Regatta – a civic institution saved from an unthinkable relocation to New Jersey – is back in Philadelphia.
The space the vast collegiate rowing event inhabits each spring, that wonderfully lush stretch along the Schuylkill's banks, might be one of the best preserved spots in the city. If you can blot out the parallel Schuylkill Expressway – a worthwhile fantasy in any era – what remains is remarkably unchanged from the scene Thomas Eakins so famously depicted 140 years ago.
Eakins, Philadelphia's greatest artist, was drawn to rowing along the Schuylkill, both as a worthwhile physical pastime and as an artistic setting. His first important work, in fact, was 1870's "The Champion Single Sculls".
Just back from four years of study in Paris and other European cities, and impressed by the victory of a Central High classmate, Max Schmitt, in a prestigious race, Eakins decided to immortalize it all. The result, a nearly 2 ½ feet-by-4 feet oil painting, is now owned by New York's Metropolitan Museum of Art.
The scene is the Schuylkill, just east of Girard Avenue. The Girard Avenue and Railroad Connector bridges – both of which still stand – are visible downriver. On a shady hillside above the east bank sits Egglesfield, a Colonial-era mansion. Farther downriver a steamboat can be seen heading our way. Another scull, a red one, curiously contains a coxswain in traditional Quaker garb. A locomotive is about to cross the nearest bridge. Just to Schmitt's left, beyond the scope of the painting, work was getting under way on the East River Drive. That road gave Philadelphia boaters and bicyclists better acccess to Fairmount Park, which the city had formally established three years earlier, in 1867.
In his sleeveless jersey, Schmitt looks surprisingly contemporary, though, in this era of fiberglass and composite crafts, his shell does not. It likely consisted of varnished paper set atop a wooden frame and would have been 15 to 20 times lighter than the boats Eakins might have rowed a decade earlier.The era's oars, most of which Eakins painted out of the water, were getting longer, thanks to stronger oarlocks. Schmitt's seat might have been a slider, which was introduced in the early 1870s. The lone rower in a scull behind Schmitt's is Eakins himself, the young artist perhaps inserting himself into this groundbreaking work to herald his arrival on the art scene.
Early Americans tended to work out their sporting passions by racing their possessions – boats, carriages, horses. Organized boat races dated back to the 1760s and the first recorded collegiate sporting event was an 1852 rowing match between Harvard and Yale. The Schuylkill, flowing gently through large country estates and park land west of the crowded downtown, was an ideal locale for such racing. Philadelphians went there to swim and boat in summer and to skate in winter. Six-oared barges raced there as early as 1762, and by the 1830s, boat clubs had been formed along its banks. In 1858, in order to promote and regulate the rapidly growing sport, nine Philadelphia clubs formed the Schuylkill Navy, the first athletic-governing body in the United States.
By 1870 rowing was a wildly popular pastime in Philadelphia. A year later, the era of pro team sports was officially launched in America with the first professional baseball league, the National Association. Philadelphia's Athletics, by the way, won the league flag that inaugural season (and if anyone knows where that flag is, please contact me.). Thousands typically gathered along the riverside on spring and summer weekends to watch –and to wager on – the races. Since the prize money could be as high as $4,000 a race, burly fisherman from Kensington and Fishtown were frequently employed as ringers.
The year before Eakins painted Schmitt, an Oxford crew had defeated Harvard on the Thames. Some contemporary newspaper accounts insisted a half million fans watched. News of that race ignited a rowing frenzy in the U.S. New clubs were formed wherever there was navigable water.
Eakins, who had begun rowing himself while at Central, had witnessed Schmitt's victory Oct.5, 1870, and might have begun his painting as early as the following day. A lawyer, Schmitt had traveled the three-mile course that went from Turtle Rock to the Columbia Bridge and back again in about 20 minutes.
For Eakins, the gentlemanly 26-year-old son of a respectable Philadelphia family, rowing was a daring subject. The upper classes – and thus the patrons of the arts – looked down their blue noses at most competitive physical activities, particularly those that involved cash prizes, gambling and middle-or lower-class fans. Rowers had been depicted in lithographs and even Currier & Ives prints but not in serious art. "People couldn't understand," said Kathleen Foster, an Eakins authority at the Philadelphia Museum of Art. "They thought he was crazy."
In "The Champion …" Eakins depicted a sport as pristine as the surrounding landscape, but one on the cusp of change. That juxtaposition would inspire the poet Phillip Dacey more than a century later. Here's how Dacey described the rower in Eakins' painting in his 2000 work, "The Mystery of Max Schmitt":
"In a few years, money will corrupt even sculling, the bets and scandals sink
industrial America's first public sport - the rower as hero, the newspapers awash with
statistics, the dimensions of boats - But now I am fresh from victory, letting myself enjoy
the drift after exertion, a starboard turn past where I have turned to look over my
shoulder and find you standing on the bank."