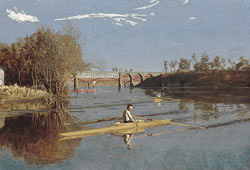 This weekend the Dad Vail Regatta – a civic institution saved from an unthinkable relocation to New Jersey – is back in Philadelphia.
The space the vast collegiate rowing event inhabits each spring, that wonderfully lush stretch along the Schuylkill's banks, might be one of the best preserved spots in the city. If you can blot out the parallel Schuylkill Expressway – a worthwhile fantasy in any era – what remains is remarkably unchanged from the scene Thomas Eakins so famously depicted 140 years ago.
Eakins, Philadelphia's greatest artist, was drawn to rowing along the Schuylkill, both as a worthwhile physical pastime and as an artistic setting. His first important work, in fact, was 1870's "The Champion Single Sculls".
Just back from four years of study in Paris and other European cities, and impressed by the victory of a Central High classmate, Max Schmitt, in a prestigious race, Eakins decided to immortalize it all. The result, a nearly 2 ½ feet-by-4 feet oil painting, is now owned by New York's Metropolitan Museum of Art.