Archive: September, 2011
Frank Fitzpatrick, Inquirer Sports Columnist
The 1952 baseball season enjoyed a renaissance of sorts during Wednesday's wild wild-card finish to 2011.
The Red Sox, who went 7-20, in the final month, hadn't lost that many September games since 1952. And the Phillies ended up leading the National League in ERA for the first time since that same season 59 years ago.
Frank Fitzpatrick, Inquirer Sports Columnist
If Michael Vick's vision isn't too fuzzy, and the fog engulfing his consciousness not too dense, the concussed Eagles quarterback might want to thank Joseph Mason Reeves.
Reeves too was a football player, a genus of athlete noteworthy for its tendency to be both headstrong and head-weak. His teammates called him "Bull", though frequently he was too dazed to hear them.
An undersized tackle on Navy's 1893 team, Reeves' unpleasant duty was to plow headfirst into the flying wedges opposing offenses ran with a deadly – literally, on occasion -- efficiency.
In retrospect, "headfirst" was probably an unwise strategy, considering that football heads like Reeves' were not yet helmeted. In what was the sport's infancy, players actually believed they could protect their heads simply by growing their hair long.
Few got haircuts in-season. Many got concussions.
Reeves, who like Ronald Reagan was born in Tampico, IL, must have had thin hair. He was knocked out so frequently that late in that 1893 season a Naval Academy physician warned him the next could result in death or "instant insanity."
While deaths weren't uncommon in a football era so brutally violent the sport would nearly kill itself, insanity was something else. The prospect of a nutty Naval officer at the helm of an American battleship, the first of which was then under construction at U.S. navy yards, was not something the academy superintendent could condone.
Frank Fitzpatrick, Inquirer Sports Columnist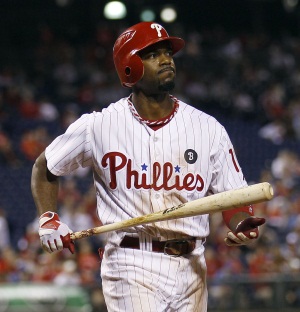 I don't care how many division titles the Phillies have won in succession, you can't take the Philadelphia out of Philadelphians.
Despite the greatest regular season in Phillies history, a couple of meaningless losses in meaningless games has much of this city's fan base in a red-(and-white)hot panic mode.
Hey, that's how we roll.
Frank Fitzpatrick, Inquirer Sports Columnist
1. Gene Mauch – Crazed in the dugout, cursed by fate, propelled by hidden fires.
2. Wilt Chamberlain – Dominated opponents but never himself. As odd and enigmatic as he was talented.
3. Allen Iverson – Honed a studied street toughness and yet dissolved tears on his return here.
Frank Fitzpatrick, Inquirer Sports Columnist
The shape of the future would have surprised them all as, inside the East Mount Airy house that served as Owl Stadium's home locker room, Temple's football team changed out of its wet and muddy football uniforms that long-ago Saturday.
It was Oct. 18, 1941, and the Owls had just beaten Penn State, 14-0.
Jim Woodside, Frank Moister, Ed Stec and their teammates couldn't have known - and wouldn't have believed anyway - that 70 years later, as the same two schools prepare to meet tomorrow in State College, Temple would still be looking for its next win over Penn State.
There was a 7-7 tie in 1950 and agonizingly close losses in 1975, 1976 and 1985. But through nearly three dozen games, over 6 1/2 decades, the Owls would not top the team an Inquirer writer called the "Up-Staters" that day in 1941.
"That is a little hard to believe, isn't it?" said Woodside in 2006. "We were both playing big-time football back then."
More tragically, the Owls' players also had no way of knowing that in less than two months, Japan, where that very day Gen. Tojo became prime minister, would attack Pearl Harbor and scuttle their lives.
Frank Fitzpatrick, Inquirer Sports Columnist
In baseball time, 10 years is an eye-blink.
The old ballgame, overloaded with tradition, moves determinedly yet ploddingly, like Carlos Ruiz going first-to-third.
That's why the post-millennial transformation of the Phillies from a meek to mighty franchise is so astonishing.
Just 10 years ago this week, Larry Bowa's club played its final series before 9/11 grounded the game for a week, a dismal four-game set in Montreal that drew a total – TOTAL – of 18,987 fans.
The franchise, spiraling downward since Joe Carter ended the magic of '93, was burdened by numerous vexing problems -- a tiny payroll, a badly outdated stadium, an angry fan base, persistent public-relations headaches, and a star who wanted to play somewhere else.
No one, not even Tony LaRussa, could have foreseen the changes that the subsequent 10 years have wrought. On Opening Day 2011, the Phillies, long derided as big-market penny-pinchers, had baseball's second highest payroll. With fewer than 30 games remaining in the season, they also own baseball's best record and highest attendance. Their gem of a ballpark is packed every night. Their TV ratings are through the roof. An entire city, it sometimes seems, proudly wears their colors. And the franchise, according to Forbes magazine, is the game's sixth most valuable, worth an estimated $609 million.