Archive: May, 2011
Frank Fitzpatrick, Inquirer Sports Columnist
Memorial Day always makes me think of Harry O'Neill.
A major-league ballplayer, a World War II hero . . . O'Neill's story, I've often thought, might make a nice newspaper takeout, perhaps even a book or screenplay.
His short life was as sweet as any imaginable. And as bitter.
Frank Fitzpatrick, Inquirer Sports Columnist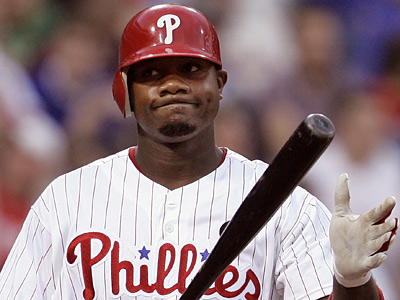 Disappointment always needs an outlet. Welcome to Philadelphia, the outlet capital of America.
It was in 1967, I think, well after Dick Allen's infamous batting-cage confrontation with Frank Thomas. Connie Mack Stadium was unusually full. The Dodgers were in town. The Phillies were out of the race. And the fans were cynical and angry.
By then, Allen had come to embody everything Phillies fans disliked about their hapless team and a rapidly changing world. When he struck out that day, the booing grew so intense and loud that it shook the Coke I held in my hand. I remember that detail because the soda spilled and coated by new Chuck Taylors hi-tops with a syrupy glaze. I wouldn't wear them again without being reminded of how much my hometown hated my favorite player.
Frank Fitzpatrick, Inquirer Sports Columnist
(This week, when the Preakness Stakes is run in Baltimre and the Radnor Hunt Races in Willistown Township, seems like a good time to reflect on the Philadelphia area's remarkable racing roots. Here are a couple of stories I did on that subject, the first in 2004, the second in 1999.)
By Frank Fitzpatrick
Inquirer Staff Writer
Poll: Who is closest to the end of the line?

(3052 votes)
Frank Fitzpatrick, Inquirer Sports Columnist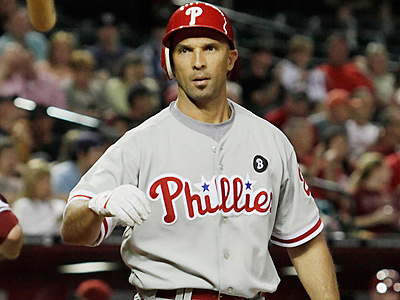 OK, granted these 2011 Phillies go through stretches where it appears their offensive strategy must have been devised by Thomas Wolfe -- "You Can't Go Home Again". Though we all suspected that without Jayson Werth and with Chase Utley and Domonic Brown banged up, runs were sometimes going to be scarce, this lineup shouldn't be as bad as it frequently looks. And, historically, it really isn't.
Sure, it's tough watching gritty pitching performances by Roy Halladay, Cliff Lee and Cole Hamels wasted because of a lack of run support. But these Phillies have averaged 732 runs a season since 2006 and even in an offensively trying 2011 are scoring 4.3 a game. That ought to be enough support for quality pitchers like Halladay, Lee and Hamels. Remember, Steve Carlton somehow managed to win 27 games with a '72 Phils team that scored just 503 runs that season, an average of only 3.1.
But, when it comes to pathetic offenses, even those '72 Phils can't compare to the 1942 Phillies, a club so anemic they wouldn't have drawn a second-look from Vlad the Impaler.
Poll: What is most surprising?

(901 votes)
Frank Fitzpatrick, Inquirer Sports Columnist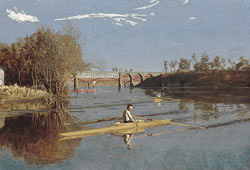 This weekend the Dad Vail Regatta – a civic institution saved from an unthinkable relocation to New Jersey – is back in Philadelphia.
The space the vast collegiate rowing event inhabits each spring, that wonderfully lush stretch along the Schuylkill's banks, might be one of the best preserved spots in the city. If you can blot out the parallel Schuylkill Expressway – a worthwhile fantasy in any era – what remains is remarkably unchanged from the scene Thomas Eakins so famously depicted 140 years ago.
Eakins, Philadelphia's greatest artist, was drawn to rowing along the Schuylkill, both as a worthwhile physical pastime and as an artistic setting. His first important work, in fact, was 1870's "The Champion Single Sculls".
Frank Fitzpatrick, Inquirer Sports Columnist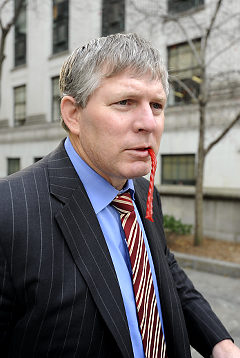 If you assume, as most people do, that Lenny Dykstra used steroids, then the fact that all those muscles and pounds seemed to vanish as quickly as they appeared, was hardly a mystery. Sadly, a decade-and-a-half later, watching the former Phillie shed what little remains of his self-respect and reputation is no less unsurprising, no less disturbing.
By now you're familiar with Dykstra's descent to Lindsay Lohan-like levels of self-destruction. When the bells tolled at midnight, the luxurious lifestyle he'd assembled after his playing career – the $18.5 million mansion, the $400,000 Maybach roadster, the Gulfstream jet – all turned back into pumpkins. At 48, he's lost his marriage, his fortune, his dignity.
He's been indicted for allegedly stealing and selling items from his bankrupt estate. He's apparently abused and cheated those who worked for him and with him. He's been forced to hock the memorabilia he amassed in a sensational career. A limousine driver who ferried him around Manhattan for little compensation and considerable headaches tells a story of how Dykstra, unshaven, unwashed, in the same clothes he'd been wearing for three days, had to sleep in an all-night Kinko's and borrow $15 for a sandwich and two cans of Red Bull that he immediately mixed with vodka and gulped down.
Poll: Which coach/manager is the sharpest?

(3533 votes)