Frank Fitzpatrick, Inquirer Sports Columnist
If Michael Vick's vision isn't too fuzzy, and the fog engulfing his consciousness not too dense, the concussed Eagles quarterback might want to thank Joseph Mason Reeves.
Reeves too was a football player, a genus of athlete noteworthy for its tendency to be both headstrong and head-weak. His teammates called him "Bull", though frequently he was too dazed to hear them.
An undersized tackle on Navy's 1893 team, Reeves' unpleasant duty was to plow headfirst into the flying wedges opposing offenses ran with a deadly – literally, on occasion -- efficiency.
Frank Fitzpatrick, Inquirer Sports Columnist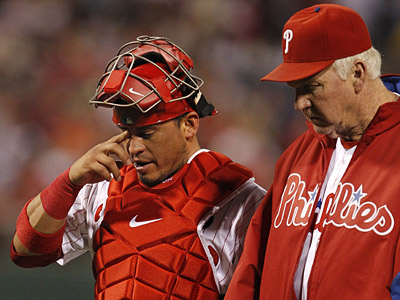 I don't care how many division titles the Phillies have won in succession, you can't take the Philadelphia out of Philadelphians.
Despite the greatest regular season in Phillies history, a couple of meaningless losses in meaningless games has much of this city's fan base in a red-(and-white)hot panic mode.
Hey, that's how we roll.
Frank Fitzpatrick, Inquirer Sports Columnist
1. Gene Mauch – Crazed in the dugout, cursed by fate, propelled by hidden fires.
2. Wilt Chamberlain – Dominated opponents but never himself. As odd and enigmatic as he was talented.
3. Allen Iverson – Honed a studied street toughness and yet dissolved tears on his return here.
Frank Fitzpatrick, Inquirer Sports Columnist
The shape of the future would have surprised them all as, inside the East Mount Airy house that served as Owl Stadium's home locker room, Temple's football team changed out of its wet and muddy football uniforms that long-ago Saturday.
It was Oct. 18, 1941, and the Owls had just beaten Penn State, 14-0.
Jim Woodside, Frank Moister, Ed Stec and their teammates couldn't have known - and wouldn't have believed anyway - that 70 years later, as the same two schools prepare to meet tomorrow in State College, Temple would still be looking for its next win over Penn State.
Frank Fitzpatrick, Inquirer Sports Columnist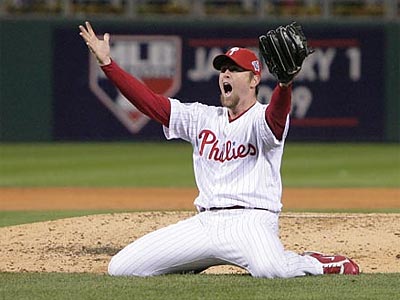 In baseball time, 10 years is an eye-blink.
The old ballgame, overloaded with tradition, moves determinedly yet ploddingly, like Carlos Ruiz going first-to-third.
That's why the post-millennial transformation of the Phillies from a meek to mighty franchise is so astonishing.
Frank Fitzpatrick, Inquirer Sports Columnist
Catholic League basketball.
Even now the phrase evokes a dewy-eyed smile, though that Philadelphia institution's import and distinctiveness have dimmed, much like the role of the Catholic church itself in our aging Boomer lives.
It was a small and short-lived universe, a world of Converse and center jumps that survived perhaps 40 post-war years before the black hole formed by a variety of cosmic forces – from the AAU to ESPN – swallowed it up. But for a few wonderful decades, at some quirky gyms and tradition-rich schools, many of which no longer exist, it was a sacred ritual.
Frank Fitzpatrick, Inquirer Sports Columnist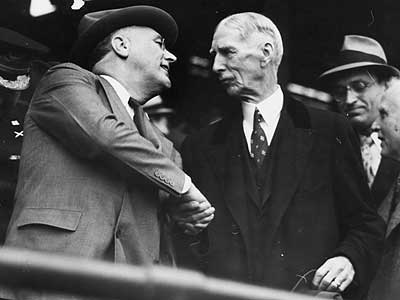 For 50 years and more than 7,500 regular-season games, Connie Mack managed the Philadelphia Athletics to widely varying levels of success on the baseball field.
Few recall, however, that for one chilly autumn in 1902 - 18 years before the league that eventually became the National Football League was formed - the austere Mr. Mack managed a professional football team, also called the Philadelphia Athletics.
And in the course of a season that lasted less than two months, Mack's team managed to make a lasting name for itself, featuring as it did a Hall of Fame pitcher on the line and playing in both the first night game and first indoor game in professional football history.
Frank Fitzpatrick, Inquirer Sports Columnist
In recognition of the 75th anniversary of Wilt Chamberlain's birth on Aug. 21, here's a look at what was perhaps the Dipper's most memorable high school game:
By Frank Fitzpatrick INQUIRER STAFF WRITER
Jimmy Usilton Jr. recognized talent when he saw it. And West Catholic High School's 37-year-old basketball coach had never seen anything like Wilt Chamberlain.