Frank Fitzpatrick, Inquirer Sports Columnist
Khruschev was partially right. The Soviets didn't bury us. But the world's athletes are doing a pretty good job of it.
The 113th U.S. Open concluded Sunday at Merion with an Englishman, Justin Rose, its champion. That means seven of our last ten national championships have been won by non-Americans. At this moment, none of golf's four majors are in the hands of Americans.
We've got two aging and erratic superstars, Tiger Woods and Phil Mickelson, who between them have one major victory in the last five years. The comes a slew of young Americans who don't seem to possess the same kind of mental toughness as their European counterparts.
Frank Fitzpatrick, Inquirer Sports Columnist
I know. Tom Gola wore shiny short-shorts and played in an era when set-shots and center jumps were still integral parts pf the game.
But that's no reason to forget about the LaSalle legend.
Frank Fitzpatrick, Inquirer Sports Columnist
Call it the Curse of Shields Tavern. Ever since the Drexel Hill bar that served as a gathering place for area coaches and referees, closed, many of its onetime habitues have found their names in the headlines for the wrong reasons.
And with the recent resignations of Rutgers assistant Jimmy Martelli and Pac-12 officiating supervisor Ed T. Rush, the trend seems to be picking up speed.
NBA official Joe Crawford, who grew up in Havertown, was caught up in a 1999 tax-evasion scandal. Then, eight years later, his fellow NBA ref, Tim Donaghy, a Drexel Hill native, was ensnared in a major scandal, accused of wagering on games he officiated. He eventually went to prison.
Frank Fitzpatrick, Inquirer Sports Columnist
The Sixers ought to forget about big men.
Outside of Moses Malone and WIlt Chamberlain -- and even they were gone shortly after leading the team to NBA titles -- the team's history of men in the middle has typically been one Manute Bol-sized disaster
Frank Fitzpatrick, Inquirer Sports Columnist
2010
When retired Navy aviator Thomas J. Hudner Jr. walks toward midfield at Lincoln Financial Field Saturday afternoon for the coin toss to start the 111th Army-Navy game, the 2010 Navy cocaptains accompanying him will both be African Americans.
Wyatt Middleton and Ricky Dobbs will make a fitting honor guard for Hudner, an 86-year-old Medal of Honor recipient whose remarkable life has intersected on at least two historic occasions with black pioneers of the U.S. Navy.
Frank Fitzpatrick, Inquirer Sports Columnist
Frank Fitzpatrick
Marvin Miller died yesterday at 95. Baseball owners ought to hang their heads in shame.
Frank Fitzpatrick, Inquirer Sports Columnist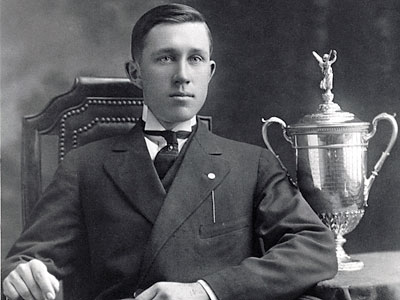 |(Tonight the Philadelphia Sports Hall of Fame inducts its ninth class. Here's a 2000 look at one of the most interesting new members.)
By Frank Fitzpatrick
On peasant Sunday afternoons in the decades after World War II, two old women would drive their big car up to the pro shop at Philadelphia Country Club, or St. David's, or Merion. From the rear seat would emerge a tiny elderly man, dressed in a dated wool suit even on the hottest summer days, and wearing a look that was a bittersweet combination of confusion and recollection.
Frank Fitzpatrick, Inquirer Sports Columnist
By Frank Fitzpatrick
Inquirer Staff Writer
So Philadelphia plans to erect a statue in honor of Joe Frazier.