Archive: August, 2013
Danya Henninger
On Labor Day weekend, the Parkway will host the Jay Z-produced Budweiser Made in America Festival. Starting at noon Saturday and Sunday (Aug. 31 and Sept. 1), fans will be treated to concerts from a diverse lineup of pop, rock and rap artists. The area will be open only to ticketholders, but there are plenty of places nearby to grab a drink - and great specials, too. See more Made in America coverage here.
Iron Hill Brewery & Restaurant is welcoming Eagles head coach Chip Kelly by rolling out a "Chip Kelly burger" at its 10 locations on Sunday, Sept. 8 and Monday, Sept. 9, his actual regular-season premiere.
The $13.50 burger features Oregon bleu cheese (playing off his previous gig as head coach of the Oregon Ducks), as well as red onion confit, crushed potato chips (Chip!) and mushroom spread.
Kelly and the Eagles have not weighed in. For all we know, he may be vegan.
Jennifer Nguyen
Hone your culinary skills at Craveable Fruits & Vegetables: Delicious Dishes to Eat Right Now at the Free Library of Philadelphia on Saturday, August 24.
Chefs from Les Dames d'Escoffier's Philadelphia chapter will present a cooking demonstration that focuses on the importance of cooking with the season's finest produce. Attendees will also get samples and recipes from the culinary ladies to bolster their culinary how-to.
This event will be an appetizing glimpse into the Free Library's new culinary literacy program that will blend together concepts of mathematics, science and cultural arts to spice up the joy of cooking.
This year's tomato crop is yielding specials all over the place.
Chef David Ansill at Bar Ferdinand in Northern Liberties is planning a five-course tomato and wine dinner on Thursday, Aug. 29 ($55 a head; starts at 7 p.m.).
Wines from various regions of Spain were chosen to complement the courses.
Terrain in Glen Mills will throw an Heirloom Tomato Festival from 11 a.m. to 4 p.m. Saturday, Aug. 17.
Included will be a USA-made marketplace, edible vegetable centerpieces, entertainment by singer/songwriter Chris Bruni, heirloom tomato history with Tim Mountz from Happy Cat Farm, a salsa contest, and tomato tastings.
Following from 6 to 9 p.m. will be an heirloom tomato chef's tasting dinner ($55 a head) that includes five tomato-inspired courses: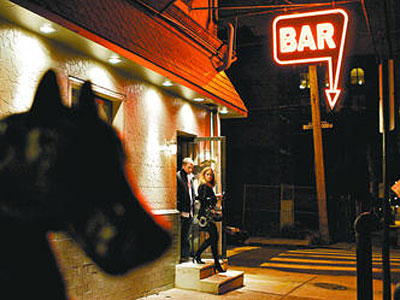 Prohibition Taproom and Bufad Pizza - neighbors and siblings on 13th Street in the Loft District - are partnering at Prohibition Sunday, Aug. 18 for Aperitivo Night.
The food cooked up by Lauren Weitman of Bufad and Jen Sherman of Prohibition Taproom will include Roman pizzas, a roasted pig, local veggies, and lighter appetizers.
The Italian-gastro drink list will include Italian beers from Moretti, Baladin and the Dogfish Head/ Birra del Borgo/ Baladin collaboration beer: Birra Etrusca. The cocktail list will also include summery Italian collaboration cocktails (think gin, limoncello, proseco, and sweet fruits).