Archive: February, 2013
Jessica Lopez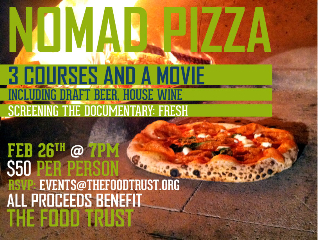 On Tuesday, February 26, Nomad Pizza Company (611 S. 7th St.) will host a screening of the documentary FRESH as well as a 3-course meal with draft beer and house wine at 7 p.m.
Tickets are $50 and all proceeds will go to the Food Trust.
FRESH, by Ana Sofia Joanes, gives the perspective of the farmers, thinkers and business people across America who are re-inventing the food system. In a response to the challenges of food contamination, environmental pollution, depletion of natural resources and morbid obesity, each attempt to forge healthier, sustainable alternatives and offer their vision for a future.
Jessica Lopez
Chef Adam DeLosso of Garces Catering as well as 18 of Philadelphia's top chefs deemed "Rising Stars," hosted a walk-around tasting and awards ceremony at the Kimmel Center for the StarChefs 2013 Philadelphia Rising Stars Gala last night.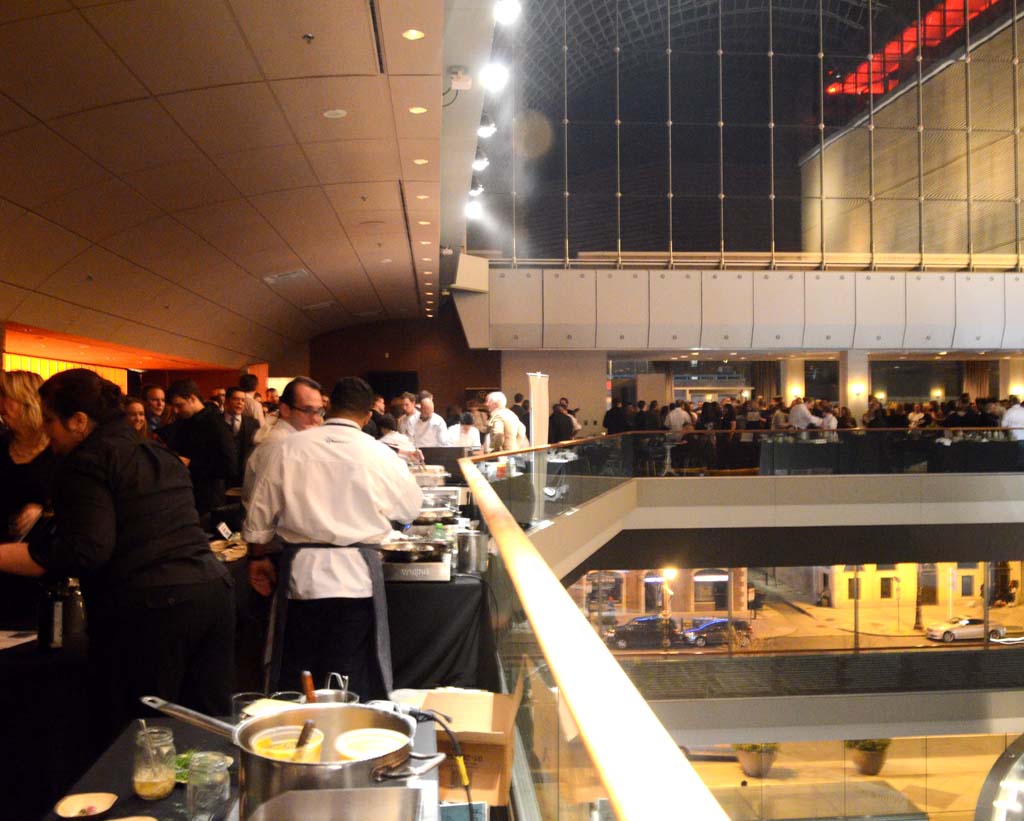 Guests sampled dishes as well as enjoyed live music, beverage pairings and signature cocktails.
The Jewish festival of Purim starts Saturday, Feb. 23, and perhaps the best-known Purim treats are hamantashen - those cookie-like, triangle-shaped pastries that are also spelled hamentaschen and hamentashen.
Stephanie Singer of the Bubbi Project, writing in the Jewish Exponent, runs 'em down for us. Sure, everyone hankers for the main flavors - cherry, poppy, prune and apricot - but would you believe caramelized onion?
Stephanie tracked down blogger Amy Kritzer of "What Jew Wanna Eat," who prefers to think of hamantashen as a "blank canvas for flavors."
Jessica Lopez
Walk by Profi's Creperie at the Reading Terminal Market around lunchtime and the aroma might stop you in your tracks. The open counter allows passers-by to watch the crepe-makers effortlessly drip batter onto the grills and assemble this treat with sweet or savory ingredients.
Blerin Ponoci, who has been a manager at Profi's Creperie for four years, broke down each step of the (bestselling) banana, strawberry Nutella crepe for you to try at home.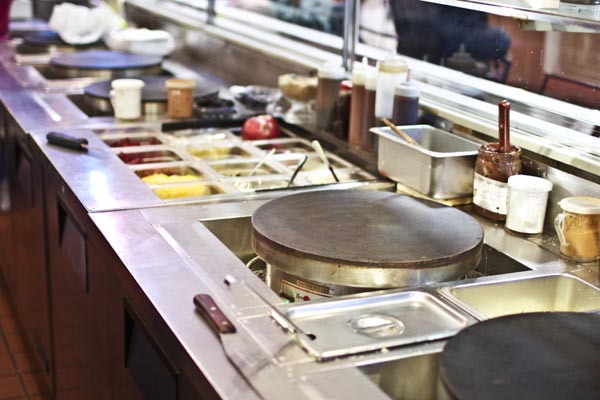 Ever searching for new experiences for their patrons, chefs Marc Vetri and Peter McAndrews are considering adding horse meat to their menus.
McAndrews, who serves a mock horse meat dish at his BYOB Monsu, told FooBooz that he wants to go all-in this spring - never mind any criticism. A chef in New York put it on the menu last year and then quickly pulled it after protests.
Vetri says he enjoyed a horse filet mignon in Montreal and said he would love to serve it. He doesn't see the distinction between animals we eat or don't eat.
Poll: Horse meat: Yea or neigh?

(323 votes)
Caesars Entertainment properties in Atlantic City - Caesars, Harrah's Resort, Showboat, and Bally's, and even the beach - will host the four-day Atlantic City Food and Wine Festival, beginning July 25 with events taking place throughout the weekend.
Rocco DiSpirito, Robert Irvine, and the Neelys are among the celebrities announced so far. Tickets, which have sold out for the four previous festivals, will go on sale March 8, via www.acfoodandwine.com.
Zagat Survey has unleashed its lists of the top burgers in 25 U.S. cities.
Philly's top burger, according to Zagat voters, comes from a little storefront in Fishtown called Sketch Burger. It snagged a 28 out of 30 for food in the 2013 Zagat Survey, placing it in the upper echelon of all restaurants.
The review reads: "Super-messy burgers" and other "comfort-food" classics are "worth the hike" to this Fishtown "joint" where diners doodle while they wait and seating options include "vintage church pews"; Kobe beef and even vegan patties plus sauces that add "the right amount of sloppy, fatty goodness" are a testament to the kitchen's "creativity", and while it all "might cost a few bucks more", "personal, passionate" service seals the deal."
Christina Verrelli of Devon, who won the most recent Pillsbury Bake-Off contest, is blogging her recipes and cooking ideas at Epicuricloud.
In the latest post, she gets into the swing of winter - late, as she admits - with Butternut Squash Stuffed Shells, a dish that has taken her two years to perfect.
"I am famous for missing out on making dishes during the 'proper season,'" she writes. "It will be late into spring when I realize I never made delicious slow roasted bracciole during the frigid days of winter. Now I know I won't be arrested by the culinary police if I were to make the bracciole in late May, but I'm just not into it at that time of year. I'm already thinking of yummy lighter things to make with asparagus, peas and artichokes."