Archive: December, 2012
Gluten-Free Philly reviews Bold Organics' line of pizzas, which are free of gluten, milk, lactose, casein, whey, egg, peanut and tree-nut products.
The faux mozzarella gets a real nod of approval.
Read the review here.
Blogger extraordinaire Wendy (La Phemme Phoodie) Kirby has a dilemma: Some people in her family like pecan pie right out of the oven, while others prefer a pecan pie that's had time to mellow.
After baking Lemon Blueberry Bars with Coconut Crust, Kirby decided to use the coconut crust as a base for pecan pie bars.
"The thick crust is a nice twist to the typical thin crust found in pecan pie," she writes. "It adds a hearty dimension to the bar. It also tastes more 'aged,' which is sure to please some of my family members. I have to admit I planned to eat these bars without any garnishment but I found myself longing for some vanilla ice cream to dollop on the bar."
Just what did chefs Eric Ripert and Anthony Bourdain go through to make their new, $18 chocolate bar with West Chester master chocolatier Christopher Curtin of eclat?
See this video.
At TableMatters.com, Shelby Vittek goes over "old vines," a term often associated with zinfandel.
Vittek writes that old vines have a reputation for producing wines far more complex and mature than what is attainable from rookie vines. "The belief is that the older the vine, the more concentrated the fruit's flavor will be, and the better the wine it will produce. Putting the phrase on a label indicates something grand and desirable. Or at least that's what producers who are lucky enough to have old vines want you to believe."
See the piece - which includes three suggested budget zins - here.
Jessica Lopez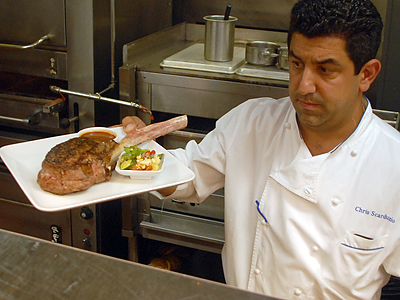 On Sunday, Dec. 16, Chef Chris Scarduzio of Table 31 Restaurant, in partnership with Caesars Entertainment Chefs and Star Group, will host the Savor for Sandy event at the Table 31 Restaurant at the Comcast Center (1701 JFK Blvd.) from 6-11 p.m., to help hospitality-industry families affected by Superstorm Sandy in the Atlantic City region.
All proceeds will be donated to the Wish Upon a Hero Foundation, which is collecting "wishes" from the Caesars employees of the items they need most.
Sunday brought sizzling latkes of all kinds to the Gershman Y in Center City.
The 10th annual Latkepalooza was one of Philly's biggest Hanukkah parties.
Among the fried-potato treats offered to attendees were a spanakopita-inspired creation from Estia, a Mexican barbecue style latke featurionga combination of roasted poblano peppers, smoked onions, chipotle creme and yukon gold potatoes from El Camino Real, a sweet potato latke with date and apple sauce, sour cream and chives from Audrey Claire, and the salmon roe, creme fraiche, mustard oil and chive latke from Bar Ferdinand.
Jessica Lopez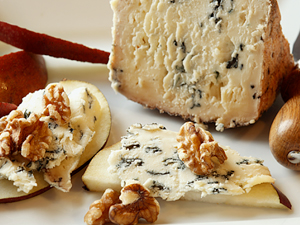 You don't have to settle on a plastic wrapped cheese and crackers tray from your neighborhood supermarket. Instead, impress your friends and family with a local cheese tasting.
Grid has put together a local cheese board that showcases the "bold colors and tastes of the winter holidays," complete with pairings.
The four featured cheeses: Levon's Luck, Red Cat, PA Noble and Crema de Blue, pair well with local beers, nuts, fruit jelly, and honey. Aim to balance the bold flavors of the cheese.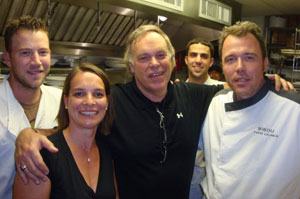 Wine critic Robert Parker is changing things up at his influential newsletter, the Wine Advocate, which he's positioned as an "independent, consumer's guide" to wines.
Parker, 65, said he was selling a share in the bimonthly publication to three Singapore investors, according to the Wall Street Journal.
The upshot: The print version edition will die after 34 years and Parker is stepping down as editor in chief, in favor of his Singapore-based correspondent, Lisa Perrotti-Brown.