Archive: November, 2012
Zagat's Danya Henninger takes an inside look at Fishtown's Whipped Bakeshop.
It's not the retail items that impress her as much as the eye-popping catering creations.
See the piece here.
Jessica Lopez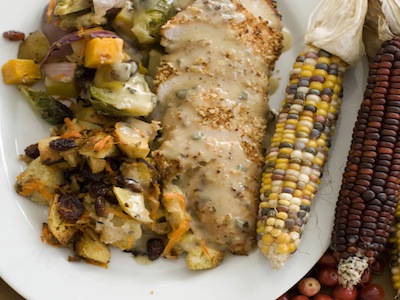 Thanksgiving is next week and while some people have been viciously watching the Food Network and buying seasonal magazines in search for the perfect sides or the best turkey recipe, others may be left scrambling for recipes in hair-pulling frustration.
Either way, here are seven recipes to bring your Thanksgiving feast to a whole other level of tasty.
Craig LaBan's Charcoal Grilled Turkey: Here is Inquirer restaurant critic Craig LaBan's popular recipe for cooking an "incredible barbecued bird."
Jaybee's Pumpkin Spice Stuffing: Jaybee's stuffing was ruled best stuffing at Kitchen Kapers' new store in Marlton.
Sweet Potatoes with Honey and Lime: "

One taste and we never made the version with mini-marshmallows on top again" said the author of this recipe.

Pumpkin Eggnog: Kaitlin Lunny of the fine blog I Can Cook That weighs in with a recipe for pumpkin eggnog that incorporates an old-fashioned recipe from the 1860s with newfangled Pinnacle spiced vodka.
Chocolate-Dipped Coconut Meringue Drops: Not only are these cookies easy to make but author Sara Moulton says they're easy on your waistline.
Thanksgiving Stuffing Cannolis: Chris Streahle's recipe for stuffed cannolis were a top vote-getter on Philly.com.
Crispy Sweet Potato Burgers: This recipe for sweet potato burgers, via the blog Love & Lemons, is perfect for the vegetarian or vegan member of your family.

Jessica Lopez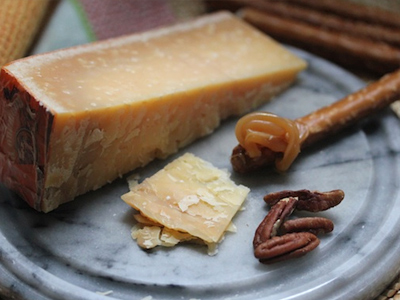 Madame Fromage got her first taste of this Dutch cheese at Old City's Wedge and Fig (160 N. Third St.). Kirk Nelson, the co-owner, offered her a tasting sample with a dish of caramel and sea salt crackers.
La Fromage describes Roomano as a recreation of an Italian Romano cheese, which lends to its sweet-satly flavor.
"Pick up a wedge of Roomano, some soft caramel and some pretzels or salted crackers," Fromage writes. "Eat the three together, eyes closed, and you might think that you're eating toffee, all crunch and sparkle."
Jessica Lopez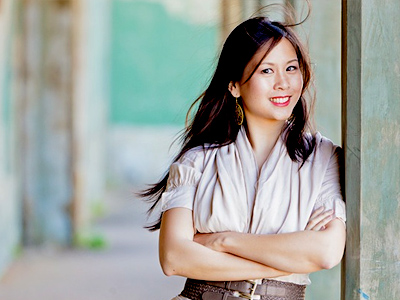 How does a lawyer wind up blogging about cheese?
Philly's own Madame Fromage sat down for an "East/West Skype chat" with Veronique Kherian, a.k.a Miss Cheesemonger, a lawyer and cheesemonger from San Francisco.
"I was burnt out from law school, the bar exam, and the dismal job market, so when I saw a Craigslist ad seeking a 'cheese guru,' I jumped at the chance," Kherian told Madame Fromage. "I wanted to do something completely unrelated to law, and get my hands (literally) dirty."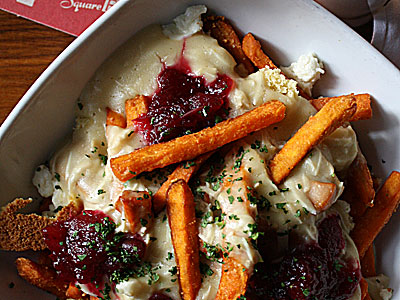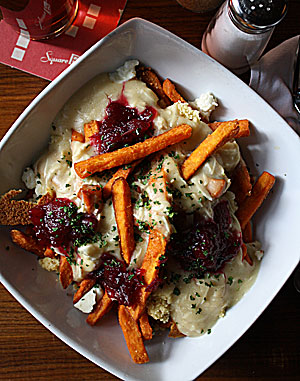 Poutine is that Montreal specialty of fries topped with gooey cheese curds and gravy.
So Matt Levin, chef at Square Peg at 10th and Walnut Streets, has Americanized it and given it a Thanksgiving spin.
Through Friday, Nov. 23, he's cooking a Thanksgiving poutine ($15): Sweet Potato Fries, Shredded Turkey, Turkey Gravy, Cheese Curds, Cornbread, and Cranberry Sauce.
Jessica Lopez
It might be tough to convince students in a college class that they might actually love a big glass of tar, petrol or barnyard wines.
Jason Wilson, blogging at Table Matters, says couldn't keep a straight face while describing the wine-world term of mouthfeel to his class, The Geography of Wine.
"It wasn't the wines that my students found gross," Wilson writes. "My students liked the wines, loved some of them, even the Gigondas with the barnyard aroma. No, it was the descriptions—the standard wine-world terms—that were turning them off."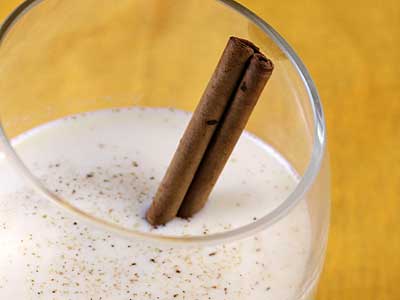 Kaitlin Lunny of the fine blog I Can Cook That weighs in with a seasonal recipe for pumpkin eggnog that incorporates an old-fashioned recipe from the 1860s "Cookbook of Ellen M Emlen" with newfangled Pinnacle spiced vodka.
A little tinkering, and voila.
See it here.
They came, they cooked, and now one stuffing stands alone:
Jeffrey Burns' Jaybee's Pumpkin Spice Stuffing - a take on what he called a traditional Southern stuffing - was ruled the best stuffing Saturday at Kitchen Kapers' new store in Marlton. Sage and meat come together with some crumbled muffins and bread crumbs for a dish that utterly wowed the judges.
Burns won $1,000 worth of appliances from the retailer, marking its grand opening in Marlton Square Shopping Center.