Archive: November, 2012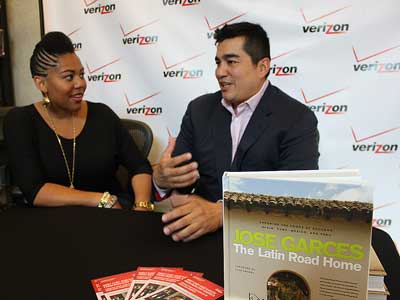 Jose Garces' new cookbook, The Latin Road Home, has made critic John Mariani's list of the "best holiday food and drink books."
Mariani, best known for his work in Esquire, blurbs: "Immensely gifted both as a chef and conceptualizer, Garces has established his reputation with 15 restaurants nationwide to high acclaim. In this heartfelt book, Garces tells us of all that went into the making of his culinary style, the Latin countries that show such distinctions that have never really been displayed before, at a time when too many chefs merely toss in some South of the Border ingredients and call it 'Nueva Latino.' This book is about the best viejo Latino, evident in dishes like quinoa chowder with sweet corn from Ecuador, octopus with potato confit from Barcelona, hearts of palm with coconut vinaigrette from Cuba, and tortilla soup from Vera Cruz."
Read the article here.
Jessica Lopez
Food bloggers Marisa McClellan of Food in Jars, Tenaya Darlington of Madame Fromage and Jason Varney of Fussing with Forks teamed up to create four digital pages of cheese, preserve and drink pairings and recipes entitled In Deep Autumn.
"We gathered chestnuts, we pickled shallots and preserved persimmons," begins the magazine. "With three wild cheeses, we feasted and found the light again."
Jessica Lopez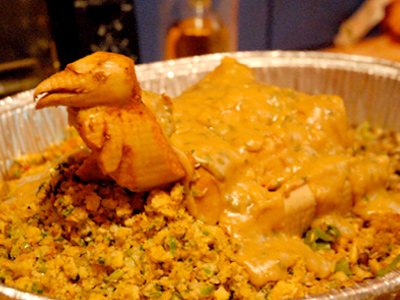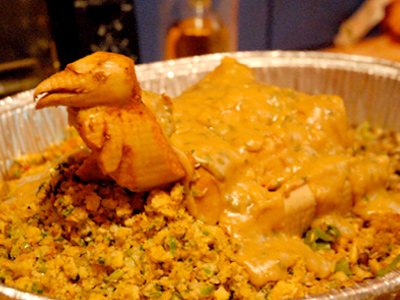 There's nothing about a turducken that could appeal to a vegetarian.
You're taking a chicken, a duck and a turkey and stuffing them into each other, followed by filling them with pork sausage stuffing, shrimp stuffing and then a cornbread stuffing featuring duck or chicken giblets (if you're following the Chef Paul Prudhomme recipe).
Stefany Anne Golberg, from the blog Table Matters, decided to adapt that recipe into a vegetarian version complete with giblet-less stuffings.
Jessica Lopez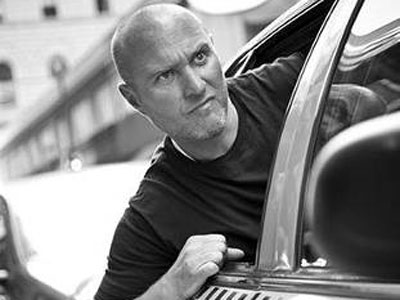 The "Off the Wall" event at The Industry (1401-1403 E. Moyamensing Ave.), hosted by owners Dave Garry and Heather Gleason and chef Pat Szoke, has been postponed till January.
Brewers Paul Rutherford and Chris LaPierre of Iron Hill Brewery & Restaurant were supposed to collaborate with Szoke for a five-course meal to complement their brews.
The restaurant announced that a scheduling conflict forced the postponement.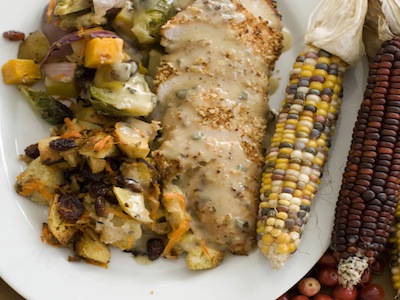 Nation's Restaurant News, which puts a happy spin on all things dining out, estimates that 14 million people will go out to dinner for Thanksgiving.
Eating in restaurants or bringing in takeout on Thanksgiving is "becoming part of the collective consciousness," Sara Bittorf, chief brand officer for Boston Market, told NRN. "The holiday is not about the food you eat as much as getting together with family and friends. We feel like our mission is to help simplify life for our guests."
See the article here.
Jessica Lopez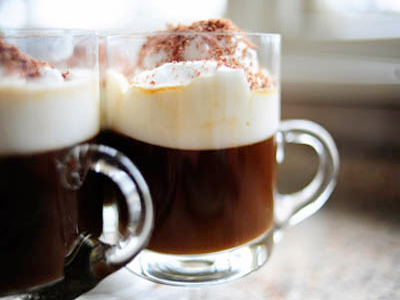 Apples, pumpkin and dulce de leche don't always have to go into a pie. These bloggers are taking favorite fall ingredients and mixing them into these tempting boozy brews.
Boozy Hot Apple Cider
Wendy Kirby, Philadelphia native and owner of La Phemme Phoodie, shares one of her favorite drinks for cooler weather.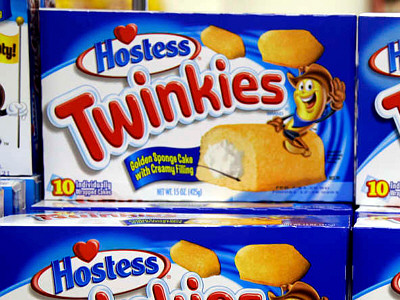 With today's news that Hostess Brands is going out of business, it appears that maybe the iconic Twinkie's days are numbered. (The real crime here is that 18,500 people will be put out of work.)
Fortunately, Fox News has gathered assorted do-it-yourself Twinkie clone recipes so you can roll your own at home.
One thing you don't have in your cupboard are the preservatives.
Michael Klein, Philly.com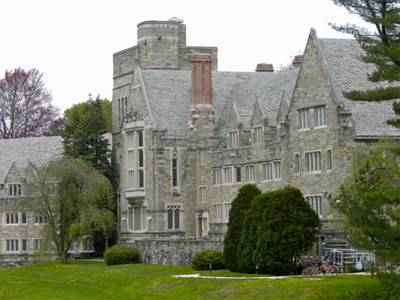 The DailyMeal is out with a
clickbait
feature on the 52 Best Colleges for Food in America.
No. 1 was Virginia Tech.


Among the locals, coming in at #13 was Bryn Mawr College, which got points for special events: "Each semester is packed with events like the Milkshake Mania lunch, where students can create their own milkshake, or the French Peasants lunch, which serves up assorted cheeses, breads, grapes, and sparkling cider." Bryn Mawr is consistently ranked in the top 10 on Princeton Review's best college food list.