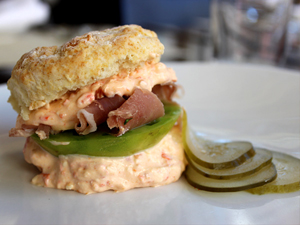 There are some weekdays you really rather not cook yourself dinner but you don't have to settle for ordering a pizza or pulling into the nearby fast food joint.
Starting on Monday, Dec. 3, Supper Restaurant (926 South St.) will host a new special each weeknight in addition to its Weekend Warrior Brunch on Mondays (11 am – 2 pm).
Here's the lineup:
Monday: Weekend Warrior Brunch (11 a.m.-2 p.m.) - Supper will be serving their full brunch menu, usually available only on weekends. Plus, they will be serving up $4 bloody mary's.
Mostly Meatless Mondays (dinner special) - Three course harvest available for $30. Chef Prensky will create a different vegetarian menu each week, using freshly picked produce from their Blue Elephant Farm.
Tuesday: Fried Chicken Tuesdays - Chef Prensky will be serving up pastrami fried chicken (named one of the best in the country by Food & Wine Magazine) with thousand island dressing, house pickles, a scratch biscuit and side ($25).
Wednesday: Scratch Biscuit Wednesdays - Chef Prensky will offer a different scratch made biscuit from the menu of his pop-up concept, Scratch Biscuits. Variations like the pictured Whistle Stop Buscuit, with a fried green tomato, pimento cheese and collard greens, will be offered. Get a biscuit and a beer for $10.
Thursday: Thursday Blue Plates - Supper channels its inner diner with a weekly comfort food special done their way like: meatloaf and mash, mac n' cheese, chicken n' dumplings, pot roast etc.
Supper is also adding a special late night edition of its happy hour on Monday-Thursday from 8pm-10pm, with discounted wine, beer and cocktails as well as a three for $12 hors d'oeuvre special. Their regular happy hour will also remain Sunday-Friday from 5-7pm.