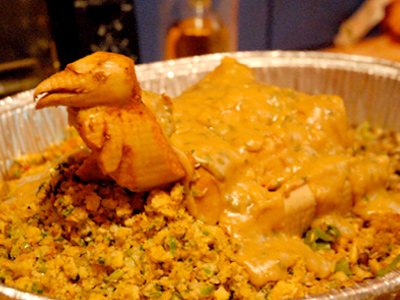 There's nothing about a turducken that could appeal to a vegetarian.
You're taking a chicken, a duck and a turkey and stuffing them into each other, followed by filling them with pork sausage stuffing, shrimp stuffing and then a cornbread stuffing featuring duck or chicken giblets (if you're following the Chef Paul Prudhomme recipe).
Stefany Anne Golberg, from the blog Table Matters, decided to adapt that recipe into a vegetarian version complete with giblet-less stuffings.
Get the recipe and the story behind her dish here.