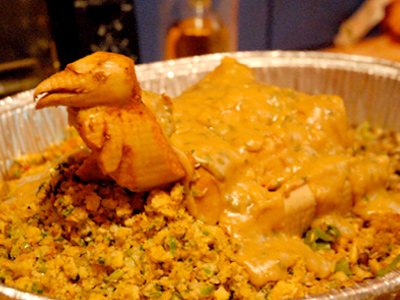 There's nothing about a turducken that could appeal to a vegetarian.
You're taking a chicken, a duck and a turkey and stuffing them into each other, followed by filling them with pork sausage stuffing, shrimp stuffing and then a cornbread stuffing featuring duck or chicken giblets (if you're following the Chef Paul Prudhomme recipe).
Stefany Anne Golberg, from the blog Table Matters, decided to adapt that recipe into a vegetarian version complete with giblet-less stuffings.
Get the recipe and the story behind her dish here.
Table Matters also has three recipes for the Thanksgiving sweet potato which happen to be vegetarian friendly.
Looking for more Thanksgiving side ideas? Use Philly.com's recipe finder. Type in anything - a recipe title or ingredient.
Also:
And if you give up, here is a list of restaurants serving on Thanksgiving Day.