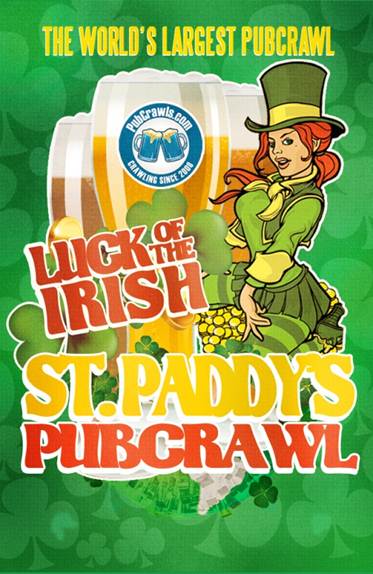 For some Saint Patrick's Day is the day to don green apparel and throw back a few. For others they throw back a lot more.
The producers of the world's largest PubCrawl, PubCrawls.com, will host their 2013 Official St. Patrick's Day PubCrawl in Philadelphia's Old Towne district that will last St. Patrick's Day weekend from March 15 to March 17.
Tickets start at $5 for each day and $10 for the 3-day all access pass.
The crawl features Bottle Bar East (1308 Frankford Ave.), Mad River (4100 Main St.), and Red Zone (35 South 2nd St.).
Drink specials include: $1 Domestic Drafts (12oz), $2 Bottle Bee, $3 Well Drinks, $4 Irish Whiskey.
Schedule:
Friday, March 15, 2013 – Registration at Bottle Bar East (Fishtown) 5 PM – 11 PM
Friday, March 15, 2013 – Registration at Mad River (Manayunk) 5 PM – 11 PM
Saturday, March 16, 2013 – Registration at Bottle Bar East (Fishtown) 12 PM – 11 PM
Saturday, March 16, 2013 – Registration at Mad River (Manayunk) 12 PM – 11 PM
Saturday, March 16, 2013 – Registration at Red Zone (Oldie City) 12 PM – 11 PM
Sunday, March 17, 2013 – Registration at Bottle Bar East (Fishtown) 12 PM – 8 PM
Sunday, March 17, 2013 – Registration at Mad River (Manayunk) 12 PM – 8 PM
Sunday, March 17, 2013 – Registration at Red Zone (Oldie City) 3 PM – 11 PM