Bitter news has never tasted so sweet. Pottstown's own Sly Fox Brewing will soon release a spring beer benefiting the Schuylkill River Trail called — what else? — SRT Ale.
Described as a "golden, delicious, hop-forward American Pale Ale" for "craft beer fans who also love the outdoors of southeastern PA," SRT Ale weighs in at 4.7 percent ABV, and Sly Fox hopes that it will be a "perfect post-activity beer." A portion of sales from the beer will go toward improving and maintaining the 130-mile Schuylkill River Trail.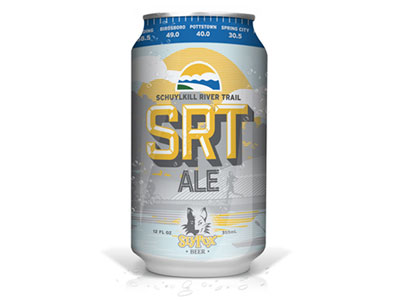 "Brewing a tribute beer to the crown jewel of regional recreation was a natural for us," said Sly Fox brewmaster Brian O'Reilly via a press release. "The Schuylkill Watershed is vital to the work we do and Sly Fox is committed to supporting it."
SRT Ale will be released over several days in what Sly Fox is calling the SRT Spree. Beginning April 17, the brewers will unleash a launch team that will travel the Schuylkill River Trail by road bike, kayak, horseback, recumbent trikes, and foot to spread the message. Each day, the group will stop at a pre-determined point on the trail for a cleanup and tapping event.
"We hope this unique event creates a lot of buzz for SRT Ale," Sly Fox brand ambassador Corey Reid said in a press release. "But, more importantly, it will draw valuable attention to the trail and river."
The SRT Spree will conclude on Earth Day, April 22, right here in Philly on the Schuylkill banks, where the Sly Fox crew will hold a final trail cleanup and launch party.
And fret not, lovers of the outdoors: You too can sign up to join the Spree right here.