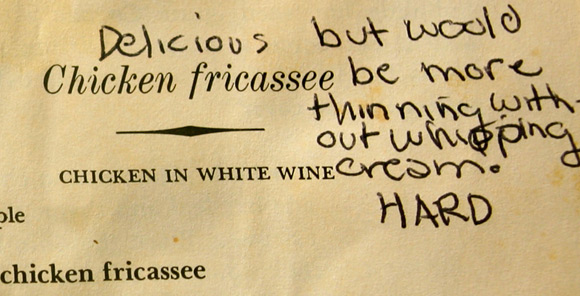 Some people treat cookbooks like works of art. The pages remain glossy, free from spills and splashes from the kitchen.
Jennifer Reese, a blogger for Table Matters, is not one of those people.
Instead, her cookbooks are filled with scribbled notes– something she learned from her mother.
"As a child, I would flip through her cookbooks looking for these comments," she writes. "It was like my own private Where's Waldo?"
Inspired, Reese began making her own written commentaries in her cookbooks.
"I have a dialogue going with my cookbooks and the more marked up they are, the more useful they are to me," she writes. "And, I would argue, to anyone else who picks one of them up."
Her notes serve as reminders for the best recipe for fried chicken she ever made, or that a chicken pot pie recipe had a "delicious crust, buttery and perfect" but the filling "lacked flavor."
Reese says while her family may not have ancestral recipes passed down from generation to generation, her mother's cookbooks let her see "who she was and what she liked and how she thought, glimpses that are even more precious to me now than they were when I was child."
Click here to read Reese's full post.