Next time you're in the mood for some sushi, why not try rolling it yourself?
Chef Hiroki Fujiyama, a sushi-making master at Morimoto Restaurant (723 Chestnut St.), broke down each step. It's not as difficult as it may seem, or Fujiyama just made it look really easy.
You'll need a bamboo sushi mat, which can be purchased at Asian grocery stores, some supermarkets or online (Amazon has them for as little as $3). You'll want to cover your mat with plastic wrap to prevent it from sticking to the sushi when you're ready to roll.
You'll also need to purchase or make your own sticky rice (click here for the recipe), as well as nori (seafood) paper, which can be found at most Asian groceries.
The filling is left up to your imagination. Cut cucumbers and carrots into fine strips or slice up some avocado. You can keep your sushi seafood-free or add crabmeat, salmon or tuna.
Once you have your mat and filling ingredients prepped, you're ready to begin.
1) Lay the nori paper, shiny side down, on the rolling mat.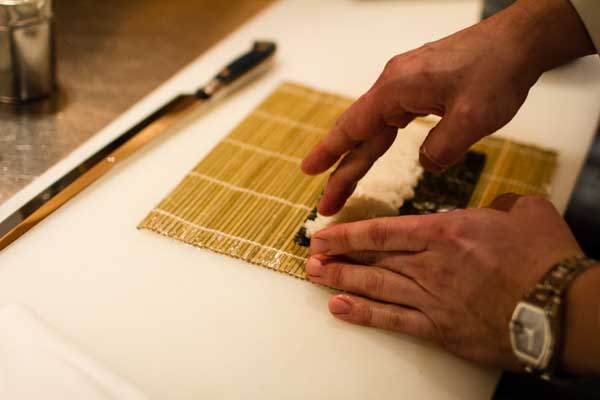 2) Spread the sticky rice on the surface of the nori. Forewarning: this can be tricky. You'll want to keep your hands cold and damp by dunking your fingers in ice water to keep the rice from sticking to you. You also want to keep the layer of rice even across the nori, taking extra caution not to rip the paper. Chef Fujiyama spreads the rice across the nori horizontally on the top of the nori and then down.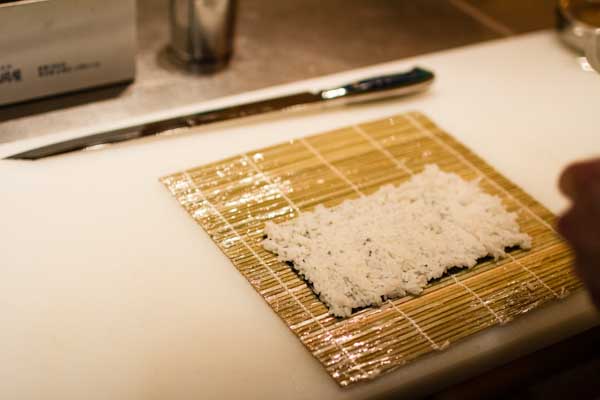 3) Next you can either add your filling to the top of the sticky rice and have the nori paper on the outside of the roll or you can sprinkle the outside of the rice with sesame seeds and flip the nori upside-down so the rice is on the outside of your rolls. Make sure you spread the filling evenly cross the center of the roll.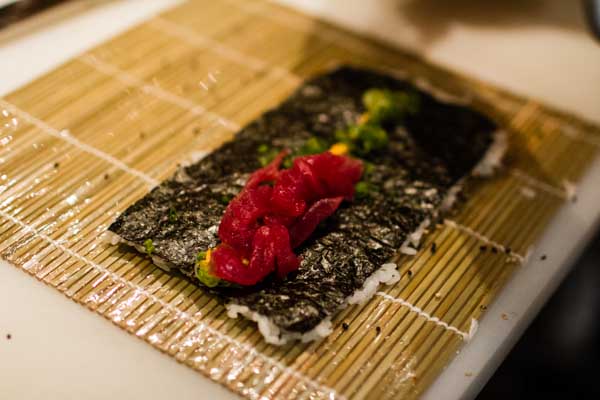 4) Holding the edge of the rolling mat with your thumbs, roll the sushi, guiding it with your fingers. Use the mat to apply pressure to the roll to make sure it holds together tight.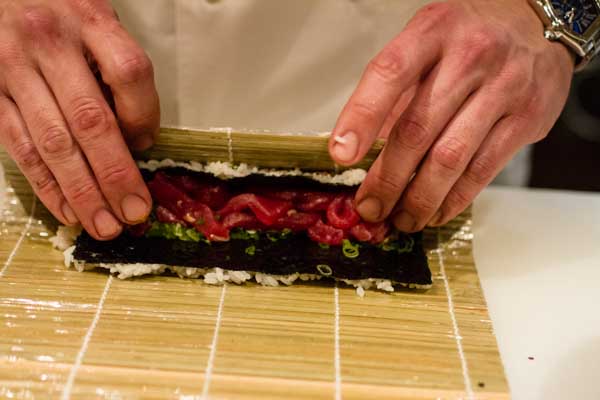 5) Remove roll from the mat and slice. Make sure you dip your knife into cold water to prevent sticking. Cut the roll in half and then slice the two halves into three even pieces.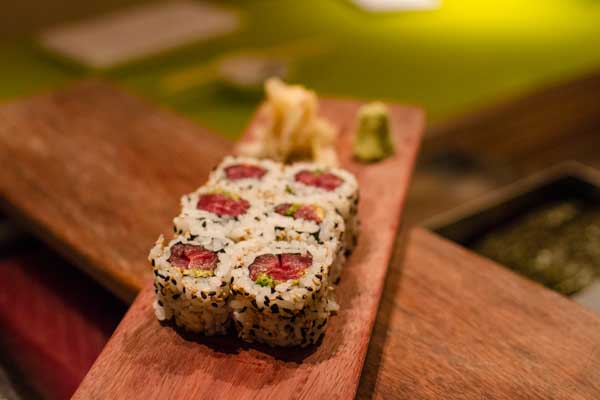 Chef Fujiyama stresses that practice makes for better rolls. Don't get discouraged by messy first attempts. Click here for sushi recipes from Philly.com if you need some inspiration.
(All photos by Colin Kerrigan/Philly.com)