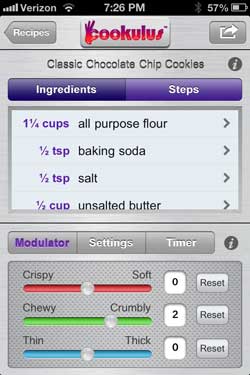 If you follow a cookie recipe out of a cookbook or off the side of a chocolate-chip bag, you'll probably get decent results.
Let's say, however, that your recipe yields chewy and thick cookies and you happen to like 'em crispy and thin.
Such an issue vexed local guys Max Minkoff, chef Andrew Schloss, and Bruce Zenel.
Behold, the iPod/iPhone/iPad app Cookulus.