Apples, pumpkin and dulce de leche don't always have to go into a pie. These bloggers are taking favorite fall ingredients and mixing them into these tempting boozy brews.
Boozy Hot Apple Cider
Wendy Kirby, Philadelphia native and owner of La Phemme Phoodie, shares one of her favorite drinks for cooler weather.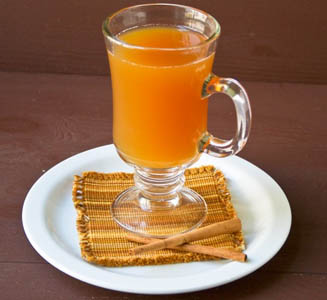 Ingredients:
2 cups apple cider 1/2 cup water 3 tablespoons (packed) golden brown sugar 4 whole cloves 1 cinnamon stick 3 tablespoons chilled unsalted butter 3/4 cup bourbon 2 1/2 tablespoons fresh lemon juiceGround nutmeg
Directions:
Bring first 5 ingredients to simmer in medium saucepan. Remove from heat; cover and let steep 15 minutes. Add 2 tablespoons chilled butter to saucepan; bring to simmer. Remove from heat. Stir in bourbon and lemon juice. Strain into large measuring cup. Divide hot cider among 4 mugs. Cut 1 tablespoon butter into 4 pieces. Add 1 piece to each mug. Sprinkle nutmeg over.
Read her whole post here.
Pumpkin Eggnog
Kaitin, owner of the blog, I Can Cook That, came up with a recipe for pumpkin eggnog made with Pumpkin Pie Pinnacle Vodka.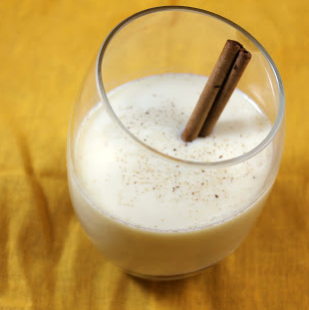 2 eggs
1 tablespoon plus 1 teaspoon sugar
2 cups milk
1 teaspoon vanilla extract
¼ teaspoon cinnamon
2 tablespoons pumpkin puree
1 oz pumpkin spice vodka
Nutmeg to taste

Directions:
Add two eggs to a bowl. Beat until light in color. Add the sugar and beat until fluffy, about 2 minutes. Add the milk, pumpkin puree, cinnamon, and vanilla extract to a pot over medium-low heat. Make sure not to boil, but heat until steaming. Add some of the milk mixture to the egg mixture and whisk to combine. (This is called tempering, you do this so bring up the temperature of the eggs so they don't separate when added to the entire pot of hot milk). Add this mixture to the pot with the remaining milk mixture. Heat for 5 minutes or until the mixture thickens slightly. Chill until cool. To serve, add 1/2 oz pumpkin pie vodka to two glasses or mugs. Fill with the eggnog. Top with some nutmeg.
Click here to see her whole post, complete with photographs for a step by step instruction.
Dulce de Leche Coffee
Food Network star chef, Ree Drummond, posted this recipe for dulce de leche coffee with a "naughty kick" of Kahlua.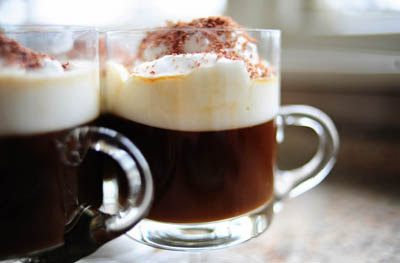 Ingredients:
4 cups Strongly Brewed Good Coffee

6 ounces, fluid Dulce De Leche (*see Note)

6 Tablespoons Kahlua, More If Preferred

1 cup Heavy Cream

2 Tablespoons Sugar

6 Tablespoons Chocolate, Grated
Directions:
Add Dulce de Leche to the very hot coffee; stir until completely dissolved and combined. Keep coffee hot. Combine cream with sugar and whip until stiff. Add 1 tablespoon Kahlua to each coffee cup. May add 1 1/2 if desired, or may add whiskey or brandy in addition. Pour the coffee/dulce de leche mixture into each glass. Top with a heaping tablespoon whipped cream and grated chocolate of your choice.
*Dulce de Leche is sold in the Hispanic aisle of supermarkets, or in Hispanic specialty markets. It is sold in solid 15 ounce blocks, or in cans or bottles in more of a liquid form. You can also find recipes for making your own Dulce de Leche using sweetened condensed milk.
Read her whole post here.
Apple Cider Sangria
Jessica, owner of the blog, How Sweet It Is, has a recipe for apple cider sangria that would be perfect for your Thanksgiving table.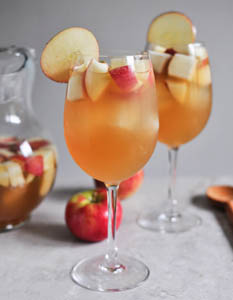 Ingredients:
1 bottle (standard size) of pinot grigio 2 1/2 cups fresh apple cider1 cup club soda 1/2 cup ginger brandy 3 honey crisp apples, chopped 3 pears, chopped
Directions:
Combine all ingredients together and stir, stir, stir. Refrigerate for an hour or so (or longer) before serving.
Find the full post here.
Pumpkin Pie Martini
Kita, the self-proclaimed geek and owner of the blog, Pass the Sushi, mixed a pumpkin pie martini inspired by SpiritDrinks.com.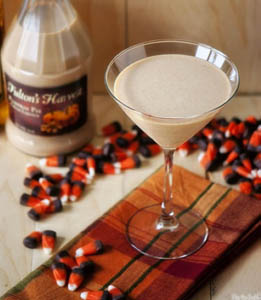 Ingredients:
2 oz spiced rum
4 oz Fulton's Harvest Pumpkin Pie Cream Liquor
2 oz (or spoonfuls) pumpkin pie leftovers
Dash of pumpkin pie spice
Crushed graham crackers for garnish if desired
Directions:
In a drink shaker, combine rum through pie spice with ice and shake vigorously. Strain into martini glasses lined with graham cracker crumbs.
See her full post here.