Archive: April, 2012
I'm not really surprised that President Obama is touting his achievement in nabbing Osama Bin Laden. He has that right, since it was momentous. Of course, he has a tendency to pat himself on the back for bringing us all of that 'hopey, changey stuff' as Tina-Fey-channeling-Sarah-Palin might say. He also has a very high opinion of himself, and doesn't miss an opportunity to show the rest of the country (and the world) how wonderful he really is.
The man writes books.
The man goes on late night talk shows and schmoozes with the hipsters.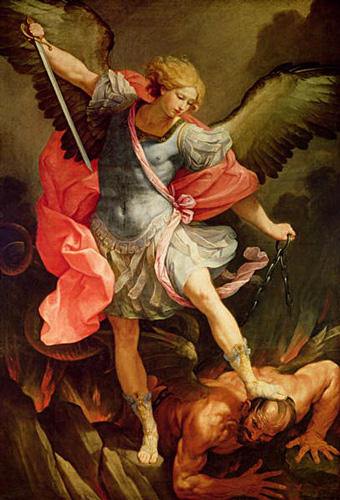 Saint Michael the Archangel,
Defend us in battle,
Be our protection against the malice and snares of the Devils
So, we are playing the Devils. Wonderful. Here are some of my favorite quotes, with my own annotations.
Off to eat some Deviled eggs.
We are each our own devil,
I hate the word "hypocrisy." It's the rhetorical equivalent of "I know you are but what am I," in the sense that you are not really denying that you've made mistakes but you're accusing someone else of making mistakes too.
Pot, meet kettle, in other words.
But sometimes, nothing else quite captures the mood or meaning of a situation. And so, here goes:
On Wednesday, the court will take up the most controversial topic since women decided to nurse in public: immigration. There are a lot of people who are offended by seeing a child munching on Mommy in public, but an infinitely greater group who are angry at illegal aliens sucking at Aunt Samantha's teat.
So, the justices on the High Court will have to decide whether to invalidate a system of laws that make this country inhospitable to what some call interlopers and others call integral parts of the economy, or whether to uphold its fundamental tenets on the grounds that the federal government abdicated responsibility and so the 10th Amendment allows the states to take over.
I'm watching closely, not only because this butters my own personal bread (I'm an immigration lawyer, as regular readers know) but also because I think it says a very great deal about who we are as a nation.
There is a scene in my all-time favorite sports movie where Billy Dee Williams stands at the podium, fondles an award and says (with tears in his eyes) "I love Brian Piccolo."
I can't see that movie without breaking down into a useless puddle of mush. Neither can my uncle, so I know it's not a stupid girl thing.
Today, with news of a retirement, I'm reminded of that scene.
The National Organization for Women has apparently sent a memo to all of its journalist members, urging them to write in support of that most stigmatized and defenseless of demographics: nuns.
I can't say for sure, but that must be the case, since I've read a lot of columns in the past few days attacking the Vatican for, in turn, criticizing American religious sisters. I actually disagree with Rome's decision to call out the female faithful (audible gasp!) The Holy "See-No-Evil" should not have singled out nuns for failing to be more vocal about homosexuality and abortion when it was painfully silent on the abuse scandal.
But I have to be honest. There is no nun-in-good standing that I've ever met in my almost two decades experience with them who support a woman's right to choose murder or think that same-sex marriage is a good idea.
Conversations about abortion take place on many different levels, including medical, legal, political, and moral.
Most lawyers would agree that the constitutional basis for legalized abortion is flawed, and that Roe v. Wade is the perfect example of the ends justifying the mind-numbing means. Justice Harry Blackmun wanted to protect his friends in the medical profession from criminal prosecution. He figured that he could gain points with women in the process. So he essentially created a right to a medical procedure out of penumbras. Not exactly a stellar moment in constitutional history. And if you don't believe me, just ask Ruth Bader Ginsberg, no shirk in the ACLU-NOW-NARAL department. Justice "G" criticized the method (if not the madness) of Roe.
As far as doctors, the ones at CHOP's Center for Fetal Diagnosis and Treatment can tell you that medical advances, including the ability to save lives still in the womb, have essentially decimated that whole first, second and third trimester framework established in Roe. If you can operate on a child at the 23rd week of pre-birth life, doesn't that mean you should think twice before allowing Mom to eliminate it in the 24th?