Vienna Schmaltz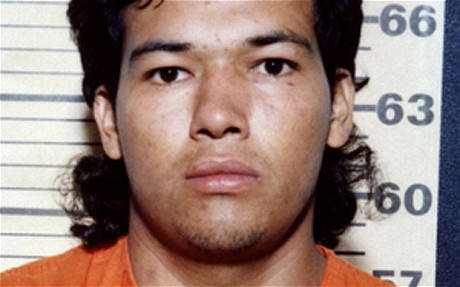 When a convention shouldn't really apply
Vienna Schmaltz
What they're trying argue is that since he didn't have a chance to talk with Mexican consular officers before being interrogated by police, he lost out on the chance for a better attorney than the one he got through legal aid. This allows them to raise the possibility that he didn't receive procedural protections (like being told he didn't have to incriminate himself by confessing) or that his sentence was too steep.
It's the usual "he was railroaded" defense presented by aficionados of technicalities (now mercifully being struck down on a weekly basis by our current Supreme Court.) This time, however, it comes with a twist, and some salsa on the side.
Because Leal is technically a Mexican citizen, the Vienna Convention mandates that he should have been permitted to contact the consulate. It doesn't guarantee him a right to counsel. It doesn't give the consulate any right to interfere with the local criminal justice system. It just says that a foreign national has the right to consult with his diplomatic representatives.
Leal didn't get that opportunity. And now, he's making a big fuss about it, and he's convinced an awful lot of people that he doesn't deserve to die.
Back in 2004, the International Court of Justice ruled that the United States had violated the convention by failing to allow more than 50 foreign nationals access to their consular representatives. Then-president George Bush agreed to comply with the ruling even though he strongly supported the death penalty. Then, in a show of defiance which had constitutional cover under the 10th Amendment, Texas sued and the Supreme court ruled that while the ICJ could force the federal government to comply with its dictates, it had no jurisdiction over states like Texas unless Congress specifically issued a law binding the states to the ruling.
Which brought us to this stand-off between the US government, the International Court of Justice and a rapist-murderer on one side, and Gov. Rick Perry on the other.
Normally, I'm inclined to do anything that protects American citizens, and a superficial review of the situation would lead you to believe that not executing Leal will advance that goal.
But the Vienna Convention is designed to protect any foreign national who finds himself stranded in a foreign land and faced with a legal system he doesn't understand and can't navigate. It applies to someone like Billy Hayes, whose life story was depicted in "Midnight Express." Hayes has even written a letter to the US government, urging it to suspend Leal's execution to protect the rights of other "Billy Hayeses" out there.
The problem is that Hayes was in Turkey on vacation, didn't grow up there, didn't speak the language, and didn't have the benefit of the United States Constitution, completely unlike Leal who not only spent virtually his entire life in this country but also didn't need a Spanish/English dictionary to speak with his attorney (who, by the way, was provided to him free of charge. Billy Hayes didn't get that particular perk.)
If this were the case of someone who really was a 'foreigner' in the truest sense of that word, I might come to a different conclusion, particularly since I can't watch "Midnight Express" without breaking out into a cold sweat.
But Humberto Leal Garcia is neither a sympathetic character nor the type of person the Vienna Convention was meant to cover.
Execute him.