Archive: September, 2010
Carrie Rickey

, Film Critic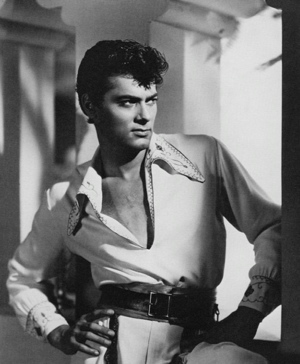 Bye-bye, Sidney Falco. Ta-ta Josephine. Ciao, Antoninus. Tony Curtis, born Bernie Schwartz in the Bronx 85 years ago, has passed, leaving a museum-quality rogue's gallery of film portraits. The pretty boy nailed characters capable of ugly things ( press agent Sidney Falco in Sweet Smell of Success), was a gifted farceur (Joe, in drag as Josephine in Some Like it Hot ) and a consummate team player who supported bigger stars (Antoninus to Kirk Douglas Spartacus).
Straight out of the navy, the son of a Bronx tailor visited his childhood friend Shelley Winters in Hollywood and was groomed by studios to be a teen idol, making his debut as a gigolo in Criss Cross (1948). The camera loved him and he loved it back. He was a quick study, like his character in The Black Shield of Falworth (1954), rising quickly through the ranks to become a Hollywood prince, if never a king. (Was it in Falworth or the Son of Ali Baba where he famously intoned in that Bronx accent he shed so quickly, "Yondah lies the castle of my faddah"?
Carrie Rickey

, Film Critic

Arthur Penn, director of The Miracle Worker (1962) and Bonnie & Clyde (1967) has died, of congestive heart failure, the morning after his 88th birthday. The Philadelphia-born son of a nurse and a watchmaker -- and younger brother of photographer Irving Penn -- was a terrific director of actors (see Paul Newman as Billy the Kid in The Left-Handed Gun, Penn's 1958 debut or Robert Redford in The Chase) and a man with obvious sympathy for outlaws (Bonnie & Clyde) and underdogs (Little Big Man). One of the defining filmmakers of the tumultous 1960s, Penn struck a social nerve by suggesting that violence was an expression against corrupt authority. Many of his films, as David Thomson has observed, were allegories dressed up in period clothes. Among American filmmakers, he was the one most visibly influenced by the French New Wave, as evidenced in that compelling curiosity, Mickey One (1965), with Warren Beatty as a nightclub comedian who owes money to the mob. (On Saturday at 6:15 pm, Turner Classic Movies will show a double-bill of Mickey One and Bonnie & Clyde.)
Penn came up in live television (where he did an early version of The Miracle Worker) and in theatre (Two for the Seesaw), where he elicited unusually naturalistic performances. This interview conducted recently contains the surprising detail that Penn was an intimate of Alger Hiss.
Why Penn's career waned after the mid-1970s I do not know. But Night Moves (1975), his melancholy portrait of private eye Gene Hackman hunting down 15-year-old runaway Melanie Griffith, still haunts me. As does the Miracle Worker's confrontation between Anne Bancroft's Annie Sullivan and Patty Duke's Helen Keller, primal in its intensity. Those are my favorite Penn films. Yours?
Carrie Rickey

, Film Critic

In honor of Michael Douglas' Gordon Gekko, the disgraced billionaire of Wall Street whose character returns this week in the sequel Wall Street:Money Never Sleeps, thought I'd share my favorite list, the Forbes Fictional 15, which ranks the wealth of billionaires in movies, television and books.
While I like that Forbes includes Carlisle Cullen (Twilight) Tony Stark (Iron Man) and Bruce Wayne (Batman), I would prefer a charisma ranking to a financial ranking. That probably would restore Gordon Gekko to the list. Among my choices for the other most charismatic rich folk on screen: Nick and Nora Charles (William Powell and Myrna Loy) in The Thin Man, Ellie Andrews (Claudette Colbert) in It Happened One Night, Hoppsy (Henry Fonda) in The Lady Eve, C.K. Dexter Haven (Cary Grant) in The Philadelphia Story, Louis Winthorpe III and Billy Ray Valentine (Dan Aykroyd and Eddie Murphy) in Trading Places, and William Parrish (Anthony Hopkins) in Meet Joe Black.
Your choices for most charismatic movie millionaire? Why?
Carrie Rickey

, Film Critic
Black Swan, Darren Aronofsky's psychological thriller set in the competitive world of ballet and starring Natalie Portman, Mila Kunis and Winona Ryder, will open the 19th annual Philadelphia Film Festival on October 14. 127 Hours, Danny Boyle's true-life tale of the adventurer Aron Ralston (James Franco) who cuts off his arm to save himself, will be the festival's closing-night movie on October 23. In between the Aronofsky film and the one about Aron, some 108 films will show at six venues in the region, from the Ritz Five to the Prince Music Theater to the Zellerbach Theater at UPenn to the Bryn Mawr Film Institute.
Among the highlights of the festival bringing the best of Sundance and Cannes festivals to Philadelphia are Uncle Boonmee Who Can Recall His Past Lives, this year's Cannes Palme d'Or winner from Thai filmmaker Apichatpong Weerasethakul, White Material, Claire Denis' account of French colonials running a coffee plantation in an unnamed African country, and Carlos, Olivier Assayas' six-hour portrait of infamous assassin "Carlos the Jackal."
A marathon screening on October 17 of the Millennium Trilogy -- The Girl With the Dragon Tattoo, The Girl Who Played With Fire and The Girl Who Kicked the Hornet's Nest -- will delight Stieg Larsson completists. And fans of M. Night Shyamalan will enjoy the October 21 screening of Unbreakable, his third feature, and the post-screening Q & A with the director afterwards.
Carrie Rickey

, Film Critic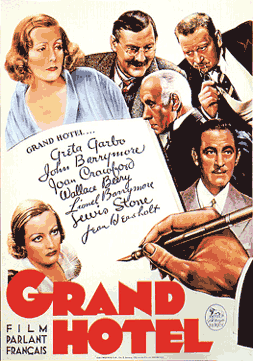 Sofia Coppola, who won a screenwriting Oscar for Lost in Translation, her portrait of Americans at Tokyo's Park Hyatt Hotel, just took top honors at the Venice Film Festival for Somewhere, a portrait of an estranged father and daughter (Stephen Dorff and Elle Fanning) who reunite at Hollywood's storied Chateau Marmont. Coppola herself is a hotel habitue, having booked many nights in the suite of her own father, filmmaker Francis Ford Coppola, at New York's Sherry-Netherland. (She also wrote and starred in her father's segment of the omnibus New York Stories, as the Eloise of the Sherry, babysat by hotel staff while her parents globetrot.) For the younger Coppola, hotels are neutral places where the character of her characters emerge in high relief, places where there is a tissue-thin line between private and public, places where the view -- internal and external -- is different. Coppola's sense of the hotel as a scene of personal transformation is the opposite of that of William Wyler's Dodsworth (1935), which, like the Sinclair Lewis novel on which it's base, suggests that despite the change of scene, people remain the same.
Hotels have long been a helpful setting for movies that wanted to get a disparate group of characters into the same place: See Grand Hotel (1932) and its remake, Weekend at the Waldorf (1945). In these films, the hotel is the crossroads, a place where the rhythm and rules of daily life are interrupted, where people who might otherwise never meet stand shoulder to shoulder in the elevator (Some Like it Hot) or on the dance floor (Dirty Dancing). Hotels are also places where the lowborn are treated like kings (Born Yesterday).
From four-star hostelry to flophouse, the hotel room has also represented the place where lovers could enjoy an assignation -- or not -- as in the delicious Trouble in Paradise (1932), Ninotchka (1939), To Catch a Thief (1955), Love in the Afternoon (1957), Pretty Woman (1990), How Stella Got Her Groove Back (1998) and Laurel Canyon (2003).
Carrie Rickey

, Film Critic

Prior to his political career, Ronald Reagan, Hollywood actor, starred in any number of biopics, most famously as Notre Dame halfback George Gipp in Knute Rockne, All American (1940), Phillies pitcher Grover Cleveland Alexander in The Winning Team (1950) and Gen. George Custer in Santa Fe Trail (1940). The Hollywood Reporter announces that the 40th U.S. president himself is the subject of a biopic based on Paul Kengor's biographies The Crusader and God and Ronald Reagan. Given the source material, the planned movie would paint a glowing portrait of Reagan, unlike the controversial 2003 miniseries The Reagans. Already casting directors are scrambling to compile a list of actors who could play Reagan from youth to Oval Office.
According to the Reporter's own poll, Chris Pine, Kirk in the recent Star Trek reboot, is the readers' favorite to play The Great Communicator, whose unassuming humor, pompadour and Pepsodent smile charmed his supporters and disarmed many of his political critics. The Reporter's other suggestions: Andrew Garfield, Joseph Gordon-Levitt, Zac Efron and James Franco. Individually, great actors. Collectively, a menu of boys. My nominations would be Ben Affleck or Jon Hamm, men who contain multitudes.
As a kid growing up in Los Angeles, I remember reading in the Los Angeles Times that when Reagan's former studio boss was shown highlights of the 1966 California gubernatorial campaign on TV, an assistant asked, "What do you think of Reagan for president?" "No, no," said movie mogul Jack Warner, known for his crack casting decisions: "Jimmy Stewart for president; Ronald Reagan for best friend." During Reagan's political campaigns, his political opponents would frequently dismiss him as a "bad actor."
Carrie Rickey

, Film Critic

Tupac Shakur, the rapper (and soulful actor) whose fatal and unsolved 1996 shooting has been subject to as much speculation as that of JFK, is now the subject of a biopic from Antoine Fuqua (Training Day) from a screenplay by Philadelphia-born bio-scribes Stephen J. Rivele and Christopher Wilkinson (Nixon, Ali, Moneyball, Untitled Jackie Robinson Project).
Rivele, who admitted to New York Magazine's Vulture that he knew nothing about Shakur prior to research, is the source of the quotation about him being a 19th century Romantic poet who found himself in the 21st century" (or at least at the cusp of it, as Shakur died in 1996). Interesting angle for the violence-dogged Shakur, the only musical artist to have a number-one album while in prison. With his gaunt face and melancholy eyes, Shakur resembled an El Greco saint. He made a striking film debut as a troubled neighborhood kid in Ernest Dickerson's Juice (1992) and was Janet Jackson's lyrical mailman beau in John Singleton's Poetic Justice (1993). Shakur was sensational as the Detroit musician trying to kick his addictions after his girlfriend's overdose in Vondie Curtis Hall's improbably funny Gridlock'd (1997), posthumously released and showing the rapper's unexpected comic skills.
Your thoughts on Shakur as an MC, actor, activist? What does his life and death tell us about late 20th century America? Casting ideas? I'm thinking Bow Wow.