Archive: June, 2009
Carrie Rickey, Film Critic

According to Michael Mann's Public Enemies (opening Wednesday), it was FBI agent Melvin Purvis (Christian Bale) who set the trap that caught notorious bankrobber John Dillinger (Johnny Depp). It was starlet Myrna Loy who was the bait. Dillinger had a crush on the sleepy-eyed lovely, whose movie Manhattan Melodrama (1934) tempted the robber out of hiding months before she became a star in The Thin Man films. There are those who would argue that Dillinger's cause of death was the love of Loy. Those interested in the 1930s milieu of Purvis and Dillinger could do worse than take a look at this snappy film about childhood buddies William Powell and Clark Gable who pursue the same dame (Loy, natch) but different careers.
In the ripping story that established the "opposite sides of the law" motif, Powell plays the district attorney who prosecutes the lawless Gable. Directed by W.S. Van Dyke, who would reunite Loy and Powell for The Thin Man series, the film boasts atmospheric cinematography by the peerless James Wong Howe and is a glorious setting for the sparkling jewel that was Loy. Buoyed by this movie and her notoriety as the Venus flytrap who caught Dillinger, Loy deservedly soared to stardom.
I love Loy in just about everything, from the slinky siren in The Mask of Fu Manchu, to "perfect wife" Nora Charles in The Thin Man films to Cary Grant's teasing spouse in Mr. Blandings Builds His Dream House. But my favorite role of hers is as the cheerful nymphomaniac, second fiddle to Jeanette McDonald in Love Me Tonight (1932). "Could you go for a doctor?" McDonald asks. "And how!" replies Loy with the enthusiastic sexuality that may have appealed to Dillinger. Your favorite Myrna?
Carrie Rickey, Film Critic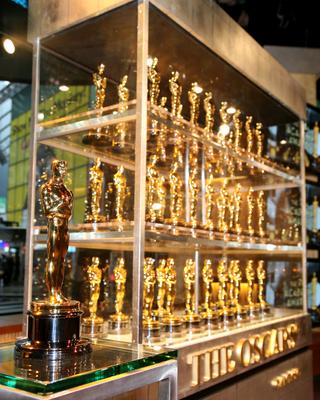 Update:
With today's news that in February, the Oscars will field 10 best-picture nominees, the horserace that is the Academy Awards promises to look a lot more like - a horserace.
"This year [when Slumdog Millionaire emerged victorious], five formidable films were nominated, but The Dark Knight, Iron Man and WALL.e were not," Academy president Sid Ganis said yesterday by phone. "We've felt for a while that we should widen the net of nominees."
Carrie Rickey, Film Critic

What movies do you want to live in? Here are Dave Eggers' answers. The author of A Heartbreaking Work of Staggering Genius, What is the What and the screenplay (with wife Vendela Vida) of Away We Go (currently in theaters), a low-key comedy film about a couple deciding where to live, inspired thoughts of other move-in ready films.
What does it say that the movies I'd like to live in are (in no particular order) Terrence Malick's The New World (with its glistening images of English adventurer John Smith landing in pristine Pocahontas country), James Ivory's Howards End (an English country home surrounded by fields of bluebells) and Vicky Cristina Barcelona (with its cityscapes of Spain's loveliest place)?
Which movie real (or surreal) estate inspires you?
Carrie Rickey, Film Critic
Via e-mail and voicemail and watercooler, the pressure is on. The (predominantly) male friends of Flickgrrl want to talk Megan Fox, fetching co-star of Transformers II. What can I say but that in Transformers and Confessions of a Teenage Drama Queen she struck me as very pretty? What can I say but that in the tabloids, she gives saucy quote? What can I say but that her right shoulderblade is inscribed with a quote from King Lear (Act V, Scene III): "We will all laugh at gilded butterflies" -- a line from Cordelia's soliloquy?
I can say that green-eyed brunette possesses coloring that is a distinct asset. As legendary cinematographer Nestor Almendros observed, actors with dark hair and light eyes -- or the reverse -- are uniquely cinegenic. Almendros called this his "Theory of complementary contrasts" and his proofs were brown-eyed blonde Catherine Deneuve and blue-eyed brunet Mel Gibson. Vanessa Williams is another excellent example. Consider this an open thread to discuss Fox, cinegenic coloring and stars with names that describe their personalities.
Carrie Rickey, Film Critic

Transformers II storms into multiplexes next week. Unlike my colleagues, I'm less looking forward to Megan Fox and Shia LeBeouf than to the sequel's steel giants. Which of course got me to thinking of what makes a good robot movie performance. Is it the mechanics? The voice work? The disjunction between the two? Of course I'm fond of Bumblebee in Transformers, but my favorite movie robot -- the False Maria in Fritz Lang's and Thea von Harbou's silent film Metropolis -- didn't have an audible voice.
Great movie robots? Certainly Gort in The Day the Earth Stood Still, R2D2 and C3P0 in the Star Wars saga, WALL.E and Eve in Wall.E, the Iron Giant, Number 5 in Short Circuit -- and here's where it gets slippery. If androids count, then certainly the replicants in Blade Runner and the 'bots in Sleeper and fembots in Austin Powers. I thought of RoboCop, but technically he's part human and therefore really Cyborg-Cop.
Can you put your finger on the components of a memorable robot performance? Your favorite 'bot?
Carrie Rickey, Film Critic

There is a moment in Two Weeks Notice when Hugh Grant, Sandra Bullock's soon-to-be-ex boss, lists what he'll miss about her. "She's funny...of course, not deliberately," he muses, hitting the Bullock's-eye on why she makes us laugh. She just goes about her character's business -- an FBI agent posing as a pageant contestant in Miss Congeniality, a public-interest lawyer in drag as a real-estate developer's counsel in Notice, a preoccupied mother pretending to be a free spirit in Forces of Nature -- and locates the humor of a square peg forcing itself into round hole.
I like Bullock, on screens this weekend in The Proposal, as a Canadian-born career woman who needs to get married to a U.S. citizen (her assistant, Ryan Reynolds), so she can keep her job. She's hilarious, he's hilarious, it's hilarious. And the funny thing about Bullock is that she's awfully good and undeliberate at the dramatic moments, too, so affecting as Harper Lee in Infamous and as the homicide detective in Murder by Numbers. Heck, I even enjoyed her in The Lake House, a preposterously involving time-warp romance between her and her Speed co-star, Keanu Reeves.
Bullock, 44, has been a star for 15 years, which in actress years is like a half century. She's made some real dreck (Hope Floats, anyone? Practical Magic?), yet I wince when cinephiles like David Thomson write her off as "a household name who has yet to be in a vital movie." Apart from Diane Keaton and Drew Barrymore, is there a funnier female clown currently working?
Carrie Rickey, Film Critic

In the debate over civil debate, Roger Ebert offers a critique of Bill O'Reilly that refrains from name-calling and other polarizing language, eloquently and patiently modeling the the way he believes that political arguments should be conducted, "with sincere debate and friendly persuasion." A persuasive piece of persuasion. Your thoughts?
Carrie Rickey, Film Critic

Some movies are complex stews: They taste richer the second time around when all the flavors reveal themselves. I find this most true with comedy and mystery. In funny movies I'm laughing so hard I don't catch all the jokes the first time around. In mysteries, on repeat viewing I see how and where the filmmakers have seeded the story. It wasn't until the third time I saw The Godfather that I could tell Tessio from Clemenza.
Recently Amy B asked for movies that fit the "Once is Not Enough" rule: Here is a provisional list, to which I'd add most screwball comedies and movies with fractured narratives and surprise endings. Just as certain music grows on you, so do these films.