Archive: February, 2010
Carrie Rickey, Film Critic

Don Argott's The Art of the Steal, about the utopian past and controversial future of The Barnes Foundation, opens in Philadelphia and New York today. Argott's brief: Not only does moving the unique institution expressly break Barnes'' will, but that it will transform a singular institution into a McBarnes.
The reviews range from positive to mixed. Here's Manohla Dargis in The New York Times. And here's Lee Rosenbaum of the culturegrrl blog. Here's Part II of Rosenbaum's post. And here's mine.
Consider this an open thread for your thoughts about the movie and the proposed move.
Carrie Rickey, Film Critic
While Flickgrrl is not generally a huge fan of biopics, she makes an exception in the case of writer/director Bill Condon, who made the resonant Gods and Monsters (about horrormeister James Whale), Kinsey (about the mid-20th century American sexologist) and Dreamgirls (a musical suggeted by the careers of Berry Gordy, The Supremes and Marvin Gaye). Condon, who elicited such a terrific -- and Oscar nominated-- performance from Eddie Murphy in Dreamgirls, had hoped to cast the funnyman as the late comic Richard Pryor (a huge influence on Murphy's standup comedy). When the filmmaker and star could not come to terms, Condon cast Marlon Wayans, youngest of the talented brood of ten, and a funnyman who, like Pryor, has what LA Times reporter Geoff Boucher calls both art-house and outhouse cred (i.e., Requiem for a Dream and White Chicks.) Flickgrrl likes Wayans' crack that Bill Cosby was the Martin Luther King of comedy and Pryor the Malcolm X. Still, if Flickgrrl was casting director the role would have gone not to Murphy but to Don Cheadle, who, unlike the solidly-built Wayans, is wiry and wiry like Pryor.
Who would you cast? What are the instances when biopics work? For me, too many are like VH-1 "Behind the Music" episodes with the ritual meteoric first act, burnout second act and either death or resurrection in the third act. Your thoughts?
As some may remember, Pryor made the fascinating 1986 autobiography Jo Jo Dancer, This is Your Life Calling, with its unsparing look at the kid born not in a trunk but a brothel.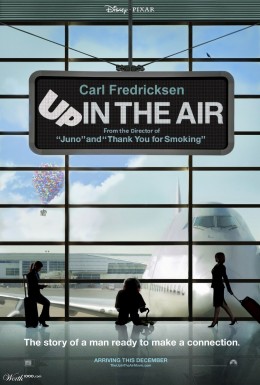 An effective movie poster is like an effective newspaper headline: It encapsulates in one image what a headline does in a few words. An artistic movie poster does this, but is visual haiku that poetically distills the essence of the film as well as its content.
The site worth1000.com (as in one picture is worth a 1000 words) ran a contest -- now closed -- for best movie poster mashups (hat tip, slash film). Pictured is my favorite, a composite of two Oscar nominees.
Which movie poster of this (or any year) do you think most poetically conveys its subject? Why? Send images (under 80 kb, please) if you can.
Carrie Rickey, Film Critic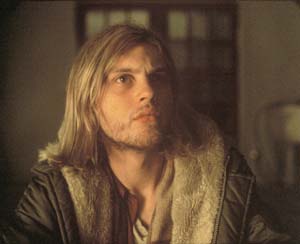 According to The Hollywood Reporter, filmmaker Oren Moverman is negotiating to direct the long-gestating biopic of late Nirvana frontman Kurt Cobain. Over at Popcorn and Prejudice, Seattle Post critic Moira McDonald asks, who should play the demigod of grunge?
Five years ago, Gus Van Sant cast Michael Pitt (pictured) as a Cobain-alike in The Last Days, a moody biopic speculating what happened during the musician's final hours. Pitt suggested that insular forcefield that was Cobain, and looked enough like him not to be distracting. I have no idea whether Pitt can handle the musical aspect, but he's an underutilized actor (see also Bertolucci's The Dreamers) and would be my first choice. Second: Emile Hirsch. As Jamie Foxx proved in Ray, you don't so much need to look like who you are playing as you need to channel him.)Who would you cast as Cobain? And who should play Cobain paramour Courtney Love?
Alternatively, most convincing performance in a musical biopic? Besides Jamie Foxx as Ray, I'm thinking Sissy Spacek as Loretta Lynn in "Coal Miner's Daughter," Reese Witherspoon as June Carter in "Walk the Line," and Forest Whitaker as Charlie Parker in "Bird." Also liked Judy Davis as Judy Garland in the telemovie "Me and My Shadows."
Carrie Rickey, Film Critic

While my review of Martin Scorsese's Shutter Island won't be online until tomorrow afternoon, seeing this psycho-thriller, with its homages to movies from Spellbound to Shock Corridor, made me geek up and list my six favorite movies set in mental institutions.
1) Bedlam (1946) That 18th-century grandaddy of asylums, London's St. Mary's of Bethlehem (known colloquially as "Bedlam'), occasions a crusading Quaker (Anna Lee) to challenge the cruel administration of the warden (Boris Karloff) in the Val Lewton production directed by Mark Robson.
2) Spellbound (1945) Repressed psychiatrist Ingrid Bergman analyzes colleague Gregory Peck, who may be a murderer but unlocks her libido and opens the doors of her heart in this Hitchcock classic with a dream sequence by Salvador Dali.
Carrie Rickey, Film Critic

Eat. Shovel. Watch. That's what we did over the last two weekends.
Acording to Jeff Alexander over at Comcast Cable, we were not alone. Video-on-demand rentals during the first weekend in the Eastern Division (which includes the Philly region) were up almost 20% over the same weekend in 2009. The second weekend was not so high, says Alexander, because of widespread power outages.
The top five VOD titles customers ordered during storm #1 ( 2/5 - 2/6)
were:

1. Love Happens
2. Cloudy With A Chance Of Meatballs
3. Tyler Perry's I Can Do Bad All By Myself
4. Amelia
5. Paranormal Activity

The top 5 movies from storm #2 (2/10 - 2/11):

1. Couples Retreat
2. The Stepfather (2009)
3. The Time Traveler's Wife
4. Cloudy with a Chance of Meatballs
5. Tyler Perry's I Can Do Bad All By Myself
At Chez Flickgrrl, Flickdaughter and Mom watched a double-bill of Legally Blonde and Down With Love. Flickgrrl and Flickspouse watched Malcolm X, the Spike Lee biopic that grows deeper and richer with every viewing. (Likewise Denzel Washington's nuanced performance as the fatherless son-turned-hustler-turned-jailbird-turned-acolyte-turned-Civil Rights activist.) While folding laundry Flickgrrl watched Cabin in the Sky (available via TCM on Demand), Vincente Minnelli's directorial debut, and one of the Best. Musicals. Ever. And while she was aware of Minnelli's influence on Spike Lee, especially in the use of color to suggest emotional mood, seeing Cabin and Malcolm in such close proximity made Flickgrrl realize how the jitterbug scenes in the Boston chapter of Malcolm X paid tribute to Minnelli's scene in Cabin where Duke Ellington and his Orchestra play "Up" and Lena Horne and Ethel Waters do their competing versions of "There's Honey in the Honeycomb."
Alexander says he caught up with Oscar contender The Hurt Locker.
Carrie Rickey, Film Critic

Best Olympics film? No contest. The gold goes to Leni Riefenstahl's masterful Olympia (1938). the movie that invented the visual grammar of the sports movie and eroticized athletes with its caressing closeups of rippling muscles and heroic framing of competitiors by digging trenches for the cameras, looking up worshipfully at the athletes and framing them against the infinity of the sky.
Best Winter Olympics film is a trickier question. The first three images that come to mind when you say Winter Olympics and movie feature are perky real-life Norwegian Olympian Sonja Henie ("Pavlova on Ice") as a Swiss Olympics skater in One in a Million (1937), Robert Redford as the arrogant title figure in Downhill Racer (1969), selfishly ignoring the team-spirit sermons by coach Gene Hackman, and Kurt Russell as Herb Brooks, the inspirational coach behind the U.S. Hockey team's 1980 "Miracle on Ice" in Miracle (2004). Then there are Ice Castles (1978), about the blinded Olympic contender Lexie Wilson, and the unlikely-but true Cool Runnings (1993) about the 1988 Jamaican bobsled team.
I'd probably give the gold to Miracle, the silver to Downhill Racer and the bronze to Cool Runnings. But I must confess that I really enjoyed The Cutting Edge (1992), in which a cutthroat hockey player (D.B. Sweeney) and dainty figure skater (Moira Kelly) team up to go for the gold.
Carrie Rickey, Film Critic

"It is much easier to proclaim dislike for a popular movie than to admit liking an uncool movie."
So confesses The Self-Styled Siren, a most erudite and opinionated blogger, before admitting that she likes, among other certifiably uncool movies, Nicolas Cage in Valley Girl, The Enchanted Cottage (the 1945 Robert Young/Dorothy McGuire schmaltz that inspired a character in Manuel Puig's Kiss of the Spider Woman), the 1940 Pride & Prejudice (with Greer Garson and Laurence Olivier) and Leslie Howard. Flickgrrl isn't ashamed to say that she agrees with Siren in these four cases, despite being chastised by hundreds of card-carrying members of the Jane Austen Society of North America for her love of the 1940 P & P, which has Victorian interiors and costumes rather than those of the Regency era. (And despite laughing at Marlene's Dietrich's 1939 journal entry, after seeing the Technicolor Gone With the Wind: "Leslie Howard with orange hair! Now I've seen everything.")
What constitutes cool? Flickgrrl's intuition is that it's a picture or performer that doesn't care whether you like it/him/her. This is why Robert Mitchum is cool and Victor Mature not. Why Anne Hathaway in Rachel Getting Married is cool and Hathaway in Princess Diaries is not. Why Denzel Washington is cool and Eddie Murphy not so much.