Archive: February, 2009
Carrie Rickey

, Film Critic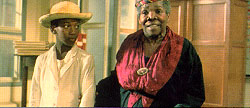 "The first movie Obama viewed in the White House theater was 'Slumdog Millionaire.' He loved it, and parts of the movie reminded him of his childhood days in Jakarta, Indonesia." So noted CNN reporter John King of the debut movie of the new presidential administration, a movie about adversity and hope, triumph and love.
Which gets me to thinking: How would you program the White House theater in the coming months? What should President Obama and his family watch to keep hope alive?
My top-of-head recommendations for education mood-movies: Laurent Cantet's powerful new film "The Class," about the challenges of teaching in a Paris public school; Euzhan Palcy's "Sugar Cane Alley," the tale of a young boy in 1930s Martinique whose grandmother struggles to keep him in school; Elia Kazan's "A Tree Grows in Brooklyn," the classic about a girl who fights to stay in school even though her family encourages her to drop out so she can contribute to the household expenses. Compelling health-insurance scenarios (but don't let Sasha and Malia see these): Francis Coppola's "The Rainmaker" and Warren Beatty's "Bulworth."
Carrie Rickey

, Film Critic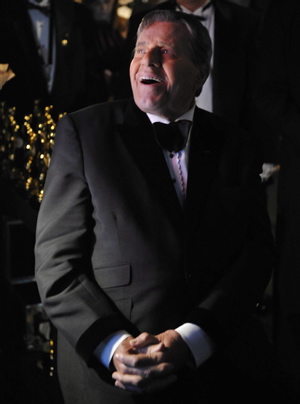 Is there a more polarizing figure in the movies than Jerry Lewis?
No question that Lewis, who as a tireless telethon host and cross-country crusader has raised over $2 billion for the Muscular Dystrophy Association (MDA), richly deserved the Jean Hersholt Humanitarian Award he received Sunday at the Academy Awards. I say this knowing that for some, his characterization of the disabled as "half human" was both injuducious and untrue. If outside the Kodak Theatre, there were pickets protesting Lewis, inside it seemed that the Academy didn't want to acknowledge Lewis, whose previous brush with Oscar was as a three-time host of the ceremony, as a film artist.
Those who should know better continue to regard Lewis as an aberration loved only by the French or an annoyance like the uncle who gooses you at Thanksgiving. When will he get his due as a filmmaker who belongs in the pantheon with Buster Keaton and Stan Laurel? Or, like so many other gifted funnymen, will he continue to be at best underrated and at worst ignored? One can occasionally wince at the hyperkinetic Lewis in his early screen pairings with Dean Martin while admiring his work as a mature actor and director who did more than any health care provider to see the benefits of laughter.
Carrie Rickey

, Film Critic
At the moment, at this very nanosecond, the best movie in town is "The Wild Child" (1970), Francois Truffaut's wondrous account of the real-life Dr. Itard who systematically studied, educated, and in his own way loved Victor, a feral boy discovered in the French woods in 1799. Exquisitely photographed in black-and-white by that cinematographic master Nestor Almendros, the film starring Truffaut himself as the methodical Itard and Jean-Pierre Cargol as the playful Victor, uses silent-movie techniques (irising in and out of scenes) that make it resemble an artifact from the distant past.
Like Arthur Penn's comparably moving "The Miracle Worker" (1962), "The Wild Child" is an adult film that children very much enjoy because of the delicacy by which it characterizes teacher and student. It leaves open the question of whether Victor is natural being uncontaminated by civilization or Dr. Itard (whose techniques formed the foundation of the Montessori method) civilized the isolated caveboy. (The natural-versus-civilized conflict is likewise the basis of other celebrated student/teacher stories such as "Pygmalion" and its musical version, "My Fair Lady."
Though I had hoped that "The Wild Child" would enjoy an open-ended theatrical run, it's playing only through Thursday at the Ritz/Bourse. You could rent it on the DVD, but seeing it on a big screen is the only way to catch all the detail Truffaut gracefully packs within a frame. See it before it leaves. Take your kids. Borrow someone else's.
Carrie Rickey

, Film Critic
Did You Watch the Oscars? Or aren't you into Hollywood's night of self-congratulation? If you did, why? If not, why not?

Verdict on host Hugh Jackman? Loved when he credited Kate Winslet's range as an English actress who played a German and got an Oscar nomination, "Whereas I, an Australian who played an Australia in "Australia" only got a gig hosting this show.

Hated the Baz Luhrmann directed musical medley that looked like an outtake from "Hgh School Musical."

Loved Seth Rogen and James Franco reprising their "Pineapple Express" stoners and laughing at clips from the years most serious films.

Was moved by actors paying tribute to the acting nominees, which produced the effect of honoring the contenders and not just celebrating the winners.

Should the Oscars show how many votes each actor got, as in a political election?

Your thoughts?
Carrie Rickey

, Film Critic
Saturday night at the "Independent Spirit" Awards in Santa Monica honoring the best in off-Hollywood filmmaking, Mickey Rourke collected the lead actor trophy for his battered Randy the Ram in "The Wrestler," and Melissa Leo lead actress honors for her role as the wits' end single mom who'll do anything to feed her sons in ""Frozen River."
That both are also Oscar-nominated says someting about the convergence of indie- and studio-financed films at awards time.
Penelope Cruz, Oscar-nominated supportng actress, took the "Spirit" prize as the tempestuous ex-wife of "Vicky Cristina Barcelona" and James Franco was cited for his role as Harvey Milk's longtime partner in "Milk."

"The Wrestler" won best pic and Tom McCarthy, who made the quietly moving character study "The Visitor," won best director honors.

It will be fascinating to see if the nominated Rourke, Leo and Cruz repeat tonight at the Oscars.
Carrie Rickey

, Film Critic
Carrie Rickey

, Film Critic
Don't know whether it's because we're coming off an historic election year, but on the basis of reader queries, "Frost/Nixon," Ron Howard's Oscar-nominated adaptation of Peter Morgan's stage hit, is certainly arousing and/or restimulating interest in America's 37th president, himself the subject of several fascinating films. Call the phenomenon Thaw/Nixon.
One friend of Flickgrrl says seeing Howard's film starring the formidable Frank Langella as the disgraced chief exec, the only POTUS to resign while in office, motivated him to rent the 1977 David Frost interviews with Nixon, available on DVD., which serves as the basis of the movie. Said friend enthusiastically recommends the experience, both for its intrinsic historical appeal and as a means of seeing how dramatists reshaped the material for the stage and film production.
Readers not yet born when Nixon left the White House in 1974 have asked about other film Nixonia. Whatever you may think of him as a man and president, he certainly inspired a fascinating body of films and compelling performances from the actors who portrayed his hubristic, Shakespearean story.
Carrie Rickey

, Film Critic

Like many in the blogosphere, I'm puzzling over the National Review's recent-ish list of the 25 Best Conservative Movies, which to me looks like a group of movies almost everyone likes ("The Incredibles," "Groundhog Day," "Juno," "The Dark Knight," "United 93"), no matter what their political orientation.

The truth is, as film historian Jeanine Basinger always tells her students, when we go to the movies, "we see who we are," meaning we project ourselves and our values onto the screen. A liberal can watch "Juno," a movie in which the pregnant teen heroine carries the baby to term and gives it up for adoption, and call it "pro-choice." A conservative can watch the same scenario and call it "pro-life." A liberal can watch "The Dark Knight" and see in it a condemnation of George W. Bush's surveillance technology that invades privacy. A conservative can watch it and see it as a defense of same policy. Many of the most popular films are those that speak with forked tongue, i.e., confirm the beliefs of those at either end of the ideological spectrum.

Still, this list got me thinking: Is it possible to identify a Conservative film? A Liberal one? Is it the political affiliation of the filmmaker? If so, the right-leaning Clint Eastwood slaughtered a Conservative sacred cow in "Million Dollar Baby." Is it the ideology of the hero? If so, the populist James Stewart in "It's a Wonderful Life" might be deemed anti-Capitalist because of his ongoing fight with banker Lionel Barrymore. The movie "To Kill a Mockingbird," released a few years before the Civil Rights Act, was in its day progressive. After the Civil Rights act, its plea for equal rights is less easy to place ideologically.

Any thoughts?