Archive: December, 2009

Say it ain't so! According to Charlotte Triggs at People magazine, Tim Robbins and Susan Sarandon, who met while co-stars in the comedy Bull Durham (1988) and have been life partners for nearly 23 years together, are separating. They were widely considered Hollywood's happiest couple. Robbins, 51, directed Sarandon, 63, to her Oscar-winning performance in Dead Man Walking. They have two sons. So sad.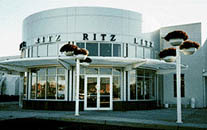 It's official. The Bridge Theater on Penn's campus and the Showcase at the Ritz in Voorhees, NJ have been acquired by Dallas-based Rave Motion Pictures, a boutique chain with locations in seven of the top ten strategic markets. According to company spkesman, Jeremy Devine, "It is our intention to maintain the art film programming" in Voorhees, such as it is. No name changes are imminent, although Devine said that Rave may want to re-brand with its name in the future.
My sources in Fort Worth tell me that they like Rave theaters (which are all under a decade old, as the chain was founded in 1999. Patrons particularly like the retractable armrests which can be pulled back for couples who want to cuddle or strangers who don't want to rub elbows with each other.
Here's Rave's link for the Bridge and for the Showcase Ritz.
It's official. The Bridge Theater on Penn's campus and the Showcase at the Ritz in Voorhees, NJ have been acquired by Dallas-based Rave Motion Pictures, a boutique chain with locations in seven of the top ten strategic markets.
While watching Rob Marshall's Nine, his movie based on the 1982 Broadway musical itself based on the 1963 Federico Fellini semiautobiograpy 8 1/2, I thought of the other movies that owed a debt to Fellini's opus about a self-critical filmmaker trying to make a film. My favorite among Fellini's spawn is Bob Fosse's All That Jazz (1979), starring Roy Scheider as a choreographer/Broadway director/movie director who spreads himself too thin professionally and personally. I'm also fond of Francois Truffaut's Day for Night (1973), starring Truffaut himself as the director for whom reel and real life blur. In this subgenre of directorial self-reflection is also Woody Allen's Stardust Memories (1980) in which the filmmaker plays a filmmaker torn between women and his "funnier, earlier work" and his current serious efforts and Allen's related Deconstructing Harry (1997), a less pretentious and more uproarious work of art about art.
As I was hunting for a photo to illustrate this blog, I found a piece in the Guardian addressing this topic, which also lists Paul Mazursky's Alex in Wonderland (1970), a Fellini-inspired movie so listless that one wag dubbed it 1 1/2. The Guardian also includes Spike Jonze's wonderful Adaptation (2002), about a screenwriter (Nic Cage) trying to adapt Susan Orlean's non-fiction book The Orchid Thief.
Adaptation is more a film about filmmaking than a film about a filmmaker's creative crisis, but I take the point. Two other superlative movies in this vein are Vincente Minnelli's The Bad and the Beautiful (1952), a great melodrama starring Kirk Douglas as a manipulative producer, and Jean-Luc Godard's Contempt (1963), with Michel Piccoli as a screenwriter besotted by wife Brigitte Bardot.

As I reported today, The Bridge multiplex at the University of Pennsylvania and Showcase at the Ritz in Voorhees, NJ -- respectively leased and owned by the cash-strapped National Amusements chain, cornerstone of Sumner Redstone's corporate empire -- are being eyed by the Dallas-based Rave Motion Pictures, a chainlet with over 400 screens in 14 cities, including Dallas, Forth Worth and Columbus, Ohio.
Known for its state-of-the-art digital technology and nifty seating (that includes retractable armrests that make cuddling possible), Rave operates upscale multiplexes that show primarily mainstream movies. (A random search of offerings at its Forth Worth and Columbus multiplexes show that while Rave is exhibiting artier titles such as Brothers, Fantastic Mr. Fox and Everybody's Fine, its focus is on fare such as Twilight and The Princess and the Frog.)
Should Rave acquire the Voorhees multiplex, upon its opening in 1996 one of the premier moviegoing destinations in the nation, with real marble details instead of Corian, will it spell the end of that theater's showing of independent films? At that 16-plex, Showcase reduced the number of screens dedicated to artfilms from about eight to four. If you're a regular at either of these theaters, what features would you like to see under new ownership?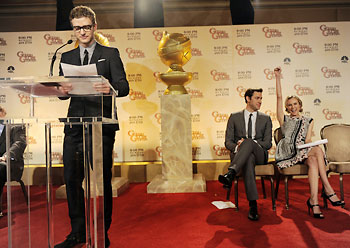 The Hollywood Foreign Press Association, made up of the 90 or so scribes who vote on the Golden Globes, kicked off awards season this morning by giving a warm, fuzzy embrace to the downsizing dramedy Up in the Air (which led the field with six nominations), Meryl Streep (two noms for best comedy actress in Julie & Julia and It's Complicated) and Sandra Bullock (comedy actress nom for The Proposal and dramatic actress bid for The Blind Side.

Unlike the Oscars, the Globes divide nominees between drama and comedy. Best drama contenders are "The Hurt Locker, Avatar, Precious, Up in the Air and Inglourious Basterds. Comedy nominees are The Hangover, (500) Days of Summer, It's Complicated, Julie & Julia and Nine. I'm not sure that these titles are an altogether accurate predicter of Oscar nominees - which will have 10 best picture contenders this year. I expect that the Pixar animation Up, and Clint Eastwood's Nelson Mandela story Invictus will make the Oscar cut.

But several interesting themes emerge: As I blogged yesterday, Oscar season promises to be a race between those ex-spouses James Cameron (Avatar) and Kathryn Bigelow (The Hurt Locker). And it may be the first time in Academy history that more than one woman gets a best director nomination. The Globes cited Bigelow for Hurt Locket. It also nominated Nora Ephron's Julie & Julia and Nancy Meyers' It's Complicated for best comedy. If I were a betting woman, I'd put my money on Mo'Nique, a lock for best supporting actress for her performance as the abusive mother in Precious. Given the nods for Streep, Ephron, Meyers and Mo'Nique, I think we can safely say that we're seeing the creative sec ond wind of women of a certain age, what anthropologist Margaret Mead called "post-menopausal zest."

Your thoughts?
Click here for a list of the nominees.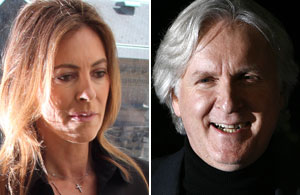 Most handicappers predict that come Oscar time Kathryn Bigelow's present-tense war drama The Hurt Locker and James Cameron's futuristic space opera Avatar will be best director and best picture front-runners. Which would make it (by my reckoning) the first time in Academy history that onetime spouses (Bigelow and Cameron were married in the 1990s) raced against each other in the gold derby.
Both are terrific and suspenseful war stories, textbook examples of an intimate independent and a studio epic. Artistically speaking, Bigelow's is as detailed as a Persian miniature while the scope of Cameron's 3-D extravaganza is panoramic and larger-than-life. Her movie about elite soldiers who defuse improvised explosive devices engages the guts and mind; his movie about American colonists drilling for minerals and upsetting the ecosystem and inhabitants of a faraway planet engages the heart. I like both films enormously, but, as you can read, comparing them amounts to comparing apples to mangoes.
Except for 1941, when sisters Olivia de Havilland (Hold Back the Dawn) and Joan Fontaine (Suspicion) competed for the best actress statuette (Fontaine won, but today de Havilland owns two best actress statuettes to Fontaine's singleton), I can't think of many other relatives by blood or marriage who competed against each other at Oscar time. (The collaborating Coen brothers -- Oscars for Fargo and No Country for Old Men -- work together, as did Philip and Julius Epstein, who co-wrote the Oscar-winning screenplay for Casablanca.) Perhaps the Sylbert brothers, Paul and Richard, who are legendary art directors? Or the screenwriting Goldman brothers, James and William, who respectively won Oscars for The Lion in Winter and Butch Cassidy and the Sundance Kid?

We know Leslie Caron is a star. During the 1950s, she twinkled as the gamines Lise, Lili, Gigi, Gaby and Fanny -- and that was just her first decade in Hollywood, before the accomplished dancer dazzled moviegoers with her dramatic chops in The L-Shaped Room (1962), as a pregnant (and unmarried) woman who takes command of her future. She likewise dazzled other dancers, and may be the only woman who danced with Fred Astaire, Mikhail Baryshnikov, Gene Kelly and Rudolf Nureyev.
On December 8 Caron's star will be permanently fixed in the Hollywood firmament, when she dedicates her star on the Hollywood Walk of Fame. She will have a poetic piece of real estate, between the stars of Gene Kelly (with whom she danced in An American in Paris) and Louis Jourdan (with whom she sang in Gigi).
The formidable Miss Caron, 78, conquered Philadelphia yesterday with a noontime appearance at the Free Library and her evening celebration by the Alliance Francaise, where she spoke about her memoir, Thank Heaven (its title taken from the opening song in Gigi), a book trim, candid and witty as its author (an accomplished writer who in 1982 published Vengeance, a haunting collection of short stories). When I interviewed Miss C yesterday at the Library, I mentioned that in its compassion, Thank Heaven was unusual for a Hollywood memoir. "It is also unusual for a Hollywood memoir in that its subject actually wrote it," was her riposte.