Archive: November, 2009
Carrie Rickey, Film Critic

Some links worth reading and debating over the holidays:
1) It's debatable whether the current decade began January 1, 2000 or January 1, 2001. Likewise ripe for debate is the Times of London's 100 Best Movies of the Decade. Unsurprisingly the list skews British and includes Stephen Frears' The Queen (Helen Mirren, as QE2, pictured), a poignant portrait of the crowned head of England.
While lists of "vital titles" (as we call 'em around the house) are useful to movie geeks who want guidance with what to watch, more interesting to me than ranking the movies of the decade is teasing out their meaning. Movies of the first decade of the new millennium are distinguished in their interest in how technology informs and deforms human relations (Cache, Grizzly Man, The Lives of Others, Eternal Sunshine of the Spotless Mind). Not unrelated to this is how advances in technology have made possible certain effects-laden films (think The Lord of the Rings trilogy, Gladiator). Your thoughts? Nominations for vital titles?
Carrie Rickey, Film Critic

This is America, where every phenomenon needs an interpretation. There are many proffered for Twilight, the young-adult novels and movies made from them, coinciding with the release of its movie sequel, New Moon.
Are the "Twi-Hards" a cult with teenage adherents who fixated on Robert Pattinson and Taylor Lautner in the way previous generations of 'tweens were on the Beatles, David Cassidy and Michael Jackson, -- because they are fantasy pinups upon whom girls can project their sexual lust in a safe way?
Is "Twilight-ism" it a metaphor of unrequited love, as this essay from Esquire suggests, stating that, "Vampire fiction for young women is the equivalent of lesbian porn for men: Both create an atmosphere of sexual abandon that is nonthreatening"?
Carrie Rickey, Film Critic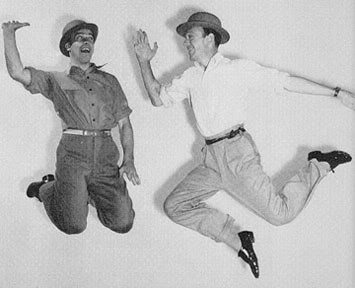 They are thesis and antithesis. Fred Astaire defies gravity; Gene Kelly is earthbound. Astaire is spirit; Kelly flesh. Astaire is the embodiment of grace, Kelly of athleticism. For Astaire, dance is the vertical expression of horizontal feelings for another; for Kelly, it is the expression of self. Astaire made dancing look easy; Kelly made it look like a workout. Astaire begot Michael Jackson; Kelly begot Patrick Swayze.
Fred Astaire or Gene Kelly? The eloquent Paula Marantz Cohen (Drexel professor, author and Astaire advocate) and the learned Andrew Douglas (Bryn Mawr Film Institute education director and Kelly partisan) will make their cases on November 18 at International House (3701 Chestnut Street) at 7 pm. At the event sponsored by the Institute of Contemporary Art, Exhibit A is Top Hat (1935) and Exhibit K Singin' in the Rain (1952), both of which will be shown, enjoyed and argued.
Flickgrrl stands firmly in the Astaire camp, while noting the paradox that though Astaire is the best screen dancer ever, Kelly's Singin' in the Rain is the best dance musical. Though she admires Kelly -- especially in An American in Paris, Singin', The Pirate and On the Town -- she cannot say that she likes him. Because however superb Kelly's choreography and artistry, his aggressive muscularity suggests that he thought there was something sissy about a man dancing.
Carrie Rickey, Film Critic
The pleasure of an actor's company often makes a nondescript movie seem great. Call it the Jeff Bridges Boost. Every time Bridges is on screen in Men Who Stare at Goats, Grant Heslov's satire about a top-secret cadre of military intelligentsia, the movie pops. Bridges plays Bill Django, a warrior for peace dedicated to psychic (and perhaps psychedelic) means of ending war, a character so far outside the mainstream that he seems to redirect the way the water flows. Django is a spiritual cousin of Bridges' cult hero, The Dude, in The Big Lebowski (see here for Bridges' thoughts on that movie and its belated success.) One might consider Goats an example of Lebowskism, that philosophy of process without an object.
Ironic and iconic, Bridges combines the elements that made Robert Mitchum so appealing: He's eternally the guy who doesn't give a damn, but who cares deeply. (See The Last Picture Show, Fat City, Winter Kills, Cutter's Way, Fearless, The Fabulous Baker Boys, The Fisher King.) While his tarnished charisma often seems misused in more conventional movies such as King Kong and Jagged Edge, he did a hell of a job as the extraterrestrial posing as a human in Starman , as the cagy U.S. president in The Contender and the monstrously egomaniacal author in The Door in the Floor. Your thoughts? Favorite Bridges performances? Why?
Carrie Rickey, Film Critic
My reaction to "Disney's A Christmas Carol," the motion-capture animation released today, was that the Robert Zemeckis version of Charles Dickens evergreen was, "too much Halloween night and not enough Christmas morning." (Read my review here.) I scribbled in my notebook, "What would Dickens think?"
Mr. Dickens is, of course, no longer with us. But his great-great grandson Gerald Dickens, 46, was happy to speak with Flickgrrl by phone from Oxford. (Not coincidentally, the actor will be touring the U.S. with his one-man show of A Christmas Carol next month and will bring it to Byers' Choice in Bucks County on December 11 and 12.) Dickens has yet to see the Zemeckis version, but among the many movie versions of Carol, he's fond of "the classic Alastair Sim version" (1951, by Brian Desmond-Hurst), because "it has the joyousness and captures the point that nasty Scrooge must get terrified and change his ways."
"I also enjoyed the George C. Scott version, with Scrooge as a big brash businessman of the sort you might see on Wall Street rather than this weaselly sort," Dickens reflects. He has no thoughts about the 1988 Bill Murray update, Scrooged.
Carrie Rickey, Film Critic

In recent years, moviegoers have seen theme-park rides adapted to screen (Pirates of the Caribbean) and popular toys become the stars of summer blockbusters (Transformers). And even though Clue: The Movie wasn't a hit, it was just a matter of time before Hollywood producers rifled through their kids' toy chest s to consider the big-screen potential of other board games.
As was reported by the Los Angeles Times this summer, Transformers' Michael Bay has been linked to a Ouija movie, Pirates' Gore Verbinski has expressed interest in a Clue re-do and Hancock's Peter Berg wants to board Battleship. One might well joke, what's next, Candy Land? Except that Enchanted's Kevin Lima has his dibs on that and Gladiator's Ridley Scott on - this is not a joke -- Monopoly. (Expect Baltic Avenue to be as tough a proving ground as the Roman Forum in Gladiator.)
Still, I was surprised at today's news that Risk has been optioned for a screen adaptation by Sony Pictures. What's left? Scrabble? (I can think of a couple of actors suitable to be cast as the blank.)
Carrie Rickey, Film Critic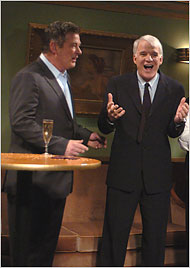 With last week's announcement from the Hollywood Foreign Press Association that Ricky Gervais, the Great White Snark, would emcee the Golden Globes, I thought that HFPA had trumped the Oscars. Then yesterday, announcing Alec Baldwin and Steve Martin as Oscar co-hosts, Academy Awards producers bet that on awards shows, as in poker, two kings of comedy are better than one.
The frequent Saturday Night Live fixtures -- who shared a memorable SNL skit on who was a better host of the late-night show -- have a comic competition going. Martin greeted yesterday's announcement with, "I look forward to co-hosting the Oscars with my enemy Alec Baldwin."
Martin previously emceed two Oscar ceremonies with great aplomb, ingratiating himself both to home audience and that in the auditorium. For me, he's the best Oscar host since Johnny Carson and Billy Crystal, able to rib the big egos in the room because he himself is one of them. ( It's a skill that Chris Rock and Jon Stewart, hilarious as they are, do not possess.) Martin's understated delivery should play well off of Baldwin's bluster. (Still, I wish it was Tina Fey, Baldwin's 30 Rock co-star , instead of Baldwin who was tapped instead of Baldwin.)
Carrie Rickey, Film Critic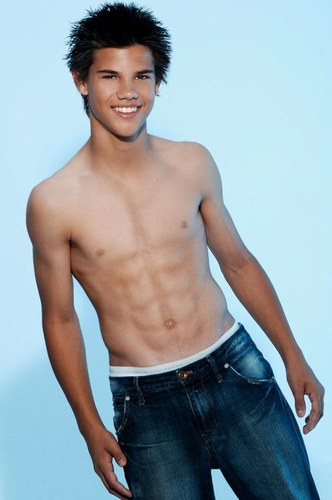 The shirtless cute boy is a pinup who displays his sixpack (or in the case of New Moon's Taylor Lautner, pictured, his tenpack) for the delectation of his fans. It's the male version of a starlet (Megan Fox, anyone? everyone?) posing in a string bikini for Maxim or Sports Illustrated. Lately the vealcake on parade (vealcake being the teen version of beefcake) is inescapable. You can't open a magazine (or an Internet site) without seeing a shirtless cute boy (Zac Efron? Corbin Bleu?) bare abs and assets. It's not a new phenom: These male starlets are just giving us the shirt off their backs as Paul Newman (Cool Hand Luke), Burt Reynolds (The Longest Yard), John Travolta (Saturday Night Fever), Denzel Washington (Glory) and Brad Pitt (Thelma & Louise) did before them.
While neither a consumer of beefcake nor of cheescake, I suppose the shirtless cute boy is an index of gender equality in that males as well as females are objectifying themselves. But isn't this as dubious an achievement as actors being as ready as actresses to have face work done?
Are you a fan of the shirtless cute boy? If so, which pin-up is indelibly burned in memory? Not a fan? Why? While I have no objections to nudity in films when called for by the narrative, to me there's something self-conscious and gratuitous about pinup shots. I can think of an exception to this: In Alien when Sigourney Weaver walks around the space ship in her bikini underwear, the viewer is so distracted by her body that the shock of what happens next is doubly shocking.