Archive: April, 2010

Say goodbye to The Bridge and to the Showcase at the Ritz Center. Rave Motion Pictures, the new operators, is rebranding both theaters.
On Friday, The Bridge Theater at 40th and Walnut will be rechristened. You may call it Rave Motion Pictures U Penn Theater. But I'll probably just call it The Rave. (Imagine it as a Rave without a mosh pit but with a media room.)
The Showcase at the Ritz Center (formerly the Ritz 16/Voorhees) will be officially known as Rave Motion Pictures Ritz Center 16.

Hope springs eternal and in Spring hope returns. But Elizabeth Taylor denies the rumors about her impending troth to talent manager Jason Winters. And reporters around the world breathe a collective sigh of relief that they don't have to update her advance obituary once again.
And if you need a Liz sighting, may Flickgrrl suggest: Jane Eyre (1944) or National Velvet (same year) for the preteen Elizabeth), Father of the Bride (1950) or A Place in the Sun (1951) for the teen lovely, The Last Time I Saw Paris (1954) or Cat on a Hot Tin Roof (1958) for the mature Liz. Your favorite Taylor performance? Why?


How do you refresh a marriage, that date that never ends? When I read last Sunday's advance piece in The New York Times about Date Night which invoked Stanley Cavell's 1981 book Pursuits of Happiness, the philosopher's reflections on the genre of film he dubbed the "comedy of remarriage," I thought the writer was stretching the point. How could he compare a movie classic like George Cukor's Adam's Rib, the comedy pitting district attorney Spencer Tracy against lawyer wife Katharine Hepburn, with Shawn Levy's film starring Steve Carell and Tina Fey as a mild-mannered accountant and Realtor who resuscitate their flatlining marriage when they are mistaken for con artists?
As it turns out, not so much of a stretch. Date Night, which owes much to the deadpan improvisations of the equally matched Carell and Fey, turns out to be a most enjoyable example of what Cavell described as a genre of movie where the goal isn't to get the central pair together -- but to get them back together again. (Lately this narrative has been co-opted over by bromances such as Wedding Crashers and I Love You, Man.) Me, I never expected to read the names Cavell and Carell in the same sentence, but there you are.
The thrust of comedies of remarriage such as The Lady Eve, The Philadelphia Story, His Girl Friday, Adam's Rib -- and yes, Date Night -- is that the couple either grows up together -- or grows apart. These seemingly frivolous entertainments are stealth films of reaffirmation.

Cheers to the wags at Cracked.com for their crack deconstruction of the tropes of novelist Nicholas Sparks (The Notebook, A Walk to Remember, The Last Song) and for giving home cooks the master recipe for stirring up one of Sparks' romantic potboilers that arrive ready for movie adaptation. To paraphrase: Take two pretty white people, add obstacle that makes their love hard to consummate, fold in disaster that jerks tears, bake for one hour and 40 minutes, count your blessings and the cash. As Roger Ebert so astutely wrote in his recent review of Dear John, Sparks films tend to be about young lovers who fail to find romantic success because they are trapped in an adaptation of a Nicholas Sparks novel.
Why is Sparks, that Kaiser of Kleenex, such an adaptation magnet? To paraphrase my review of The Last Song, his stories are a godsend for young actresses transitioning from teenage to adult roles. Mandy Moore did Sparks in A Walk to Remember, Rachel McAdam's in The Notebook, Amanda Seyfried in Dear John and Miley Cyrus in The Last Song.
For me, Sparks movies are a most effective trigger for cognitive dissonance. I inevitably cringe at the story and cry with sympathy for the characters. You? Are there other novelists or screenwriters that strike similar Sparks?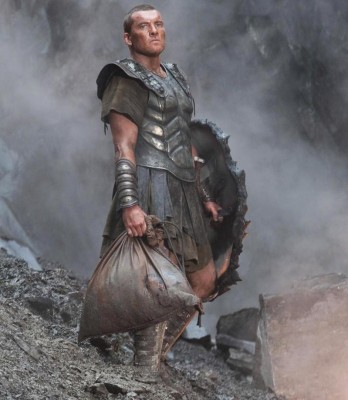 "I cannot emphasize this enough, do not pay out for the 3-D, as it simply isn't there." So insists Duncan Bowles, of Den of Geek, in his consideration of Clash of the Titans, subjected to a quickie 3-D conversion before its release in order for the studio to make extra bucks on the surcharge for 3-D tickets. (The premium on a 3-D ducat is three to five dollars over a standard admission.) As Bowles says, "The director didn't even want it apparently, but lo and behold Clash Of The Titans was retro-fitted to turn a fast buck and the result is shocking. Please, please if you go and see Clash of the Titans, watch it in 2-D before this whole mess gets out of hand.... I have never been so insulted by such a criminal intent to rob the public, so to any studio who attempt to cash in on the success of other, better films with this technique: don't."
I've been away on vacation, so I haven't yet caught up with Clash, the remake of the delightfully cheesy 1981 film from director Desmond Davis and special-effects wizard Ray Harryhausen. Instinctively, I agree with Bowles. That's because when I saw Tim Burton's Alice in Wonderland, which I liked and which was likewise the product of a belated 3-D conversion that might have added dollars to the studio coffers but not to the viewer experience, I worried that distributors were bilking consumers out of money they didn't need to spend. Alice was fine in 2-D. 3-D glasses only made its colors darker and created an effect more suggestive of a pop-upcard rather than of deep space. Of Clash, fellow film critic Ken Turan of the Los Angeles Times opined that it might be "the first movie to be made worse by 3-D."
It's worth paying extra for the 3-D ticket when a movie was conceived and shot in that format, as with Avatar and Up! Why pay champagne prices for sparkling wine? Your thoughts? Are you a fan of 3-D?