Archive: April, 2009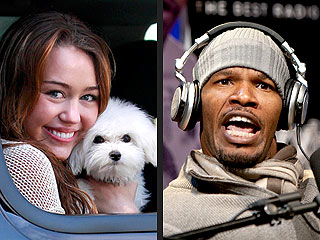 UPDATE: On the Jay Leno show last night, Foxx apologized to Cyrus and to his fans, characterizing himself as "the black Howard Stern" and admitting that he took the "joke" too far. Should he apologize musically and record a duet with the teen powerhouse?
Jamie Foxx is a fine actor ("Any Given Sunday," "Collateral," "Ali"), Oscar winner ("Ray"), chart-topping R & B recording star, host of the Sirius radio show, "The Foxxhole" and doting father. In interviews over the years I've found him reflective, funny and very, very smart.
That's why I'm having a hard time believing that he said something really dumb and irresponsible on his radio show last Saturday about Miley Cyrus, a movie personality and recording star only two years older than Foxx's beloved daughter. Jamie, your Grandma Talley who raised you taught you better than to make fun of the way someone looks -- that's how they were born, it's out of their control. Jamie, if someone made the crack crack about your daughter, Corinne, you would be all over him like white on rice. Please tell me it was a lapse of judgment.

While reading Gerald Kolpan's "Etta," an intriguing novel about Etta Place, the mystery woman who travelled with Butch and Sundance, I thought of the intriguing Katharine Ross who so memorably played Etta alongside Paul Newman and Robert Redford in the 1969 romp "Butch Cassidy and the Sundance Kid." Ross used her low forehead, curtain of hair, sensual underlip and intelligent inscrutability to great effect in a number of film classics, most famously "The Graduate" (1967), "BC&TSK," and "The Stepford Wives." She is one of those actors who communicated more without dialogue than with.
Her fans -- and who is not? -- can enjoy a Ross triple-dip on April 18 when Turner Classic Movies (TCM) will show "Butch Cassidy," "The Graduate," and "Tell Them Willie Boy is Here " (1969), Abraham Polonsky's underknown film about a Paiute who kills in self-defense. The Native American is Robert Blake and Ross is his Paiute girlfriend. While Ross turned up on the evening soap opera "The Colbys" in the 1970s and was lately seen as Jake Gyllenhaal's shrink in "Donnie Darko," she is not a prolific actress. For 25 years she has been married to the gravel-voiced actor Sam Elliott.
My favorite Ross role is Etta. Yours?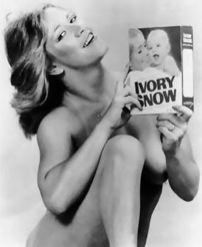 Marilyn Chambers, the Meg Ryan of X-rated film, was found dead by her daughter in the Los Angeles suburb of Santa Clarita Sunday. The demure-looking Connecticut beauty became famous as the 99 44/100 % pure mother pictured on the Ivory Snow box in 1969 and infamous as Gloria, the innocent babe abducted and whisked off to a private sex club in the 1972 XXX sensation "Behind the Green Door." Her sunny presence as the sleeping beauty sexually awakened by male trapeze artists in crotchless tights helped mainstream porn movies. She also appeared in "Rabid," David Cronenberg's 1977 cult film about a bionic vampire with a blood-sucking syringe underneath her left arm, as unnerving an image of sexual voracity as anything in her X-rated films. The madonna/whore of the Boogie Nights era, Chambers died 10 days shy of her 57th birthday.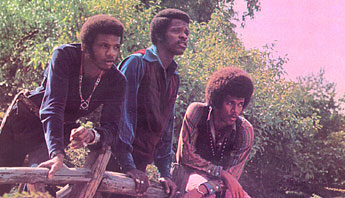 Was sad to read that Randy Cain, a founding member of the suave and soulful Delfonics, passed away on Thursday in Maple Shade, NJ. As reader Bob Elwood reminded me, the Delfonics "La La Means I Love You" and their Grammy-winning "Didn't I Blow Your Mind This Time" were nicely used by Quentin Tarantino in "Jackie Brown" to pungently underscore the developing relationship between Pam Grier and Robert Forster. Cain met brother Delfonics William and Wilbert Hart at Overbrook High, long an incubator of local talent.

If something is worth saying, it's worth saying twice -- or so it is said. But does this also apply to movies? Following close on the Vibram heels of "Paul Blart: Mall Cop," is "Observe and Report," opening tomorrow, the second shopping-center security comedy in a matter of months.
Is Hollywood seeing double? In recent years, moviegoers had to choose from competing Truman Capote biopics, "Capote" and "Infamous"; colliding killer-asteroid actioners, "Armageddon" and "Deep Impact" (yeah, I know, one was an asteroid, the other a comet); twin eruption thrillers, "Volcano" and "Dante's Peak"; the magician mysteries "The Prestige" and "The Illusionist"; and the insect animations "Antz" and "A Bug's Life."
In movies, as in pregnancies, twins are still relatively rare. The twinning effect may have been most pronounced in 1987 where it seemed almost every other film was about a parent and child trading bodies ("Vice-Versa," "Like Father, Like Son," "18 Again") , a kid becoming his adult self ("Big") or an adult regressing to her teen self ("Peggy Sue Got Married." (BTW, the upcoming Matthew Perry/Zac Efron comedy "17 Again" revisits this time-travelling comedy scenario.)