Archive: March, 2009
Carrie Rickey, Film Critic

Not a joke. Still, it made me laugh. According to the Hollywood trade newspaper Variety, Sean Penn -- an actor (despite his Spicoli in "Fast Times at Ridgmont High") better known for gravity than comedy -- is "attached" to a Farrelly Brothers screenplay about The Three Stooges. He would be Larry Fine.
Says the report: MGM and the Farrelly brothers are closing in on their cast for "The Three Stooges." Studio has set Sean Penn to play Larry, and negotiations are underway with Jim Carrey to play Curly, with the actor already making plans to gain 40 pounds to approximate the physical dimensions of Jerome "Curly" Howard. The studio is zeroing in on Benicio Del Toro to play Moe. The film is not a biopic, but rather a comedy built around the antics of the three characters that Moe Howard, Larry Fine and Howard played in the Columbia Pictures shorts."
Nyuk, nyuk, nyuk.
Carrie Rickey, Film Critic

My colleague Joe Baltake, who posts here as "Pash," e-mailed me yesterday to say how much he enjoyed "I Love You Man." His observation: "These guy flicks - 'The 40-Year-Old Virgin,' 'The Wedding Crashers,' 'Role Models'" et al - have been consistently entertaining and surprisingly astute in their observations. I wish I could say the same for the recent chick flicks, most of which (thanks to the 'Sex and the City' curse) have been preoccupied with expensive shoes, gargantuan weddings and questionable values. Feel free to disagree. "
I don't disagree, Joe, as you might have read in a previous post about "Bride Wars" and its ilk. What we're seeing at the multiplex is the convergence of the buddy movie and the romantic comedy. The "bromance," or "brotherly romance" -- the platonic love story between two men -- has effectively replaced the rom-com, the romantic love story between man and woman. I very much enjoyed "Wedding Crashers" and "I Love You, Man."
The good news is that these movies are terrific -- and show men expressing their emotions outside of the baseball diamond and gridiron context. (Used to be that the only films where men spoke of their feelings or cried was the sports flick -- "Field of Dreams," "Bang the Drum Slowly," "Brian's Song.") The not-so-good news about the "Wedding Crashers" effect is that the rom-com, once a genre that employed actresses , female screenwriters and directors, has been co-opted by actors and male screenwriters and directors at the same moment that the so-called chick-flick has been co-opted by the fashion and bridal industries who use these film as a means of selling wedding dresses and diamond rings.
Carrie Rickey, Film Critic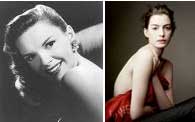 Just got the news that The Weinstein Company has optioned Gerald Clarke's splendid Judy Garland biography, "Get Happy." And that willowy beauty Anne Hathaway is expected to star as the diminutive dynamo whom mogul Louis B. Mayer liked to call "my little hunchback."
My kneejerk reaction was: How can a bona fide stunner -- perhaps the most gorgeous woman in Hollywood since Ava Gardner -- play the famously insecure Garland who was envious of Gardner, her sister MGM star?
Then I started thinking about about Hathaway's and Garland's similarities: Both were perky teen stars who made their names in family films and then surprised everyone with their dramatic chops. Hathaway has a lovely voice, but it will take some work for her to develop the Garland vibrato that massaged the hearts of its listeners.
Carrie Rickey, Film Critic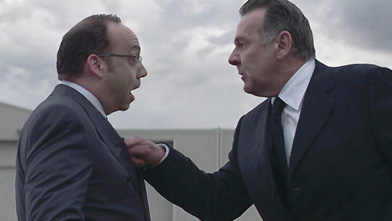 "A film should have a beginning, a middle and an end, but not necessarily in that order," cracked French filmmaker Jean-Luc Godard ("Breathless," "Alphaville") who famously reinvigorated movie narrative with fractures and jump-cut flash-forwards.
I thought of Godard's crack during "Duplicity," Tony Gilroy's sleek spy-versus-spy story that pits American agent Julia Roberts against her British counterpart Clive Owen. Through a series of flashbacks-within-flash-forwards, Gilroy (whose "Michael Clayton" likewise scrambled its chronology) makes the viewer wonder whether Roberts and Owen are in conflict or cahoots. Though I thoroughly enjoyed the film's erotic byplay and was warmed by its considerable starpower, by the fifth flashback I lost hold of the (very tangled) narrative thread. Has this happened to you in films such as "Memento," "Synechdoche, NY" and "Adaptation"?
It's hardly a new trend,.Preston Sturges used it in his very complex screenplay for "The Power and the Glory" (1933), itself a huge influence on the fractured narrative of "Citizen Kane" (1941). But in certain films, this flashback-and-forth is exhausting. Thoughts?
Carrie Rickey, Film Critic

When Catherine Hardwicke's "Twilight" was released in November, the film based on Stephenie Meyer's young-adult novels was taken very seriously at the box office -- $372 million worldwide from its adherents known as Twi-hards -- less so by observers who sniffed that the film defanged the vampire movie by making it a teen fantasy about a gallant specimen of the undead who does not want to turn the girl he loves into a beast like him. Unusual for a vampire film, Edward (played with humor by Robert Pattinson), is abstinent. Evidently, The critics of "Twilight" didn't get their bloodlust slaked. (If you haven't already seen it, the DVD is being released tonight at midnight.)
The vampire is a shape-shifting metaphor. Usually the creature is one of society's outsiders with an insatiable appetites for crime or sex.or violence. Or all three. In Louis Feuillade's fantastic serial "Les Vampires" (1915), the vampire known as Irma Vep (an anagram for vampire) is a villainess and seductress, ringleader of a Parisian gang of thieves. In F.W. Murnau's "Nosferatu" (1924), the vampire is an accursed and feral creature living on the fringes of society, a bat-eared man who cannot control his thirst for blood. The genius of "Twilight," which is about the erotics of chastity, is how it inverts the story by presenting a vampire who not only can control himself, but is reluctant to initiate his beloved. Whether a teenager, monster, aristocrat or hillbilly, the vampire generally represents what society most fears.
Now, I would put "Twilight" in my top five. That would be: Todd Browning's "Dracula" (1931) with Bela Lugosi, caped, coffin-creaking and suave; Kathryn Bigelow's "Near Dark" (1987), teen bloodsuckers from the wrong side of the tracks; Tony Scott's "The Hunger" (1983), with Susan Sarandon and Catherine Deneuve as elegant lesbian vampires; and. of course, "Nosferatu," with the eerie Max Schreck. As Roger Ebert said sbout it, "To see Nosferatu is to see the vampire movie before it had really seen itself." I also have some affection for Roman Polanski's "The Fearless Vampire Killers" and "Andy Warhol's Dracula" (1974), in which the bloodthirsty Udo Kier insists, "I must have the blood of wirgins." That's right, virgins with a W.
Carrie Rickey, Film Critic

"A twinkle and sparkle has left the world," was the headline in this morning's Guardian in the UK.
"Natasha combined the best of Vanessa Redgrave and Tony Richardson," mourned Sam Mendes, who directed the radiant actress in her Tony-winning play "Cabaret,. Referring to her actress mother and filmmaker father, Mendes observed, "She had the enormous depth and emotional force of a great actor on the one hand, and the intelligence and objectivity of a great director on the other."
Here's the Inquirer obit, written hastily on deadline. There's so much more to say about the sylphlike actress with the dazzling smile and talent, the voice like ginger and grit, the young woman who emerged from the towering shadow of her prodigiously gifted grandfather and mother and blazed her own path, about the devoted wife and mother, and about her shape-shifting ability to be patrician, slatternly, insecure and confident -- sometimes all at once. Though I treasure the once I saw her on stage -- in "Anna Christie" in the early '90s, I wish she had left behind more movies that showcased her considerable gifts. Everyone loves "The Parent Trap," of course. But then one you should rent to understand what the acting world has lost is "The White Countess," an underdeservedly underknown 2005 film directed by James Ivory. Richardson is the title figure, a Russian countess in 1936 Shangahi, supporting her family as a prostitute and csimultabneously ommunicating more conflicting emotions than almost any actress I've ever seen. Condolences to her mother, aunt, sister, husband and sons.
Carrie Rickey, Film Critic

While watching (and hugely enjoying) "I Love You, Man," the Paul Rudd comedy opening Friday, I wondered: Is there a difference between the "buddy movie" (like "The Odd Couple" or "Easy Rider") and the "bromance," (brotherly romance, i.e. the platonic friendships between men seen in films such as "Superbad," "Pineapple Express" and "ILY,M")?
Is the "buddy movie" a picture where a joint objective ais the text and the friendship subtext and a "bromance" the reverse? And how/where do we categorize the Bob Hope/Bing Crosby, Jerry Lewis/Dean Martin, Walter Matthau/Jack Lemmon , Cheech and Chong comedies?
Are you looking forward to "I Love You, Man"? Are you a Rudd fan? Like most women and an immodest number of men, he's made me laugh since he played Alicia Silverstone's grunge stepbrother in "Clueless." What makes him so funny is that he's an ordinary-looking guy who apparently is possessed by comic pixies, for instance his performance in "Knocked Up" as the married man who simultaneously tries to escape his marriage and make it work.
Carrie Rickey, Film Critic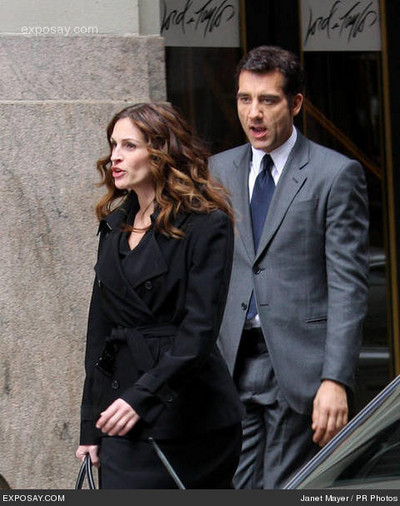 Contrary to the gospel of Babe Paley, maybe you can't be too rich but you can be too thin. Saw Tony Gilroy's twisty "Duplicity" starring Julia Roberts and Clive Owen last night. Stunned by how gaunt they are. Their hollow-cheeked characters, continent-hopping CIA and MI-6 agents gaming the system and each other, sip a lot of champagne but look as though they haven't had a full meal in a year. In the movie they don't meet cute, they meet underfed. (Admittely, even though they resemble stick figures, these immensely attractive actors nonetheless ooze charm.)
Still, they shouldn't listen to the late socialite Paley, who dictated "You can never be too rich or too thin." Better they should listen to Catherine Deneuve, who wisely said, "After 40, an actress has to choose between her face and her derriere." OK, she didn't say "derriere," she used a more vulgar term. But what she meant was, if your posterior is a soupcon round, you will have enough body fat for your face to stay round and cinegenic. And if your posterior is not, neither will your face be. Deneuve, still lovely at 66, knows her business.
Looking forward to "Duplicity?" Thoughts on Julia and Clive? I liked them in Mike Nichols' "Closer." And it must be said that Roberts has achieved a milestone few actresses do: She's been a star for 20 years.