Archive: January, 2009
As hopeful is the antonym of hopeless, so speechless' opposite is speechful.
During the inauguration proceedings, I've never heard a newsroom so quiet. A John Cage-like silence punctuated by the Zen sound of tears rolling down cheeks.
Speechful.
E-mail from my stepdaughter, Morgan, 23: "My friends and I were writing back and forth about how disgusted we are with movies like the horrific bride one with Anne Hathaway," she writes. "I feel like something needs to be written about how tired we are of seeing these movies that make the holy grail of our lives the wedding band."
Many have written about the horror of "Bride Wars". I think it's a marketing tool for the fashion and wedding industries. The New York Times' Manohla Dargis thinks Hollywood executives think that women have a gene for tulle. She's equally disgusted that the wedding film "is one of the few storylines that afford American actresses screen time."
Wedding movies are attractive to Hollywood because they purvey pretty ingenues in beautiful dresses that are paid-for product placement by coutourieres such as Vera Wang, pretty ingenues flaunting wedding blings that are paid-for product placement by jewelers such as Tiffany & Co.
Ricardo Gonzalo Pedro Montalban y Merino, Ricardo Montalban to you, passed away this morning in Los Angeles of "complications of old age."
It's hard to think of this vital, smiling, and seductve Mexican-born actor as anything less than robust, but recently the co-star of Lana Turner, Herve Villechaize and William Shatner had been wheelchair-bound.
A matinee idol and beloved Latin Lover who co-starred with Esther Williams in "Neptune's Daughter" and "Fiesta," Montalban later resurrected his flagging career with roles on television's "Fantasy Island" and with slyly funny roles as Khan in the 1982 Star Trek film "The Wrath of Khan" and opposite Leslie Nielsen in "The Naked Gun."
Will "Gran Torino" mark the last screen appearance of Clint Eastwood? That's what Eastwood, 78, says. But he also said that about "Million Dollar Baby," where the veteran actor/director made an equally memorable onscreen exit. (In "GT," though, his "Get offa my lawn" may prove to be as memorable a catchphrase as his Dirty Harry's, "Go ahead, make my day" or "Read my lips.")
Eastwood's declaration has Oscarologists speculating whether this year's event may honor two last stands, Eastwood's and Heath Ledger's in "The Dark Knight." Previously Eastwood has won Oscars for his lean direction ("Unforgiven," and "Million Dollar Baby" won director and best picture trophies) but never for his minimalist acting. Ledger was nominated for his superlative performance in "Brokeback Mountain," but lost to Philip Seymour Hoffman's stunning turn in "Capote." While it's hard to see Eastwood beat Sean Penn (who he directed in "Mystic River") as "Milk," or Mickey Rourke as "The Wrestler," the Academy is a famously sentimental group. It awarded Henry Fonda an Oscar for his last stand in "On Golden Pond" (a movie my Mom called "On Maudlin Pond" ) and Spencer Tracy for "Guess Who's Coming for Dinner."
Other notable last stands? Over at the estimable A List of Things Thrown Five Minutes Ago, AlexG cited a piece from /film that proposes the 10 Best Final Films in movie history. Apart from Ledger as The Joker in "The Dark Knight," a Molotov cocktail of dark humor and darker pathology, and James Dean in "Giant," my favorites are Audrey Hepburn as the helpful angel in "Always," Edward G. Robinson as Charlton's Heston's wise friend in "Soylent Green," Adrienne Shelly in "Waitress," Sammy Davis Jr. in "Tap," and John Wayne in "The Shootist," some of which made /film's list.
When Steven Spielberg accepted the Cecil B. DeMille award at the Golden Globes Sunday night, he told an anecdote about having seen his first DeMille film, "The Greatest Show on Earth," with his father at a theater in Philadelphia. He was, he said, awestruck by the film's train-crash sequence which he credits for inspiring him to direct movies. (He went straight home and recreated the crash with his Lionel train set and filmed it with Dad's 8mm camera.) I was hoping a reader might remember at which theater Spielberg may have seen the film. It was the historic Boyd theater at 1908 Chestnut, says Howard Haas, president of Friends of the Boyd, the group that has saved the rusting Art Deco gem from the wrecking ball and hopes that a developer will preserve it. As Haas says, preservation of the theater may well inspire the future Spielbergs living in the area.
Another Philadelphia landmark, more tenderly preserved, also inspired Spielberg, raised in nearby Haddon Heights and Haddonfield, NJ. A few years back he confessed that one of his "most primal" experiences was being parked under the Wanamaker's eagle (now the Macy's eagle), when his mother went shopping at the fabled department store. "I like to think that I captured that childhood terror of predatory creatures when I made 'Jurassic Park,' " he said.
Your thoughts on Spielberg? Do you prefer his popcorn to his prestige films? Favorites? I like both flavors of Spielberg, especially "E.T.," "Minority Report" and "Munich."

The Slumdog and John Adams shadowboxed The Wrestler, while Kate Winslet got a matched set of doorstops on an evening where English actresses hyperventilated their thanks and an American actor thanked...his Chihuahua.

As predicted, "Slumdog Millionaire" was the big winner at Sunday's Golden Globes, four statuettes in all, taking honors for best picture, best director (Danny Boyle), best screenplay (Simon Beaufoy's adaptation of the Indian novel "Q & A") and best score (A.R. Rahman's lively score and of-the-nanosecond soundtrack). Boyle sidestepped recent slams of him and his movie by thanking his co-director, Loveleen Tandan, the India-born casting director who found the winning young actors, coached them and convinced Boyle and his producers that the film would have more authenticity if the Mumbai street urchins spoke Hindi. The HBO miniseries "John Adams" likewise swept the awards for TV drama, winning the top prize and acting awards for leads Paul Giamatti and Laura Linney and for supporting actor Tom Wilkinson.

Unsurprisingly, Heath Ledger took supporting actor honors for his role as The Joker in "The Dark Knight."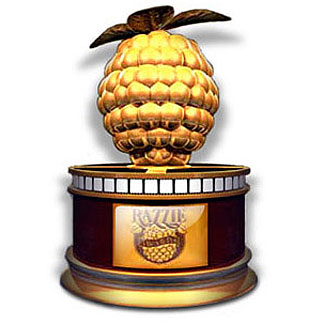 Come Sunday, moviegoers who care about such horseraces will see the first flash of the season's awards glitter on the 66th Annual Golden Globes (8 pm on NBC), where presumptive favorite "Slumdog Millionaire" contends for Best Drama against "The Curious Case of Benjamin Button," "Frost/Nixon," "The Reader" and "Revolutionary Road." Here is the complete list of all the GG nominees.
Though we enjoy the show, some of us don't give a hoot about the opinions of those 87 underemployed journalists, members of the Hollywood Foreign Press Association which gives the award (a gilded globe that resembles Uncle Lester's bowling trophy). We do, however, hoot at the official nominating ballot for the 29th Golden Raspberry Awards (the Razzies) where nominees for Worst Picture include; "Disaster Movie," "The Day the Earth Blowed Up Real Good' (the Razzies' pet name for "The Day the Earth Stood Still'), "The Hottie and the Nottie," "The Love Guru" and "Rambo 4." Here's the complete list of Razzie nominees. Understand that you cannot fully appreciate Razzie humor without reading the actual ballot, which describes Madonna as "The Immaterial Girl," Sylvester Stallone as "Grampo," and Keanu Reeves as "Dude, Where's My Talent?"
Your assignment today, girls and boys, is to discuss the implications of these very different ballots. Extra credit for suggestions on how to improve, streamline or subvert Swag Season, the awards parade that has effectively replaced Winter on the calendar. Me? I'd transform the Oscars from an Awards show into something more along the lines of a fraternity kegger.