Carrie Rickey, Film Critic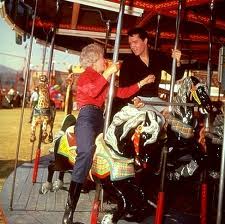 From big-top clowns to the little people, as, once upon a midway, midgets were known, circus movies regard the human menagerie, reducing character to types. The Strong Man. The Fat Lady. The Juggler. The Clown. The Ringmaster.
This week's release of Water for Elephants, based on Sara Gruen's bestselling novel, is both a celebration of carny camaraderie and an indictment of the casual cruelty to people and animals at the circus.
It's not a great movie (you can read my review here), but it provides that movie-movie pleasure of watching beautiful people struggle out of ugly situations. Consciously or not, it also borrows from other famous circus films (most notably, Charlie Chaplin's 1928 The Circus, in which Chaplin's Tramp/Clown falls for the bareback rider). Except for the mercurial character of August Rosenbluth, a mercurial and abusive figure played by Christoph Waltz, Elephants sanitizes the sawdust milieu so pungent in many circus movies.
Carrie Rickey, Film Critic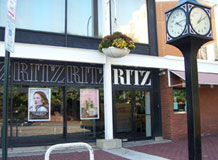 So Landmark Theatres, owners of the the three Ritz moviehouses in Society Hill, has put its 63 properties up on the auction block. (See second item). What does this mean for art films nationally and locally?
Media entrepreneur Mark Cuban, owner of the nation's premier chain for independent, art and foreign film, says he's just "testing the waters" to see if he can get his price for the Landmark properties.
It's a volatile time for movie exhibition. Viewing habits are changing. Netflix subscribers can see several movies a month for the price of one movie ticket in a theater (and also save on parking fees.) Cuban, who also owns Magnolia Pictures, likewise has tested the waters by making Magnolia films available on video-on-demand the same day and date that they arrive in his theaters. His competitors would say that this practice devalues the exclusivity of the big-screen experience.
Carrie Rickey, Film Critic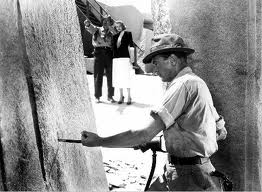 Green-eyed goddess Alida Valli played Ayn Rand's alter ego, Kira, in the 1942 adaptation of the autobiographical novel We the Living. Kentucky filly Patricia Neal played Rand's alter ego, Dominique Francon, in the 1950 adaptation of The Fountainhead. Over the years many actresses, notably Angelina Jolie, craved the part of Dagny Taggert, strong-willed heroine of Rand's magnum opus, Atlas Shrugged. Rand's choice to play the railroad magnate?
Raquel Welch.
That statuesque '60s pinup girl is quite different from Taylor Schilling, the slim, Diane Kruger-ish blonde who plays Taggert in Paul Johansson's first installment of a planned three-part adaptation of Rand's ideological romance novel that opens tomorrow.
Carrie Rickey, Film Critic
Bernie McCabe, a longtime reader, forwards this question from his chum Jim Mahoney, who hosts a film festival in North Jersey.
As the discussion of Grapes of Wrath developed last week, I found myself quoting some commentators to the effect that John Ford became the foremost Director of "Americana" themes of his day—the Westward expansion of the "Grapes" paralleled the Westward expansion he depicted in his cowboy movies; the American as "loner" he also developed with John Wayne and others; he also got into the whole Indian business, among other notable themes. Then one of the folks asked, "So who's the 'Americana'-theme Director of our own day?"
My top-of-head response was Clint Eastwood. From Bronco Billy through Unforgiven, The Bridges of Madison County, Million Dollar Baby, Flags of Our Fathers and Gran Torino he's been interested, both in the nature of the nation and human nature of its citizens. Most of his movies as a director have been about how average Americans adapt to changing times.
Carrie Rickey, Film Critic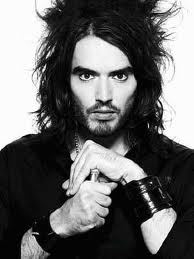 I like Russell Brand in small doses. The unlikely star of the #1 and #2 films in the U.S. (Arthur and Hop) is cinematic jalapeno, a personality to be used sparingly to give a kick to an individual scene. But if used liberally, he can overwhelm a movie and dull the taste buds.
Thought he was perfectly cast as Aldous Snow, the self-regarding rock star in Forgetting Sarah Marshall, but found Get Him to the Greek, in which Aldous was elevated from comic garnish to the main course, pretty unsatisfying.
Brand, a self-described "S & M Willy Wonka," resembles a cross between Howard Stern and Mick Jagger and has the potty (and potty-mouthed) humor and affect of Nigel Tufnel, the rusting metalhead of This is Spinal Tap! Brand strikes me as an aging hippie's idea of a hipster, electrified rather than electrifying. Although Brand has the manic energy suggesting one who is always improvising, the only thing hipster about him is the low-slung trousers.
Carrie Rickey, Film Critic
New York City lost its lover this morning. Sidney Lumet, who happened to be born in Philadelphia but adored his adopted city immoderately, immortalizing it in 12 Angry Men, Bye, Bye Braverman, Serpico, Dog Day Afternoon, Network and Q & A, passed away this morning at the age of 86. (You can read my obituary on philly.com once it gets edited.)
Lumet, who resembled a cross between an owl and a leprechaun, was acclaimed for many things. Making serious-minded movies that explored the injustices of the justice system. Eliciting an actor's best performance. Working with such lightning speed that Paul Newman (who starred in Lumet's The Verdict) cracked that "Sidney's the only man who would double-park in front of a whorehouse."
He is not acclaimed for his comedies. But after you see the great Lumet dramas (my favorites are 12 Angry Men, Dog Day Afternoon, The Verdict and Before the Devil Knows You're Dead), don't forget he made the subversive comedy Just Tell Me What You Want (1980), starring Alan King as a Ray Stark-like media baron and Ali McGraw as his mistress. Every time I watch it I laugh till my ribs ache. For a director who loved New York, warts, carbuncles and all, this movie shows a city just emerging from the caterpillar ignominy of financial ruin to the butterfly beauty of the go-go 1980s. The comedy in the fight scene between McGraw and King is wonderfully choreographed. As McGraw once said:" Two-three-kick, four-five-six-slap, seven-eight-nine-raincoat — it was as specific as a dance sequence."
Carrie Rickey, Film Critic
The question is not entirely rhetorical. As Sheila Weller's Girls Like Us, a lively history of femme popsters Carole King, Joni Mitchell and Carly Simon, is being adapted to the screen by John Sayles, I've been thinking of the dream cast for the bio-triptych about the women who blazed the path for the likes of Avril Lavigne, Beyonce and Katy Perry.
While Weller's dream Jonis are Amanda Seyfried (who sounded her golden pipes in Mamma Mia!), Michelle Williams and Jennifer Lawrence, Wood, who manages the trick of being ethereal and grounded, was Joni-like as the lead of Across the Universe and would be my first choice. (After seeing her Veda in Mildred Pierce, I am convinced she can do anything. Second would be Mia Wasikowska, but I don't know if she can sing and, as Weller said, she already played a character named after Joni Mitchell in The Kids Are All Right. Taylor Swift has the voice and the cheekbones that arch to the heavens,
For Carole King, Weller would like to see Lea Michelle, Carey Mulligan or Elisabeth Moss. Michelle or Moss are great, off-center choices for the woman who co-wrote "But Will You Love Me Tomorrow?" I can also see impish Emma Stone in the part.
Carrie Rickey, Film Critic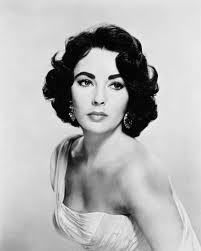 So long, Elizabeth. You can read my obituary of E.T. (as Mike Nichols called her) here.
But as she contained multitudes, there's so much more to say. She was one of the most photogenic faces the screen has ever known, had one of the longest continuous Hollywood careers and was one hell of an actress.
I met her twice, once as a five-year-old in the dressing room of a Beverly Hills boutique where my mother was trying on a dress; the second time as a journalist at the Film Society of Lincoln Center tribute to her. There, the film clips demonstrated that she was more than a photogenic face atop a centerfold body. From National Velvet through The Taming of the Shrew, she grew as an actress, not just in years and weight, but in genuine emotional depth. She played variations on the theme of cyclone, ever the torrent of activity energizing passive or intimidated lovers.