The Super Bowl of Football Movies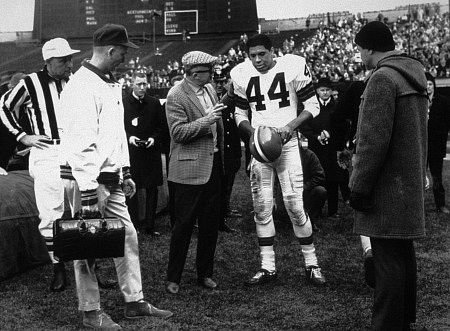 Kin of mood music, gridiron flicks are a means of getting psyched for the Super Bowl. A reader asks if I have a favorite football movie? Many. A few of them, including Heaven Can Wait (1978, with Warren Beatty as the quarterback) and Semi-Tough (1977, with Burt Reynolds as the QB and Kris Kristofersson as wide receiver) have Super Bowl sequences quaint as Keystone Kops slapstick.)
The Super Bowl of Football Movies

Kin of mood music, gridiron flicks are a means of getting psyched for the Super Bowl. A reader asks if I have a favorite football movie? Many. A few of them, including Heaven Can Wait (1978, with Warren Beatty as the quarterback) and Semi-Tough (1977, with Burt Reynolds as the QB and Kris Kristofersson as wide receiver) have Super Bowl sequences quaint as Keystone Kops slapstick.)
Football movies are only incidentally about the game. Any Given Sunday (1999, with Dennis Quaid as the aging QB and Jamie Foxx as the up-and-comer), is about the business of the game. As is Jerry Maguire (1996, with Cuba Gooding, Jr. as the wide receiver represented by sports agent Tom Cruise). One of my favorites, The Fortune Cookie (1966, with Ron Rich as the gentle gridiron star) is a comedy about insurance fraud: Jack Lemmon is a sports-TV cameraman hurt while shooting a game. His brother-in-law, "Whiplash Willie," a shyster lawyer (Walter Matthau), encourages Lemmon to exaggerate his injuries in order to collect a big payout. But the cameraman's growing friendship with the football star gets in the way.
Among the other pro football films of which I'm fond are Leatherheads (2008, with George Clooney and John Krasinski as players in the early, anarchistic days of pro football), North Dallas Forty (1979, with Nick Nolte and Mac Davis as the players fighting the competition and unfair labor practices) and, naturally, the Vince Papale inspirational Invincible (2006, with Mark Wahlberg as the Philly guy who gets a spot on the Eagles). I also remember liking Number One (1969), with Charlton Heston as the aging QB for the New Orleans Saints.
Your favorite football film set in the pros?