Meryl Streep does Margaret Thatcher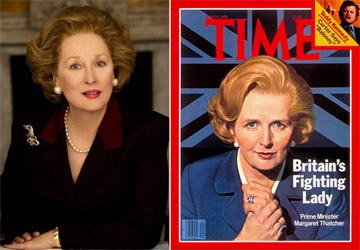 Meryl Streep, who has played real-life figures Karen Silkwood, Isak Dinesen, Nora Ephron and Julia Child, now shooting Thatcher biopic.
Meryl Streep does Margaret Thatcher

Probably not since the 1930s when Paul Muni reigned as King of Biopics in The Story of Louis Pasteur and The Life of Emile Zola has an actor played as many notables as Meryl Steep, that one-woman portrait gallery. She's played activists (Karen Silkwood), writers (thrice: Isak Dinesen in Out of Africa, Nora Ephron in Heartburn and Susan Orlean in Adaptation) chefs (Julia Child in Julie & Julia), teachers (Roberta Guaspari in Music of the Heart) and now, Prime Minister Margaret Thatcher. Streep is currently shooting The Iron Lady for Phyllida Lloyd, director of Mamma Mia!, Streep's biggest hit (and with $600 million-plus grosses worldlwide, the most successful movie directed by a woman).
I got a chill when I saw her in Thatcher drag (hat tip, Anne Thompson). You? As to why biopics, you know the answer: They're consistent Oscar candidates (like three of this year's nominees, The Fighter, The King's Speech and The Social Network). Which other figures would you like to see Streep portray?