Andrew Garfield, After The Social Network, Before Spider-Man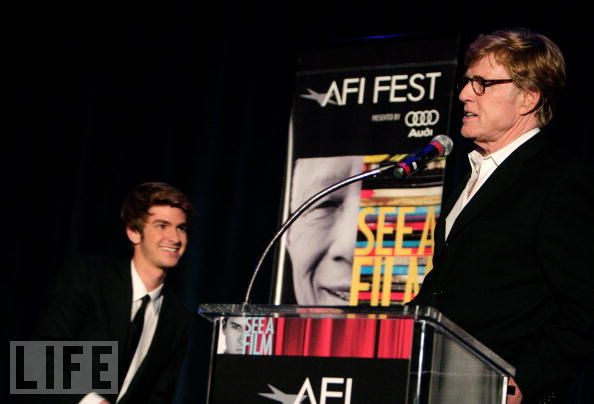 When first I saw Andrew Garfield on screen in Robert Redford's Lions for Lambs I was impressed by how the wiry kid with the mop of hair, playing an apathetic UCLA undergraduate, more than held his own against Redford, a professor demanding social and academic commitment from the disaffected student. I asked Redford where he'd found the relative unknown and was surprised to learn Garfield was British (although born in LA)and that Redford had cast him because "he projected intelligence, something I wasn't seeing in some of the others I considered." Since then, I've been blown away by Garfield's primal performances in British indies such as Boy A, Red Riding 1974, The Imaginarium of Dr. Parnassus and Never Let Me Go. (Rent or download them, you won't be disappointed.)
Andrew Garfield, After The Social Network, Before Spider-Man

When first I saw Andrew Garfield on screen in Robert Redford's Lions for Lambs I was impressed by how the wiry kid with the mop of hair, playing an apathetic UCLA undergraduate, more than held his own against Redford, a professor demanding social and academic commitment from the disaffected student. I asked Redford where he'd found the relative unknown and was surprised to learn Garfield was British (although born in LA)and that Redford had cast him because "he projected intelligence, something I wasn't seeing in some of the others I considered." Since then, I've been blown away by Garfield's primal performances in British indies such as Boy A, Red Riding 1974, The Imaginarium of Dr. Parnassus and Never Let Me Go. (Rent or download them, you won't be disappointed.)
Garfield, the next Spider-Man and a Golden Globe nominee for supporting actor as the de-friended Eduardo Saverin in The Social Network, is the candid subject of a profile in Details magazine. It's a terrific portrait of an actor standing at stardom's door, reluctant to cross its threshold. A snippet:
Back in the early part of Garfield's career, once the pre-audition upchucking had subsided and he'd been cast in his first movie, 2007's Lions for Lambs, his scenes consisted mostly of a rhetorical sparring match with the film's director, silver-screen eminence Robert Redford. Naturally Garfield couldn't resist the chance to lob the Sundance Kid a question. "I asked him, 'What was the happiest time in your career?' " Garfield recalls. "And he said, 'Before. Before it got easy. The struggle.'"
The best crack from the relatively uncensored Garfield is about the Hollywood circuit:
"Those events that look like so much fun in the photos you see—it's mostly people looking over their shoulders at everyone," he says. "They're miserable, those parties."
I'm pulling him to win a Globe on Sunday night. And here's hoping the re-booted Spider-Man has the edge and depth of its star.
What did you think of him in Social Network?