Archive: July, 2010
Carrie Rickey

, Film Critic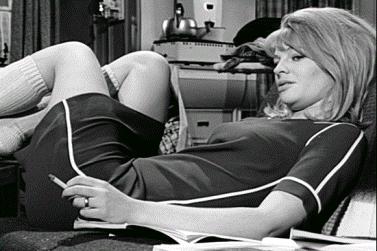 Julie Christie was the harbinger of 1960s London, the first tremor of the youthquake to come, this Mod who possessed the opposite of the British stiff upper lip. Christie's overripe underlip signalled a creature of variable moods, by turns determined, libidinous, petulant. Director John Schlesinger cast her in the career-making Darling (1965) -- centerpiece of Turner Classic Movies' Julie Christie day on Monday, August 2 -- emphasizing the unusual juxtaposition of the masculine jawline and feminine pout that gave Christie both edge and voluptuousness. In that trendsetting film she strides spiritedly into the frame clad in a "terribly Chelsea" mannish pinstriped pantsuit. The form is contained, bankerish; the shoulder-length hair flyaway, flirty. The effect: galvanizing.
As model Diana Scott, Christie is meant to personify shallow hedonism and opportunism. Yet at key moments she subverts Frederic Raphael's glib screenplay, suggesting instead a malcontent with a deep suspicion of the status quo. For Diana life is a dressing room where she tries on modes and men with abandon, often slipping into clothes that "go" with her guy. (To complement her intellectual beau (Dirk Bogarde), Diana sports a schoolgirl's white-ribbed turtleneck and plaid skirt with kneesocks and loafers. She trades up for a caddish adman (Laurence Harvey) for whom she wears a shape-hugging white gown with a beaded bodice. When she lands an Italian prince (Jose Luis de Villalonga), she dons the jetset uniform of aerodynamic A-line dress and matching jacket.
Darling established Christie both as an actress (she won an Oscar for her performance) and an avatar of style (she shocked the Academy by wearing gold pajamas to match her gold statuette). Flickgrrl doesn't know why the glossy mags always celebrate the lovely but conservative Grace Kelly and Audrey Hepburn as style icons and rarely celebrate Christie, who was really radical -- and could outact those two darlings without even trying.
Carrie Rickey

, Film Critic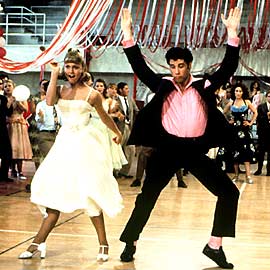 "Summer fling, don't mean a thing, but uh-oh, those summer nights."
In a memorable split-screen duet, Sandy (Olivia Newton-John) and Danny (John Travolta) sang those lyrics in Grease, the 1978 '50s-nostalgia musical that surfaced during the first days of disco and the heady days of punk.The chemistry between the blonde in the poodle skirt and the ebony-haired dude in the black leather jacket -- playing off the timeless fascination of good girls for bad boys (and vice-versa) -- made them irresistible. While for Flickgrrl, then listening to Blondie's "Heart of Glass," Grease definitely was not love at first sight, she would now describe it as America's sweetheart.
The top-grossing movie musical of all time (though in adjusted dollars, the winner of that horserace is probably The Wizard of Oz), Grease is back, this time as a sing-a-along. Last month, a special screening of the Grease sing-a-long (the lyrics appear on-screen, like subtitles) at Love Park drew 1,000 Philadelphians. This Friday, the sing-a-long comes to AMC Neshaminy for an open run.
Carrie Rickey

, Film Critic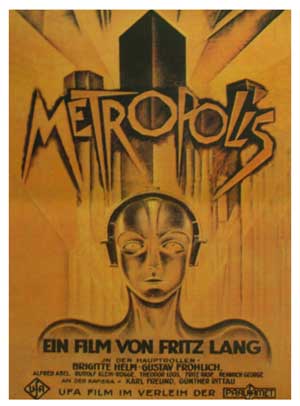 A prophetic look at the 21st century as imagined in 1926, Fritz Lang's Metropolis is a visionary masterpiece that fires on all its Art Deco pistons.
Artists and architects still thrill to its picture of the streamlined skyline of the city of the future. Social critics respond to its picture of a two-tier society, where the rich enjoy fresh air and leisure and the poor operate machines in a subterranean hell to support the fancies of the privileged. Futurists remark on its stark vision of a society divided between human and machine, between natural movement and the escalators and mechanized people-movers that have replaced it. Fans claim it as the mother of all sci-fi movies.
Carrie Rickey

, Film Critic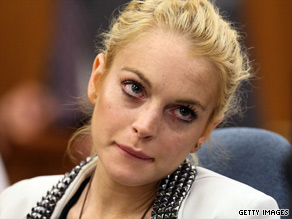 The bigger the star, the shorter the lifespan, that's what astronomers say. It's a phenomenon that likewise applies to movie luminaries, as the painful self-sabotage of Lindsay Lohan and Mel Gibson testify. Lohan, 24, and Gibson, 54, at their best charismatic and personable actors, are at their worst in this week's sequels to past bad behavior. Are both deliberately committing staricide, trying to end their careers?
Gibson's a big boy (although acting like a little one), and has been a star for almost 30 years. That's a century in Hollywood years. If he can't rebound, he'll be missed on screen, but he's had a good ride.
Lohan, however, is a symptom of a much more troubling syndrome: Teen-Star Disorder (TSD) -- the challenge of transitioning into adult life and adult roles.TSD effectively killed the careers of Shirley Temple and Mickey Rooney and Macaulay Culkin. It may have been a precipitating factor in the deaths of River Phoenix and Corey Haim. Somehow, Elizabeth Taylor, Natalie Wood, Jodie Foster and Leonardo DiCaprio passed through the awkward age and emerged relatively intact. Foster had the good sense (and grades) to go to college, taking herself off the Hollywood meat market until she had matured. (Natalie Portman and Claire Danes followed her excellent example).
Carrie Rickey

, Film Critic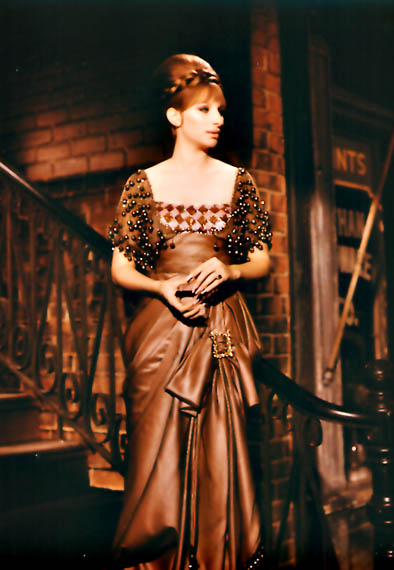 Life's candy and the sun's a ball of butter! Don't rain on Flickgrrl's parade, haters. QFest, the rechristened Philadelphia Gay and Lesbian Film Festival, is celebrating all things Streisand over the coming week. Can you say divacious?
Barbrapalooza kicks off Saturday evening July 10 at the Gershman Y with a with a screening of the (and Oscar-winning)Funny Girl (1968), her screen debut as vaudevillian Fanny Brice, the singer/comic who laughs to keep from crying. Wednesday, July 14 will be a night of Barbra Karaoke at Voyeur (admit it, you know those "misty, water-colored memory" lyrics). Thursday July 15 impressionist Steven Brinberg will bring his Simply Barbra show to the Arts Bank.
Flickgrrl wishes Qfest had programmed more Barbra films, showcasing her work as a comedienne, singer and director. The Owl and the Pussycat (1971), where she plays a ditzy hooker who hooks up with professor George Segal, is quite nice. Nicer still, What's Up, Doc? (1972), a remake of Bringing Up Baby, as a free spirit who attracts geologist Ryan O' Neal. In her comedies, she purrs her dialogue like an alley cat rubbing up against the leg of a potential conquest. The Way We Were (1973) and A Star is Born (1976), opposites-attract melodramas, have their adherents although Flickgrrl is not among them. She prefers the films Streisand both directed and starred, Yentl (1983) and Prince of Tides (1991), riveting studies of misfits who stop trying to fit in and simply accept themselves, which is the theme of almost every Barbra film. (And perhaps the reason that from the first the gay community has been so supportive of her.)
Carrie Rickey

, Film Critic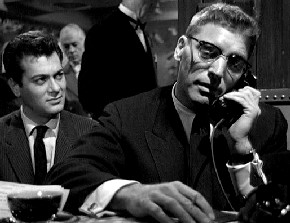 Henry Hanrahan has compiled an eff-travaganza of a compilation video devoted to digs, kiss-offs and put-downs in movies. I would have posted the Youtube video, but it's strictly NSFW (not suitable for work) because of its emphasis on F- and S-word rebuffs.
Flickgrrl prefers more polish and less profanity in her ridicule, as in this denunciation of a treacherous frenemy in Patrice Leconte's Ridicule (1996): "Judas kept excellent company." And as in Burt Lancaster's kiss-off to Tony Curtis in Sweet Smell of Success (1957): "You're dead, son. Go get buried."
While Hanrahan's compendium includes those amusing allusions to low birth: "Your mother was a hamster! And your father smells of elderberries!" (Monty Python and the Holy Grail); "You son of a motherless goat!" (The Three Amigos), it is missing the classic girl-on-girl putdown (from Joan Blondell to Ruth Donnelly) in Footlight Parade: "As long as there's sidewalks, sweetheart, you'll have a job!"