Archive: May, 2009
Carrie Rickey

, Film Critic

There's no question that you will see Up, the sublime Pixar animation about a septuagenarian grouch and a pesky kid who sail to the Orinoco in a Victorian house hoisted by a bouquet of helium balloons. The only questions are when and how.
When is up to you. How is a more delicate matter. Should you see it in 3-D? I chose not to. For me, while 3-D glasses deepen spatial perspectives, they wash out the evocative colors of animated films. (For this reason, I vastly preferred Coraline in its "flat," or 2-D version, than in 3-D glasses.) Many others have experienced the same problem. Although Roger Ebert is agnostic about the preferable format, here's what he has to say:
"But let me gently mention one of the film's qualities that is likely to be diminished by 3D: Its subtle and beautiful color palette. Up, like Finding Nemo, Toy Story, Shrek and The Lion King, uses colors in a way particularly suited to its content."
Carrie Rickey

, Film Critic
If you're fascinated in the roots of Jewish humor -- or the humor of Jewish roots -- you must read Mark Harris' terrific piece in New York Magazine about Woody Allen and Larry David and their new movie, Whatever Works, originally written by Allen in the '70s for Zero Mostel and repurposed for David. If the film is half as funny as Harris' article, which wonders, if the archetypal funny/sad Jewish guy "still has any relevance in an age when American Jews don't feel so bad about things, except on Yom Kippur," it'll be better than three of Allen's last four films.
Except for Vicky Cristina Barcelona, a light-filled account of a pragmatist and a romantic in Spain, I've been disappointed in Allen's recent work. Match Point and Scoop felt like tragic and comic interpolations of the murder and opportunism, idealism and romance themes played so superbly in Crimes and Misdemeanors. Here's hoping that Allen's return to his beloved Manhattan is a restorative.
Not that you asked, but the Allen movies that most move me are from his middle period that started with Annie Hall (1977) and ended with Crimes (1989). By then, he had done his "earlier, funny" genre parodies (as a character in Stardust Memories puts it) and emerged as a filmmaker with his own style and voice. (At a tribute to Bob Hope that Allen put together in the 1970s for Lincoln Center, he admitted to being horrified at the extent to which he had stolen Hope's one-liners and persona as a self-conscious schnook.) My top-five Allens are Annie, Manhattan, Purple Rose of Cairo, Crimes and Deconstructing Harry. Everyone Says I Love You is a not-so-guilty pleasure: I love hearing Ed Norton and Tim Roth sing and watching Goldie Hawn dance. You?
Carrie Rickey

, Film Critic

Readers frequently ask about my favorite movie critic. Often, the most pointed movie criticism is a parody that affectionately examines the genre cliches. As cheap wine is to vintage, spoofs are a cruder form of comedy than satire. But they do the trick.
Tomorrow's release of Dance Flick, a giggleworthy Wayans clan collaboration that tickles the conventions of teen musicals such as Save the Last Dance, Step Up and High School Musical, inspires thoughts of favorite parodies perfect for Memorial Day laughs.
The acknowledged spoofmasters are Woody Allen, Mel Brooks, Steve Martin, the Monty Python gang, Mike Myers, the Wayanses, the Zucker/Abrahams/Zucker trio behind the Naked Gun flicks, and mock-documentarians Christopher Guest, Michael McKean and Harry Shearer of Spinal Tap and Mighty Wind infamy.
Carrie Rickey

, Film Critic

With this week's release of Terminator: Salvation, a lot of moviegoers will be reconsidering the career of Christian Bale, a subtle underplayer who is not the kind of guy you'd expect to find in a summer blockbuster like the Terminator or Batman, but hey, neither are Johnny Depp or Robert Downey, Jr. I think this character assassination is just plain mean. Not to mention wrongheaded.
Ever since Bale surfaced in Empire of the Sun (1987), registering one of the best performances ever by a child actor (he really conveyed his character's alienation and dreams as a kid interned in a Japanese concentration camp during World War II) he's had a remarkable ride, mostly in independent movies where his low-key work is best appreciated. Consider his filmography, He was the wistful boy unionist of Newsies, singing about Santa Fe and dancing in New York's Park Row; a London teen of uncertain sexual preference, decisively stamped by the gender-bending milieu of glam-rock in The Velvet Goldmine; Everygirl's first romantic hero, tender Laurie Laurence in Little Women; Everywoman's horror date, American Psycho; a guilty manorexic in the intense The Machinist; gentle planter John Rolfe, Pocahontas' husband, in The New World; the disciplined psychoanalyst son of a hippie mom in Laurel Canyon (his richest performance); the bounty-hunting father, quietly facing down the showy Russell Crowe in 3:10 to Yuma; and of course, the mixed-up Bruce Wayne and his alter ego in Batman Begins and The Dark Knight. (I've forgotten Rescue Dawn, where he was also terrific.) I can't think of another actor of his generation who has exhibited so much range -- and restraint.
Bale's whispery voice, cut-glass cheekbones and 100-mile stare is reminiscent of Henry Fonda and Clint Eastwood, actor/stars more reliant on their guts than their charisma. Though I like that he doesn't turn up the volume in Batman and Terminator, the quiet of his acting is easily drowned out by the clank and grind of the machinery in these Big Machine movies. You? Are you a Bale fan, agnostic, hater? Why?
Carrie Rickey

, Film Critic

Cameron Crowe, the onetime pop critic whose film semiautobiography Almost Famous recalled his rock initiation while on the road with a Led Zeppelin-like band, compiled an affectionate list of his favorite musical moments in movies for Empire magazine. Two of his top 12 or so overlapped with my favorites: Marvin Gaye's snazzy, jazzy title song "Trouble Man," and Harry Nilsson's "Jump Into the Fire," used in GoodFellas as Ray Liotta tries to multitask and melts down instead.
Inspired by Crowe's list, I compiled my own, limiting myself to movies from the last 25 years. There are two Crowe films on it.
1) Almost Famous: A fractious band and their fractious groupies come together while singing Elton John's "Tiny Dancer."
Carrie Rickey

, Film Critic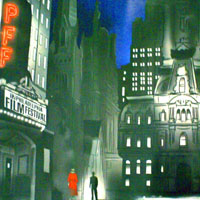 Some of you missed Saturday's story about the divorce between TLA -- producer of the Philadelphia Film Festival -- and its board, The Philadelphia Film Society (PFS). Citing irreconcilable differences, the TLA and PFS have split and the city will have two movie extravaganzas. The TLA-run CineFest will continue to be held in Spring and PFS-run Philadelphia Film Festival will be held in Fall, beginning October 2010.
Many cities have multiple film festivals (New York has Gotham, New York Film Festival and Tribeca). Movie geekdom runs pretty deep here, and there is a devoted -- and voracious -- base for all things cinematic in the region. Because of this, I'm guessing the city can support two international film fests. What I like about the New York Film Festival is its small and select nature (usually two dozen titles) and the filmmaker Q & As. What I like about the Toronto Film Festival is the world premieres and the sense that the entire city is taking time off to go to the movies. What I like about Telluride is that its one long weekend and filmmakers are in attendance and the discussions (both formal and informal) are very rich.
I'd like to hear your thoughts. Are you a Philadelphia Film Fest regular? What do you like about it? Not like? What kinds of movies and related events would you like to see? Are your movie needs being served?
Carrie Rickey

, Film Critic

In Surf City there were 10 girls to every guy. In Star Trek, the ratio is the reverse, as Jen Weiner points out in this affectionate rant wondering where the girls are in J.J. Abrams' "reboot" of the franchise. While I greatly enjoyed the movie featuring Zoe Saldana as Uhura, I likewise wondered why there weren't more women in the 23rd century. Hey, J.J., movie history is rich with women in space. Think Sigourney Weaver in the Aliens series, Jodie Foster in Contact, Anne Francis in Forbidden Planet, Connie Nielsen in Mission to Mars, and of course, Zsa Zsa Gabor in The Queen of Outer Space. Should we send Sigourney to Abrams' office to raise consciousness and Cain? Your thoughts? Fave femme in space?
Carrie Rickey

, Film Critic

According to this report, Martin Scorsese -- perhaps the most musically minded of working directors (The Last Waltz, No Direction Home) has signed on to do a Frank Sinatra biopic. I vaguely remember him previously being attached to this project some 20 years ago and announcing that Ray Liotta would play Old Blue Eyes.
But who could play Young Blue Eyes? Scorsese loves Leonardo Di Caprio -- and vice-versa -- but I'm not feeling that. I know there will be partisans of Zac Efron and James Marsden (both okay singers, but neither approaching Sinatra range). Who would you cast?