Archive: April, 2010
Carrie Rickey, Film Critic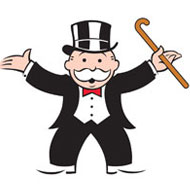 According to New York Mag's Vulture, Sir Ridley Scott, Master and Commander himself, thinks that his movie based on the board game Monopoly should be inspired by the laughs and times of Donald Trump. (Hasn't Celebrity Apprentice already filled that ecological niche)? If I were the casting director, I would hire Dan Aykroyd to play The Donald. But who gets to play the shoe?
Will the title be Go Directly to Jail or Do Not Pass Go? Should it be filmed in Atlantic City, the streets and avenues of which lent their names to those in the board game? Casting and plot suggestions?
For other board-game inspired movies in the pipeline, consult Flickgrrl's prior blog post, From Board Game to Big Screen.
Carrie Rickey, Film Critic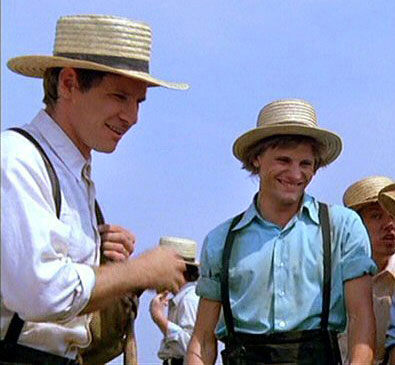 A byproduct of the DVR/DVD/VOD age is the experience of rewatching a film and being startled that a star-to-be twinkled in the background, scarcely recognizable because he hadn't yet evolved his persona. Case in point: Viggo Mortensen as the Amish farmer in the shadow of Harrison Ford's boater in Witness (1987). Frisky as a puppy, Mortensen is conscious of the camera and has not yet developed the self-contained quality so striking in A Walk on the Moon, A History of Violence and Eastern Promises. Watching him in Witness is like seeing a tadpole before he becomes the Frog Prince.
On the other end of the spectrum, sometimes a performer so powerfully establishes herself in an early outing that she is already fully in possession of her persona. Though I had never seen them before, I remember being struck by the unreadable William Hurt in Altered States (1980), the self-possessed Meg Ryan as Candice Bergen's teenage daughter in Rich and Famous (1981) and the effervescent Drew Barrymore in E.T.: The Extraterrestrial (1982).
A classic example of the former phenomena is watching Blonde Venus (1932) and suddenly realizing that Marlene Dietrich's rather wooden society swain is a tightly-coiled Cary Grant before he relaxed into his looser-limbed persona. A classic example of the latter is settling into Jane Eyre (1944) before gasping that Jane's tragic, raven-haired friend at the orphanage is Elizabeth Taylor, aged 11, her Elizabethness already fully-formed.
Carrie Rickey, Film Critic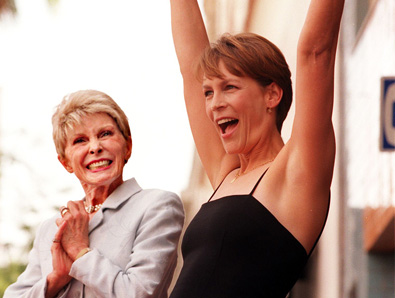 Flickgrrl,
who adheres to the principle that a million dollars should be spent financing an independent movie, not wining and dining
potential
investors, saw that belief dissolve in the second flute of champagne
at a shindig
celebrat
ing
the Ismail Merchant/James Ivory production
A Soldier's Daughter Never Crie
s at the Cannes Film Festival in 1998.
This intimate party, lit by a coral-colored sunset on a yacht called the Crystal Island, was hosted by a Middle Eastern Jay Gatsby introduced by his staff as ``our host'' and by the late Merchant as ``our benefactor.'' Repeated inquiries into the ship's registration and into the host's identity proved fruitless. Knowing the courtly Ismail as all the guests did, it was understood that the Meditteranean of Veuve Clicqot and Alps of Beluga were not in honor of Soldier's Daughter, but bait for the moneymen who might underwrite the next I/M production.
The weather was like silk, the view of Cannes from its eastern corner spectacular, and the guests, who included Jeanne Moreau and Janet Leigh, were indescribably glam. Lucky was Flickgrrl, who found herself between these two legends, bubbly as the libations.
Carrie Rickey, Film Critic

The Bible has 10 commandments. The Motion Picture Production Code enacted in 1934 had 37 more, most designed to curb Mae West's lip-smacking double-entendres and Barbara Stanwyck's sashaying salaciousness.
Like most movie geeks, I love pre-Code films . The fully-clothed Stanwyck suggests a steamier sexuality crossing her arms than does the skimpily-clad Sharon Stone uncrossing her legs. Thus I was thrilled to find Baby Face (1933), one of the key films in Stanwyck's brilliant career, in the alpha listing of my cable On-Demand menu. Contemporary actresses notable for their obvious effects could learn a lot from Stanwyck, chief among them restraint and complexity. She was a master in the art of saying one thing with her appraising eyes, another thing with that supple torso and yet another with her sharp tongue. Her Baby Face performance is an early version of the hard-boiled dame she memorably played in Double Indemnity (1945).
At a fighting-trim 75 minutes, Baby Face is the one about Lily, the tramp from Erie, Pennsylvania pimped out by her father since she was 14. (Dad: "You can't talk to me like that, I'm your father." Daughter: "Yeah? Well that's just my tough luck!) In a subplot trimmed from the prints available during repertory-theater days and restored to the print available On-Demand, what prompts Lily to move from Erie to Manhattan is the philosophy of Nietzsche (she uses Will to Power as her guidebook). Determined to use men instead of being used by them, she works her way up the power chain at a New York bank -- from deposits on the first floor to the president's penthouse -- through her serial conquests of her male employers, including the baby-faced John Wayne. Baby Face's horizontal rise to power is suggested by a vertical pan up the bank skyscraper.
Carrie Rickey, Film Critic

It's been 75 years since Clark Gable went shirtless in Mutiny on the Bounty. And 18 years since Mark Wahlberg touted his torso in Calvin Klein underwear ads. Lately the glimpse of an actor's chiseled, manscaped and moisturized abs has become the male counterpart of an actress's topless scene. Yes, abs are the new man-boobs.
I thought the trend had crested in 2009. Last year's X-Men Origins: Wolverine was effectively an abs showdown between Hugh Jackman and Ryan Reynolds. Reynolds' abs nearly eclipsed his performance in last year's The Proposal. Then came Taylor Lautner and his 10-pack in Twilight: New Moon. But 2010 looks to be similarly abs-urd. Wahlberg's shirtlessness is a running gag in Date Night. This week Alex O'Loughlin and his abs upstage J-Lo and her assets in The Back-Up Plan. While watching O'Loughlin, I couldn't help but notice that he has hair above his pecs and is shaven below, all the better to see the abdominal definition. Made me nostalgic for the chest hair on Burt Reynolds and Alec Baldwin.
Are you a fan of this abs-session? Your favorite northern exposure? With a blush I admit Wahlberg in Date Night, not because I found it sexy but because he made it look like business casual.
Carrie Rickey, Film Critic
It's hard to quantify Norman Rockwell's impact on Hollywood. The artist and illustrator (1894--1978) idealized 20th-century America on thousands of magazine covers (especially Boy's Life and The Saturday Evening Post). He was an axiom of Americana whose images of Free Speech and Thanksgiving told stories in a single image. With the possible exception of Grant Wood, no other American artist has been so frequently referenced in the movies. Rockwell's framing and lighting , not to mention his subject matter, inspired generations of directors from Frank Capra and John Ford to George Lucas and Steven Spielberg. Not only are Lucas and Spielberg influenced by Rockwell, they are devoted collectors of his work. Their Rockwells will be on view from July to January at the Smithsonian. Pictured is "High Dive," owned by Spielberg, a comic image of everyday terror.
Like Walt Disney (and Lucas and Spielberg) Rockwell has inspired equal amounts of admiration and contempt. Richard Halpern's 2006 Norman Rockwell: The Underside of Innocence, puts it best: "To his admirers, Rockwell's paintings of mischievous boys, swimming holes, and small-town life offer a reassuringly wholesome if somewhat nostalgic vision that wards off the sordid, threatening aspects of modern existence. To his detractors, this same vision betrays both social and artistic naivete, a kitschy sentimentality that promotes a sanitized view of the world." In his fine book, Halpern argues that both these views miss the mark. "..that Rockwell's paintings are darker and more complex than most viewers are willing to acknowledge." (A claim likewise made by admirers of Lucas and Spielberg.)
For me, Rockwell fascinates because of his ability to disarm and disturb at the same time. In "High Dive," he induces the fear of heights while making us laugh at the universal fear of taking a leap. Some dismiss that quality in Spielberg, but it is not the shadows under the sun-dappled surface of E.T. that still unsettle us? Rockwell and Spielberg are simultaneously light and dark.
Carrie Rickey, Film Critic

Before Dede Allen, the legendary film editor who died Saturday at the age of 86, most classic Hollywood movies had a subject-verb-object grammar (a longshot of the character followed by a medium shot of his action capped by a closeup of the action's effect on the object) and rhythm. Before Dede Allen, the sound you heard matched the image on the screen. But when Allen spliced The Hustler (1961), locating the psychology of each scene in the establishing shot (the ambitious glint in Paul Newman's eye, the collision of balls on the pool table to indicate the collision of wills between "Fast Eddie" Felson and his rival Minnesota Fats) and overlapping the sound from the forthcoming scene as a segue between sequences, everything changed. Allen didn't think editing should be codified like a textbook but rather allusive like a poem. (Her mentor, Robert Wise -- who served as the film editor on Citizen Kane and hired her to cut his Odds Against Tomorrow, is said to have encouraged her experimentation.)
Influenced by French New Wave filmmakers, Allen cut the duration of the average shot to give the movie a quicker rhythm. Arthur Penn, for whom she edited the groundbreaking Bonnie and Clyde (1967), eulogized her as "not an editor, but a constructionist," the architect of the film's tempo. Allen is most celebrated for her work with Warren Beatty (who produced Bonnie and Clyde and directed 1981's Reds) and John Hughes (The Breakfast Club and Planes, Trains and Automobiles.) Her collaborators -- especially actors -- credit Allen for building their performances, often combining footage from different takes in a jagged and incisive way. Case in point: Jack Nicholson's Eugene O'Neill confessing his love to Diane Keaton's Louise Bryant in Reds. There's an argument to be made that she deserves supporting actor honors for building Al Pacino's performances in Serpico and Dog Day Afternoon.
Allen was an indispensable resource for directors. I love this anecdote (hat tip, Anne Thompson) about how when Hughes couldn't find a suitable ending for Planes, Trains Allen juggled some footage to give him the ending he didn't realize was already there, like a diamond cutter cutting the facet that makes the stone sparkle.
Carrie Rickey, Film Critic
Starring Russell Crowe and Cate Blanchett, Ridley Scott's Robin Hood opens May 14, prompting sister film scribe Moira McDonald to poll her readers about their favorite Robin Hood. It's a challenging question, as every Robin has his qualities.
For me, Errol Flynn in The Adventures of Robin Hood (1937) is the canonical Robin (love the green tights, peaked cap and devil-may-care laugh, with hands on hips). Sean Connery in Robin and Marian (1976) is iconic as the mature Robin of Locksley (admire the middle-age melancholy and hard-won wisdom). Which makes Cary Elwes in Robin Hood: Men in Tights (1993) the ironical Robin (sending up the genre conventions about redistribution of wealth). Of Kevin Costner as Robin Hood: Prince of Thieves (1991), I have nothing to say, but I did enjoy Alan Rickman as the unapologetically evil Sheriff of Nottingham. As as for Maid Marians, moon-faced Olivia de Havilland shone opposite Flynn, flute-voiced Audrey Hepburn nicely complemented Connery and athletic Mary Elizabeth Mastrantonio nimbly outpaced Costner. Of the Rat Pack Robin and the Seven Hoods (1964) can we agree that the less said, the better?
Hope that Crowe's Robin possesses Flynn's sense of humor and Connery's sense of purpose. And wonder why Robin, this most British of icons, has twice been essayed by Australians (Flynn and Crowe). Is that that Australians boast that galvanic energy that seems to have been bred out of the British stock? (For this reason I would have loved to see a Robin Hood with Heath Ledger, who did such a fresh Robin-type character in A Knight's Tale.)