Archive: April, 2009
Carrie Rickey

, Film Critic

Acting is about the expression of character. To this end, actors make the most of what God gave them. There are sonorous actors (think James Earl Jones and Alan Rickman) whose vocal gifts suggest unexplored depths. There are hair actors (think Hugh Grant and Keanu Reeves) who flip floppy locks for Samson-style emphasis. There are derriere actors (Richard Gere and Kevin Costner), who bare buttocks to implying the naked truth. And there are torso actors (Hugh Jackman and Matthew McConaughey, both of whom have movies opening this weekend), whose habitual shirtlessness suggests, I guess, their gutsiness. (This week, New York Magazine challenged them to a chest-off (hat tip, Throwing Things).
If you're looking for torso acting, Wolverine is the movie for you, as, uncharacteristically, McConaughey keeps his shirt on in Ghosts of Girlfriends Past. Who's your favorite torso actor? Mine is Ricardo Montalban in Star Trek II: The Wrath of Khan, whose obviously prosthetic six-pack elevated the film's fun quotient. Yours?
Carrie Rickey

, Film Critic

Are you bearish or bullish on Oliver Stone's announcement that he's making a sequel to Wall Street, his 1987 film about how the greed-is-good creed leads to Very Bad Things? My kneejerk reaction was "WTF?" But I'm enjoying Michael Douglas lately (he's loosey-goosey funny as a playboy of Robert Evans vintage in Ghosts of Girlfriends Past), and it might be fun to see him revisit the slimy character of Gordon Gekko (for which he won an acting Oscar, a feat his father, Kirk, never realized). If memory serves, at the end of Wall Street, Gekko was headed to prison. Will he emerge as a Bernie Madoff type? Shia LaBeouf, everyone's favorite idealistic manchild, is in talks to play Gekko's protege. Certainly, the national mood is receptive to a greed-is-bad film.
I liked it when Eddie Felson, Paul Newman's antihero of The Hustler, resurfaced some 25 years later in The Color of Money. Thoughts? (Either on this particular sequel or sequels in general). (Hat tip to Gary Kramer).
Carrie Rickey

, Film Critic

To the list of intriguing new journalism movies that include State of Play and The Soloist, add Rod Lurie's Nothing But the Truth (available this week on DVD), a provocative and wrenching account starring Kate Beckinsale as a Judith Miller-like reporter who outs Valerie Plame-like CIA agent Vera Farmiga, both soccer moms. Does the people's right to know trump the government's need to protect the anonymity of its operatives? Similar in spirit to Lurie's The Contender, NBTT pits journalism against national security, as if they were contenders into an ethical soccer match. If it meant being separated from your children, would you go to prison for your ethical beliefs? I like a movie that drives a wedge between my beliefs and my feelings. Can you think of others?
Carrie Rickey

, Film Critic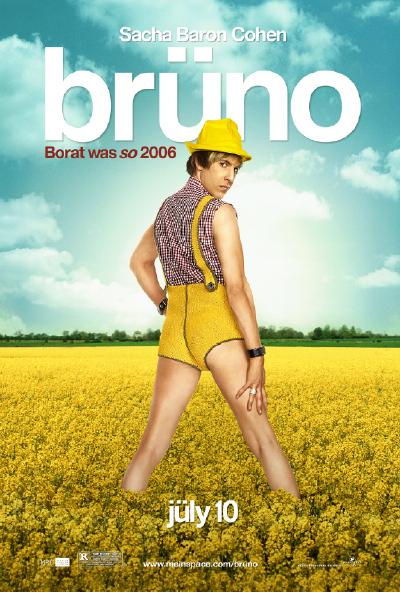 3 % body fat. 1 % brain activity. Oops, that was the boast of Ben Stiller in the film Zoolander, the one about the stupormodel with the cut-glass cheekbones and zero brain cells. This season's male stupormodel is Bruno, the (mock-doc? pseudo-doc? diet doc?) starring Sacha Baron Cohen (pictured) as the the Austrian coverboy who believes he was born to runway -- and comes to America to prove it.
The photo of Cohen makes me laugh. So does the movie poster, which carries the tagline: "Borat Was So 2006." So does "Bruno" 's subtitle: Delicious Journeys Through America For the Purpose of Making Heterosexual Males Visibly Uncomfortable in Presence of Gay Foreigner in a Mesh T-Shirt. Yet I wonder, as I frequently did during Zoolander, is Bruno a satire of the fashion industry, of narcissism, of gay culture -- or an invitation to laugh at rather than with all of the above?
Movies about fashion models come in two flavors. One is a bitter cautionary tale about the dangerous depths of the industry's shallowness (see Darling, Gia, Mahogany and Stardom.) The other is sweet confection about the covergirl who has intellectual or romantic interests not being served by her work (How to Marry a Millionaire, Funny Face, and The Model and the Marriage Broker. Have I missed any titles? Your favorite fashion-model movie? Your favorite model-turned-actor? I loved Suzy Parker.
Carrie Rickey

, Film Critic

This week's best piece of obscure movie scholarship comes from Premiere.com: Which movie stars die the most on screen? Clint Eastwood (pictured) should be on this list, but isn't. Is it because in so many of his films (i.e., "Unforgiven," "Million Dollar Baby") he vanishes without our really knowing whether he's disappeared or dead?
During the so-called golden age of Hollywood, stars didn't die until the fade-out, usually because s/he was the antihero (Cagney at the end of "The Roaring Twenties" and "White Heat") or victim of disease (Bette Davis in "Dark Victory," Gary Cooper in "Pride of the Yankees"). This changed in 1950 with "Sunset Boulevard," in which William Holden plays the antihero who narrates the story that opens with his character floating dead in a Hollywood swimming pool. In 1960, one of the many shockers on "Psycho" was that Alfred Hitchcock killed off his leading lady, Janet Leigh, early on in the film. Before then, filmmakers didn't want to squander their most precious asset, the star.
Other examples of stars who die frequently? Besides Bette Davis, her modern reincarnation, Susan Sarandon ("Joe," "Stepmom", "Bernard and Doris," "Igby Goes Down") comes to mind. Do you think actors who die a lot on screen have a martyr complex? Which frequent-diers can you think of?
Carrie Rickey

, Film Critic

Maurice Micklewhite, better known as Sir Michael Caine, is a resourceful actor and one hilarious guy, as this New York mag interview (hat tip, moviecitynews.com) amply proves. The man who was Alfie, Harry Palmer in "The Ipcress File," b.f.f. to "The Man Who Would Be King," and most lately Alfred in "Batman Begins" and "The Dark Knight," is naughtily funny on the subject of John Wayne, who told him to "speak low and speak slow" and gave him even better advice on why never to wear suede shoes.
I love him as Peachy in "The Man Who Would Be King," as the erring husband in "Hannah and Her Sisters" and best of all, as the pub-mate in an underknown British indie film, "The Last Orders." Yes, he was indiscriminate in some of his movie choices, often going for the easy money rather than the hard work. (There is a pretty good joke in "PCU," a lively college satire based on life at Wesleyan University, about Pigman, a film student doing his thesis on "The Caine/Hackman Theory." As the film's lead, Jeremy Piven, explains: "No matter what time it is, 24 hours a day, you can find a Michael Caine or Gene Hackman movie on TV.") Nevetheless, Caine is the Cockney Who Would Be Smart Blond.
Your Caine faves?
Carrie Rickey

, Film Critic
GQ's logic would seem to run along these lines.
Hair has power. Zac Efron and Robert Pattinson have box-office power. Therefore, Zac's and Robert's hair have exponential powers?
The stylist(s) who thought that this lopsided souffle of a coif was attractive should try again. I guess the effect s/he was going for was post-coital birds' nest. Or son of Frankenstein. Rarely in the course of human -- or at least hairdo -- history has mousse and muss made such handsome youths look so...clownish. Not that I like the freaky friar combover bowl cut that Efron sports in "17 Again" any better. Still, these cover-boy coifs may be the silliest movie-star hair since Carrie Fisher showed up wearing twin Danishes on her head as Princess Leia.
Carrie Rickey

, Film Critic

"State of Play," the enthralling thriller my Daily News colleague Gary Thompson calls "this week's dying newspaper movie" (as opposed to "The Soloist," next week's dying newspaper movie), stars rumpled Russell Crowe as the shaggy face of mainstream media, smooth Rachel McAdams as the young face of the blogosphere and commanding Helen Mirren as their editor, who hopes by teaming the vet and the apprentice on an investigative story, she can infuse blogger blood into her ailing broadsheet.
Kevin Macdonald's adaptation of the 2003 BBC miniseries is a lot of fun, and for newshounds and newshens, also a lot sad. Alluding to the dismal prognosis of daily journalism, another colleague, Todd McCarthy of Variety, begins his review wondering whether it will be the last movie to feature the physical printing and shipping of a big-city newspaper.
Newspapers occupy a beloved place in the heart of moviemakers, possibly because so many journalists went on to become screenwriters and directors. John Huston dabbled in newspapering; his mother, crime reporter Rhea Gore, inspired the 1933 journo-thriller "I Cover the Waterfront," starring Claudette Colbert as the fearless reporter. The most celebrated reporters-turned-directors were Richard Brooks -- the Philadelphia-born scribe whose "Deadline USA" (1952) with Humphrey Bogart is seasoned with his personal experiences as a reporter at the Philadelphia Record -- and Sam Fuller. Fuller's "Park Row" (1952) chronicles the New York newspapers wars of the 1880s and his "Shock Corridor" (1963) is about a newsman who commits himself to a psychiatric institution so he can write about the famous figures there.