Archive: January, 2011
Carrie Rickey

, Film Critic

Few surprises in this year's Oscar nominations. Still and all, was surprised that no persons of color were nominated in the major categories. Which gives rise to the question: Is the Academy snow-blind, does it see only white?
While there were no nominatable performances that I can think of by Asian-American or Latino stars (no one thinks J. Lo's performance in The Back-Up Plan is Oscar-worthy, nor Jackie Chan's in The Karate Kid) there were handful of terrific performances by African-Americans. I'm thinking Kimberly Elise's shattering turn as the grieving mother in Tyler Perry's For Colored Girls and Anthony Mackie's and Kerry Washington's quiet ambiguity in Tanya Hamilton's splendid feature debut, Night Catches Us.
For the most part in 2010, African-American directors made the kind of genre films not typically on the Oscar radar: Sanaa Hamri's charming rom-com Just Wright, the Hughes Brother's action parable The Book of Eli and Tyler Perry's melodrama Why Did I Get Married 2.
Carrie Rickey

, Film Critic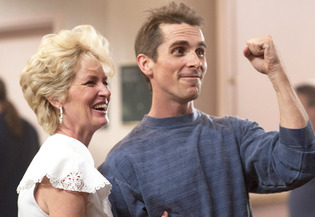 Much as I enjoyed The Fighter -- and its uncharacteristically broad performances by Christian Bale, Amy Adams and Melissa Leo -- when I read the Oscar nominations yesterday and saw that the three supporting actors all got nods but that the lead (and title character) Mark Wahlberg did not, it confirmed a long-held suspicion that what gets honored during awards season is the most acting rather than the best acting.
Bale alluded to this when he accepted his Golden Globe for the role of Dicky Eklund, the jittery and strung-out half-brother of welterweight contender Micky Ward (Wahlberg). Bale said something to the effect that"loud" performances like his would not be possible without "quiet" ones like Wahlberg's, and that in the past he had delivered quiet performances and seen the loud ones get the attention. (He was referring to his implosive Batman in The Dark Knight, which won the explosive Heath Ledger a posthumous Oscar.)
As the loudmouthed matriarch of the Eklund/Ward clan, Melissa Leo likewise gives a "loud" performance, one that wags refer to as "Hey, chowdahheads, gimme tha Oscah!" And so does Amy Adams, bossy and prickly where usually she is deferential and sweet. Oscar likes acting that looks like acting rather than acting that is the invisible disappearance of actor into role. Oscar likes change-of-pace performances, when good-looking performers gain weight and deglamorize, as with Robert De Niro in Raging Bull and Charlize Theron in Monster.

Carrie Rickey

, Film Critic

James Franco, who will co-host the Oscar broadcast on February 27, is also a Best Actor nominee for his performance as adventurer Aron Ralston in 127 Hours. (He's one of two actors nominated for playing characters who lose an arm; the other is supporting actress nominee Hailee Steinfeld for True Grit. Which just goes to show that some will give a right arm for an award.)
Has it ever happened before that the Oscar host was also a nominee? At least three times, by Flickgrrl's reckoning: At the 11th Oscars, Frank Capra, then Academy president, took home a Best Director statuette for You Can't Take it With You. At the 45th annual statuette party, Michael Caine was a Best Actor nominee (for Sleuth), losing to Marlon Brando in The Godfather. At the 48th Oscars, co-host Walter Matthau was a best actor nominee for The Sunshine Boys and lost to Jack Nicholson in One Flew Over the Cuckoo's Nest.
Your thoughts on Franco's prospects as a host (alongside Anne Hathaway) and/or nominee? I think he's a charm machine and that he'll lose to Colin Firth (for The King's Speech).
Carrie Rickey

, Film Critic

Just previewed Ebert Presents At the Movies, the reboot of the popular film-review revue. As the railbirds at the track say, it's pretty quick out of the gate. (In the Philadelphia area, it debuts Saturday, January 22 at 11 pm on WHHY-12.)


Too soon to tell if co-anchors Christy Lemire, critic for AP, and Ignatiy Vishnevetsky, critic for mubi.com, have chemistry of the sort that guarantees a long run. But they're Generation X and Generation Next (she's 38, he's 24), articulate and movie-savvy. If Vishnevetsky comes off more sympathetically than Lemire in this first edition of the movie magazine, it's because he gives a thumbs-up to all four films reviewed (No Strings Attached, The Way Back, Company Men and The Dilemma), while Lemire's digit is down on all four releases.

In an homage to the credits sequence of Citizen Kane, producer/impresario Roger Ebert, whose tangle with thyroid cancer has left him without speech but not without an eloquent voice (which is provided by text-to-speech software), introduces the new anchors and movie mag correspondents. They include Kim Morgan, author of the invaluable sunsetgun blog, whose appreciation of Carol Reed's The Third Man is upstaged a little by the decision to shoot her in the style of Reed's movie, with the extreme low-angle shots Speaking through the expressive voice of Werner Herzog, Ebert reviews Paul and Sandra Fierlinger's exquisite animated adaptation of J.D. Ackerley's memoir of his life with his German Shepherd, , My Dog Tulip.
Carrie Rickey

, Film Critic
In the business of episodic television, when producers get irritated by cantankerous star, they order up an "elimination episode" to get rid of his character. In the business of movie franchises, they order up a reboot.
That's what Warner Brothers just did to solve its Mel Gibson problem vis-a-vis Lethal Weapon 5, one of the two hugely profitable franchises Gibson made with the siblings studio (the other being Mad Max), according to Deadline: New York.
Rather than have to handle the negative publicity for the star whose baby mama, Oksana Grigorieva, has accused him of domestic abuse (a charge for which he has yet to be indicted), the studio is resetting the franchise.

Carrie Rickey

, Film Critic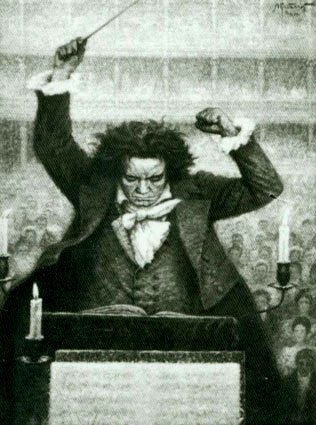 "This will make Beethoven!" boasted Walt Disney while he put the finishing touches on Fantasia (1940), with its 20-minute passage from the composer's Symphony No. 6 ("The Pastorale").
There's a stronger argument to be made that Ludwig van makes The King's Speech, the inspirational film about the pathologist who helps King George VI overcome a crippling stutter. The film builds to the thrilling sequence, scored to the second movement of Beethoven's Symphony No. 7, where the stammering sovereign delivers a powerful radio address to Britain and the Commonwealth, rallying his people to fight Fascism. It's a synergistic use of music and film -- the king's political drive harnessed to the music's rhythmic drive -- that's exhilarating and inspiring. Colin Firth is superlative as the king, but the Beethoven Symphony -- and his "Emperor" Piano Concerto used as the movie's coda, where the King and his family greet the crowd before Buckingham Palace -- are so stirring that the composer should be eligible for supporting actor honors at the Oscars.
I would go as far to say that The King's Speech, which has a jaunty score by composer Alexandre Desplat, is the best use of Beethoven in the movies, more transporting even than "The Pastorale" in Soylent Green (I don't want to spoil it, but it involves the passing of the character played by Edward G. Robinson), Symphony No. 9's "Ode to Joy" in A Clockwork Orange. (As to the Beethoven's 9th segment in the Beethoven biopic Immortal Beloved with young Ludwig floating in a pond under a starry sky, let's just say that it's the first use of Ludwig van in a music video.)
Carrie Rickey

, Film Critic
Big winner at the Golden Globes: "The Social Network," David Fincher's drama about the founding of "Facebook," takes a total of four awards, including best movie drama. "Glee," the high-school musical on TV, wins three, including best TV comedy,."The Kids Are All Right" wins two, including best movie comedy. Colin Firth wins best actor, movie drama, for "The King's Speech." Natalie Portman, best actress , movie drama for "Black Swan." Annette Bening, best actress, movie comedy for "The Kids Are All Right." Paul Giamatti Best actor, movie comedy for "Barney's Version." "The Fighter" takes supportng awards fot Christian Bale and Melissa Leo. "Glee" wins supporting honors for Jane Lynch and Chris Colfer. Al Pacino ("You Don;t Know Jack") and Claire Danes ("Temple Grandin") win best actors for television drama or miniseries. "Bpardwalk Empire" wins best TV drama and its star, Steve Buscemi, best actor in a TV drama.
Big loser, host Ricky Gervais, outrageously funny at the top of the show and just outrageous for the rest.
*******
Carrie Rickey

, Film Critic
When first I saw Andrew Garfield on screen in Robert Redford's Lions for Lambs I was impressed by how the wiry kid with the mop of hair, playing an apathetic UCLA undergraduate, more than held his own against Redford, a professor demanding social and academic commitment from the disaffected student. I asked Redford where he'd found the relative unknown and was surprised to learn Garfield was British (although born in LA)and that Redford had cast him because "he projected intelligence, something I wasn't seeing in some of the others I considered." Since then, I've been blown away by Garfield's primal performances in British indies such as Boy A, Red Riding 1974, The Imaginarium of Dr. Parnassus and Never Let Me Go. (Rent or download them, you won't be disappointed.)
Garfield, the next Spider-Man and a Golden Globe nominee for supporting actor as the de-friended Eduardo Saverin in The Social Network, is the candid subject of a profile in Details magazine. It's a terrific portrait of an actor standing at stardom's door, reluctant to cross its threshold. A snippet:
Back in the early part of Garfield's career, once the pre-audition upchucking had subsided and he'd been cast in his first movie, 2007's Lions for Lambs, his scenes consisted mostly of a rhetorical sparring match with the film's director, silver-screen eminence Robert Redford. Naturally Garfield couldn't resist the chance to lob the Sundance Kid a question. "I asked him, 'What was the happiest time in your career?' " Garfield recalls. "And he said, 'Before. Before it got easy. The struggle.'"