Archive: January, 2010

Here are some numbers. Can you guess what they represent?
64, 60, 45, 42 and 36.
They are the ages of the most-nominated actresses of this awards season. In descending order: Helen Mirren (The Last Station), Meryl Streep (Julie & Julia) Sandra Bullock (The Blind Side), Mo'Nique (Precious) and Vera Farmiga, (Up in the Air), all women of a certain age.

In October Jeff Bridges fans (and who is not?) were stoked. Looked like Hollywood's most reliable character (and character actor) would nab a supporting-actor bid for his role as the space-cadet Col. Bill Django in Men Who Stare at Goats. Then came Crazy Heart, starring Bridges as a Kris Kristofersson-lookalike country singer "Bad Blake" battling his demons and alcohol, which so far has earned the previously awardless (zero-for-four at the Oscars) actor a Golden Globe and a Screen Actor's Guild prize, making him odds-on favorite for an Academy Award. (Oscar nominations are announced next Tuesday).
As Bad, Bridges gives one of those lived-in, self-effacing, subdued (sub-Dude?) performances that draw you in because it's behavior, not acting. It's a very good performance from a behavioralist who has never been less than good. But is it his greatest. Probably not: I'd go for The Last Picture Show, Fearless or The Fabulous Baker Boys. Still, in the happy event he wins the Oscar, Bridges won't be the first to be given what I call the "Oops!" award -- recognition for a performer who should have been recognized already.
The most famous recipients of "Oops!" Oscars are Paul Newman (not for The Hustler or Hud or The Verdict, but for The Color of Money), Al Pacino (not for The Godfathers or Scarface but for, heaven help us, Scent of a Woman) and Denzel Washington (not for Malcolm X or The Hurricane, but for Training Day).

Extraordinary Measures, the true-life medical thriller out in theaters today, focuses on a heroic father seeking treatment for a fatal neurological disorder that affects two of his children. I have mixed feelings about the movie. While I was caught up in the story of the successful pharmaceutical exec who strategizes a way to develop a treatment, I was distracted by the film's assumption that if you're sick and need healthcare, it helps to have rich parents. I wasn't the only observer troubled by this.
Roger Ebert concludes his (likewise mixed) review with: "[The movie] also sidesteps the point that the U.S. health-care system makes the cure unavailable to many dying children; they are being saved in nations with universal health coverage. " And in his review, Chicago Tribune critic Michael Phillips likens Measures with another film popular in theaters now: "The movie is being sold as The Blind Side without the football, or without everything else "The Blind Side" is actually about. The one thing these two pictures have in common is their slickly packaged belief in what the well-to-do can do, if they put their money where their heart is."
The Blind Side (which I like, but have reservations about, because it does not develop Michael Oher's character) is an interesting comparison. For if the assumption of Extraordinary Measures is that U.S. healthcare works if you have rich parents, then the assumption of The Blind Side is that the educational system works if your parents can afford to send you to private school and get you tutors.

In its annual survey of the best places to make films in the United States, Moviemaker Magazine once again ranked Philadelphia among the Top 10,. Editors placed the city at #9, after a busy 2009 production schedule when Jamie Foxx, Dev Patel and Reese Witherspoon came to shoot movies with F. Gary Gray (Law Abiding Citizen), M. Night Shyamalan (The Last Airbender) and James L. Brooks (Untitled James L. Brooks Project) . (Last year, Philly ranked #15, in 2007 it was #5).
According to the magazine's editor Jennifer Wood, "The criteria for the list included a swarm of factors: Cost of living, employment opportunities, housing costs, crime rates and quality of life, state and city financial incentives, access to talent, size and closeness of the local moviemaking community, ease of shooting (i.e. amount of red tape), local production resources and movie-related vendors." Sharon Pinkenson, executive director of the Greater Philadelphia Film Office, was on her way to the Sundance Film Festival and could not be reached for comment. But Flickgrrl is reasonably sure that Pinkenson would have thanked state legislators for keeping the endangered Film Tax Credit in the state budget. That's the financial incentive that gets productions to do business here.
While fishing on the internet for other great movie speeches, I found that AmericanRhetoric.com -- on its blogroll below "Plato on Rhetoric" and "Christian Rhetoric" and "Obama Speeches" -- has a link to Great Movie Speeches, with audio from the usual suspects (passages from Gandhi, Malcolm X and Gladiator as well as dozens of unusual ones. Check it out. Your nomination for best movie speech?
Though both Mo'Nique and Jeff Bridges delivered deeply emotional speeches at the Golden Globes awards on Sunday night in accepting (respectively) supporting actress honors (for Precious) and the prize for best actor in a drama (Crazy Heart), the evening was otherwise thin on what my speech teacher called passionate rhetoric.
My thoughts naturally turned to Great Movie Speeches -- and not only Gandhi's, and Malcolm X's and Jefferson Smith's, but also: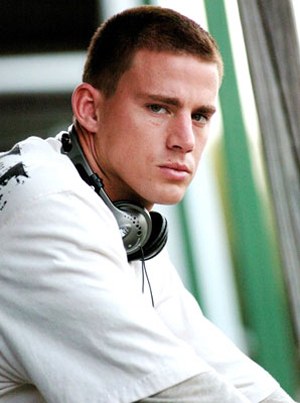 Every starlet (and strumpet) knows that the quickest way of getting attention is by making her privates public. But that attention tends to be of very short span.
Ordinarily I would not draw attention to such naked attention-grabbers. But really, in a week where Channing Tatum has shared details about the scalding of his schwanstucke and Jennifer Love Hewitt has blinged her Delta of Venus, and Warren Beatty's biographer has catalogued the actor's conquests and erotic tastes, someone has to sound like your grandmother and it may as well be Flickgrrl.
To Tatum and Hewitt and Beatty biographer Biskind I say, "Wouldn't you rather be unique than common?" And to Flickgrrl readers I ask, "They're called privates because they should be private. Agreed?" Where do we draw the line between sharing and oversharing?
I think Zoe Saldana should get supporting-actress consideration for her athletic and achingly emotional performance as Neytiri in Avatar. My husband thinks that because it wasn't "really her" onscreen, but a character simulated by "motion-capture," and enhanced by digital artists, that she shouldn't be acknowledged.
Thus I was glad to read this piece from Vanity Fair.com in which Rebecca Keegan considers why an actor's motion-capture performance (think Andy Serkis' amazing work as Gollum in the Lord of the Rings trilogy) should be recognized by the Academy.
When Saldana acted "Neytiri," she was on a stage with digital markers all over her face and body to capture her movement and facial expressions, and -- with the help of digital artists -- created a dimensional character. When Neytiri takes her bow and kills an animal to protect Jake Sully, the balletic effect was something that Balanchine might have choreographed. And when she gets angry that she has caused this death to protect this heedless human, her heartbreak and grief are close to what Falconetti achieved in the groundbreaking dramatic closeups of The Passion of Joan of Arc (1928). I think Saldana's work constitutes a performance. (And I thought that Serkis gave the most powerful performance in the LOTR trilogy.) You think?

Precious director Lee Daniels made history yesterday, becoming the first African-American filmmaker to receive a Directors Guild of America nomination. My happiness for Daniels' deserved acknowledgment is tempered by a "what the..." thought that neither Spike Lee received a DGA bid for Malcolm X nor John Singleton for Boyz N the Hood. Are there other films from African-American directors passed over by the DGA?