Archive: January, 2009
From Hollywood Boulevard to Madison Avenue, Wall Street to Main Street, the question du jour is "To 3-D or not 3-D?"

And from James Cameron to John Lassiter, the biggest names in movies are making them in the new 3-D process, better aligned and synchronized than the cumbersome 1950s gimmick that brought us 'Bwana Devil' and 'House of Wax.'

I myself am a 3-D skeptic. There have been moments in 'Bolt' and 'Journey to the Center of the Earth' that I thought 'oooh, cool,' but the illusion of depth was not sustained through the whole films. When I reported this piece, I was surprised at the enthusiasm from a lot of people I respect.
I'm not a betting woman, but if I were I'd say the only safe bet Oscar night is that Heath Ledger, who died a year ago, will take supporting-actor honors for his role as the Joker in "The Dark Knight" and become the second actor, after Peter Finch ("Network"), to receive a posthumous Academy Award.
He won't win because he died too tragically and too soon. He won't win because Oscar passed over his performance as Ennis Del Mar in "Brokeback Mountain." He will win because he delivered the finest of all the fine performances in his category (the others are Josh Brolin in "Milk," Robert Downey Jr. in "Tropic Thimder," Philip Seymour Hoffman in "Doubt" and Michael Shannon in "Revolutionary Road").
Argue my case, you demand? A superhero movie is only as good as its villain is bad, as as the Joker, Ledger created a character of such extreme malevolence and instability as we've never before seen. Jack Nicholson plays the Joker with anarchic glee; Ledger plays him as a deep well of evil, a psychotic challenge to good guys Harvey Dent (Aron Eckhardt) and Batman (Christian Bale) who can't best him because his Joker keeps changing the rules of the game. King Lear had a pathological need of being loved, the Joker has a patholgical need of being feared -- it's his lifeblood, his drug. I like what Roger Ebert says here, although I don't agree that there's anything self-pitying about Ledger's Joker.

Who wants to be a "Slumdog Millionaire"? At the nanosecond Danny Boyle's dynamic and Dickensian tale of the great expectations of a Mumbai street kid is the front-runner to sweep the Oscars. But critics, some of them in Slumdog's backyard, are sticking out their legs in efforts to trip up the film in its final laps toward the finish line. The critics are getting rabid about "Slumdog."
Most impassioned is Dennis Lim's consideration, which wonders to what extent the romance set against the backdrop of the Mumbai slums, can be considered "poverty porn."
"A white man's imagined India", complains a professor from India.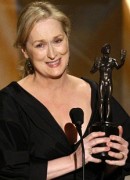 By now Mary Louise Streep -- Meryl to you -- has a mantel with almost enough trophies as a chess board has pieces. The 15-time Academy Awars nominee (a record), has two Oscars, two Emmys, six Golden Globes and, now, two Screen Actors Guild awards. Sunday night she won the mate for her first SAG statuette for her work as Sister Aloysius in "Doubt." Streep, who turns 60 this year, was dressed in street clothes and genuinely stunned to get the award that everyone predicted Kate Winslet ("Revolutionary Road") would win. (Winslet did get a supporting prize for "The Reader.") Without a speech prepared, La Streep delivered a hilarious stemwinder of about five minutes that was a high point of the awards ceremony. How gracious was she in suggesting the assembled to give Viola Davis, her co-star, "her own movie"? If there were awards for awards speeches, this would get one.
From the giddy frivolity of "Mamma Mia!" to the steely sobriety of "Doubt," Streep had quite a 2008. In the past she has incarnated writers Isak Dinesen ("Out of Africa"), Nora Ephron ("Heartburn"), Carrie Fisher ("Postcards from the Edge") and Susan Orlean ("Adaptation"), whistleblower Karen Silkwood ("Silkwood"), a thinly-veiled Anna Wintour ("The Devil Wears Prada") as well as the formidable Sophie of "Sophie's Choice" and the heroine of "The French Lieutenant's Woman." In 2009 she will be Julia Child in Ephron's "Julia and Julia" and also appear in an untitled Nancy Meyers comedy.
Streep has revealed so many facets of woman that it's hard to name a favorite performance. For her ability to plumb the tragedy in comedy and vice-versa, my favorites are "Silkwood," "Sophie," "Prada" and "Adaptation."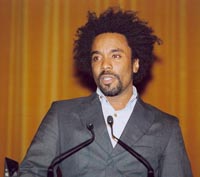 High five to Philadelphia-connected filmmaker Lee Daniels (producer of "Monster's Ball, and director of "Shadowboxer") whose new film, "Push," won both the jury prize and audience award at the Sundance Film Festival. "Push: Based on the Novel by Sapphire," follows the journey of a teenage girl, victim of parental abuse, who overcomes her past and takes charge of her future. One thing for sure about Daniels, who takes on topics such as pedophilia ("The Woodsman"), racism ("Monster's Ball"), terminal illness ("Shadowboxer") and incest: He is unflinching. Are you a Daniels fan? He's the poet of the social-problem film.

For us Steve Martin aficionados, we who laughed ourselves senseless during"All of Me," and "The Man With Two Brains," and "Dead Men Don't Wear Plaid," we who loved "Pennies from Heaven," "L.A. Story" and "Dirty Rotten Scoundrels," we who solved the puzzle that was "The Spanish Prisoner" and were struck by the eloquence of "Shopgirl" (both his novella and the movie based on it), there would seem to be three faces of Steve. One is the slapstick genius ("The Jerk," "All of Me"), the second the restless artist ("Pennies from Heaven," "Shopgirl") and the third the platinum-haired guy who tarnishes his rep by appearing in recycled schlock such as "Cheaper By the Dozen" and "The Pink Panther." Why a comic original would want to remake a character created by another comic original, Peter Sellers, is beyond me.
The good news: Martin is hosting "Saturday Night Live" on Jan. 31. The bad: His second "Panther" film opens February 6. Can you say fromage?
Your favorite Steve?

You can check here for the complete list of Academy Award nominees. But the headline news is: 13 nods for "The Curious Case of Benjamin Button," including star Brad Pitt and supporting actress Taraji P. Henson; 10 for "Slumdog Millionaire," 8 for "Milk," including lead actor Sean Penn and supporting Josh Brolin, and also 8 for "Dark Knight," led by supporting actor Heath Ledger. "Doubt" got Oscar noms for all four of its leads, an actress bid -- her 15th nomination -- for Meryl Streep and supporting for Philip Seymour Hoffman, Amy Adams and the incredible Viola Davis.
Kate Winslet was nominated for "The Reader," where her main competition are Streep and Anne Hathaway for "Rachel Getting Married." Penn's main competition is Mickey Rourke for "The Wrestler" (which also snagged a bid for supporting actress Marisa Tomei).
Pleasant surprises: Richard Jenkins received an actor bid for his stunning work in "The Visitor," likewise Melissa Leo an actress nod for hers in "Frozen River," which also won a screenplay nom for writer/director Courtney Hunt.

Robert Osborne, host of Turner Classic Movies and Oscarologist extraordinaire (he's author of "80 Years of Oscar") would NOT like to thank the members of the Academy for some of their more glaring oversights.
More than 68 years after the fact, he still can't believe that in 1940 Henry Fonda was passed over for best actor in "The Grapes of Wrath" -- "I can't think of a better screen performance in the 1940s, can you?" -- in favor of James Stewart in "The Philadelphia Story." But then, he says by phone from his New York apartment today, Jimmy Stewart's performance the prior year in "Mr. Smith Goes to Washington" was passed over in favor of Robert Donat's in "Goodbye, Mr. Chips."
Of the best-picture contenders who were robbed, Osborne believes that the most egregious year was 1951 when "An American in Paris" edged out "A Place in the Sun" and "A Streetcar Named Desire." So embarassed was "Paris" ' studio, M-G-M, says Osborne, "That it took out an advertisement showing its shamefaced mascot, Leo the Lion, confessing, "Honestly, we were just standing in the Sun waiting for a Streetcar."