Carrie Rickey

, Film Critic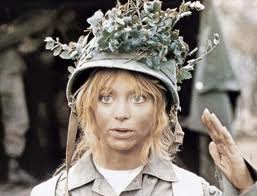 Not so very long ago, in 2007 it was, Christopher Hitchens wrote "Why Women Aren't Funny," a sourpuss essay that argued gals lack a funnybone, an assertion almost as preposterous Freud's hypothesis that women suffer from penis envy (which, as everyone knows, is a male malady). And then, last weekend "Bridesmaids" starring Kristen Wiig and Maya Rudolph, made $24 million. Women are officially funny now.
So when did they ever stop making us laugh?
I won't be defense attorney here. Or use the lame excuse of Bridesmaids' success to say that as of Friday May 13, 2011 women became funny again. Instead, I submit Exhibits A through J as proof of Why Women Are Funny:
Carrie Rickey

, Film Critic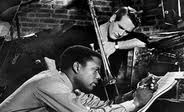 "I've been to Paris, France and Paris, Paramount. I prefer Paris, Paramount," director Ernst Lubitsch famously remarked. Though on a Hollywood backlot Lubitsch confected an irresistible, glittering City of Light (see his Trouble in Paradise and Ninotchka), ain't nothing like the real thing (see Woody Allen's "Midnight in Paris," opening June 3.)
Allen's charming comic souffle is a fantasy in the vein of Purple Rose of Cairo starring Owen Wilson as a contemporary screenwriter who wishes that he lived in Paris during the Jazz Age. He finds out what it's like to bend elbows with Josephine Baker, F. Scott Fitzgerald, Ernest Hemingway and Gertrude Stein, in an era when artists drank each other under the table or danced on top of it.
It's very much an American-in-Paris valentine to the city (as is Allen's Everyone Says I Love You, with its sequence of Goldie Hawn and Allen dancing to "I'm Through With Love" on the embankment of the Seine).
Carrie Rickey

, Film Critic
Angelina Jolie played a strident Olympias, mother of Alexander the Great, in Oliver Stone's Alexander. And now she's in talks with David Fincher (The Social Network), to portray Cleopatra, descendant of one of Alexander's generals, a child of incest who was born a goddess, became the richest woman in the world by the age of 20, was of the first woman to rule alone and was in the words of Stacy Schiff, her most recent biographer, the most famous woman we do not know.
Based on Schiff's fascinating 2010 biography that debunks accounts Roman historians who had reasons to caricature her, the Fincher version is likely to also show Cleo the strategist and intellectual, a more three-dimensional version of the queen of Egypt variously played on screen by a wanton Claudette Colbert (1934), minxlike Vivien Leigh (1945) and decadent Elizabeth Taylor (1963).
As of the nanosecond, the web is crawling with rumors that Brad Pitt, Jolie's partner and father of her children, might play Marc Antony. Pitt has previously worked with Fincher in Se7en, The Fight Club and Benjamin Button.
Carrie Rickey

, Film Critic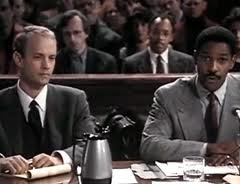 City Hall is no stranger to movie stardom. It has enjoyed featured roles in Nasty Habits, Winter Kills, Blow Out and Twelve Monkeys, among others. Come Monday, Billy Penn's Beaux-Arts perch will do double-duty as movie star and movie theater when Philadelphia, Jonathan Demme's Oscar-winning film starring Tom Hanks and Denzel Washington, will show at 5:30 pm in the Mayor's Screening Room as part of the Philadelphia Film Festival's "FilmadelphiaCLASSICS" series screening locally-shot movies at the locations where they were filmed.
For ticket information, call 267.239.2941 or filmadelphia.org.
Carrie Rickey

, Film Critic

It was an evening of musical and humanitarian inspiration Tuesday when at a Kimmel Center gala Mia Farrow accepted the Marian Anderson Award in the name of the vulnerable people of conflict-affected Africa she has advocated for both as UNICEF ambassador and private citizen.

In accepting the award from Lisa Nutter, Farrow recalled listening to Anderson recordings with her then-husband, Frank Sinatra. She told an anecdote about Anderson, who in the 1930s was not invited to play certain venues because she was African-American. Anderson travelled to Finland at the invitation of composer Jean Sibelius, who wept when he heard her. In awe of Anderson's soaring tones, he said, "My ceiling is too low for your voice."

High as it is, the Kimmel ceiling was too low to accommodate the elevating music of The Philadelphia Orchestra, soprano Angela Brown, singer Carly Simon (a Farrow chum accompanied by the Keystone Boychoir and Pennsylvania Girlchoir) and the celestial sound of jazz singer Esperanza Spalding. Spalding thanked Farrow for being the kind of person who makes a difference in the lives of kids "like me."
Carrie Rickey

, Film Critic
As every movie geek knows, Dashiell Hammett's "The Thin Man" spawned a swoony series of 1930s comedies starring William Powell and Myrna Loy as a swellegant, Martini-swilling pair of married sleuths. Apart from the fact that this property doesn't need updating, Anne Thompson reports that Johnny Depp has been cast in an update. Who should be his Nora? (Hammett based the bickering, snickering, schnockered couple on himself and girlfriend Lillian Hellman).
Lovers of the Thin Man books and movies know that the attempt to adapt it to Broadway about 20 years ago was a fiasco. Still, because it's a property where the male and female characters are in an imperfectly perfect marriage, it would be fun to watch Depp play verbal tennis with his equal.
My first thought was Emma Stone, droll comedienne of Easy A, who was born with tongue in cheek. Alas, at 22, she's less than half the age of Depp, 47. Kristen Wiig, 37, is a possibility. As are Drew Barrymore (36) and Paula Patton (35).
Carrie Rickey

, Film Critic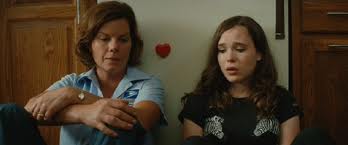 Once upon a Mother's Day, my late mom wanted me to take her to the movies. I winced. I told her, "The only two films we haven't seen are Violette, the one about the notorious French brat who poisons her parents, and Autumn Sonata, the one about the glacial Swedish concert pianist who frosts her daughter when they see each other for the first time in seven years. I don't think either is suitable to the occasion."
Without missing a beat she said, "Let's go see Violette. I wouldn't want Daddy to feel left out." Buying tickets felt like the moral equivalent of parricide. Watching it together was...complicated. For me, it was like poisoning Mom and having her, too. For Mom, it was vindication that daughters are ungrateful creatures.
We had a perfectly lovely afternoon. (What better way than spending an afternoon with a mother or daughter who will make you really grateful for the one you have?)
Carrie Rickey

, Film Critic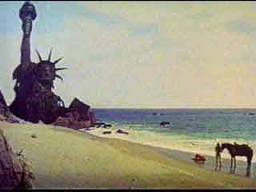 Inspired by Andy Borowitz' tweet that "Donald Trump being sworn in as president would make a great last scene in a 'Planet of the Apes' remake," Flickgrrl asks, what would be a funny/frightening kicker to this summer's reboot (Rise of the Planet of the Apes) of the 1968 blockbuster which revealed at the end that the primitive planet landed on by astronaut Charlton was actually....[spoiler alert]...Earth?
I'm thinking of Curious George as the evil siman mastermind.