Archive: May, 2013
Katheryne Lawrence
The Field Clinic welcomes Katheryne Lawrence, a third year law student concentrating in health law at the Earle Mack School of Law at Drexel University as a regular contributor over the next several months. This is her inaugural post.
If you have been following this blog, you have seen a lot of discussion about insurance exchanges. They are at the heart of Obamacare, and they will begin operating in just four months - on October 1. But if you are still unsure what they will actually do, you are not alone. Polls show that most Americans are confused about how the health reform law works.
The first thing to keep in mind is that if you presently get insurance through an employer or receive Medicare or Medicaid, the exchanges won't matter to you. In fact, you won't even be allowed to use them. You will continue to receive insurance as you have in the past.
Robert I. Field, Ph.D., J.D., M.P.H., Professor, School of Law & Drexel School of Public Health
When the Boston Red Sox play the Phillies next week, they will bring more to the series than a winning record and the promise of some exciting baseball games. The team carries a new tradition that extends beyond the playing field - it served as one of the first ambassadors for health reform.
The tradition dates to the spring of 2007. The Red Sox had just begun one of their best seasons ever and were on the way to their second World Series in four years. Boston fans were still reveling in the end, three years earlier, of the team's "curse," its 86-year championship drought.
It was the perfect time for the team to use its perennial popularity for an even greater mission. What could be greater than baseball, you may wonder. The answer is making sure that everyone has access to health care.
Robert I. Field, Ph.D., J.D., M.P.H., Professor, School of Law & Drexel School of Public Health
Angelina Jolie's announcement that she underwent a double mastectomy to protect against a genetic form of breast cancer inspired widespread surprise and admiration. With her op-ed revelation in the New York Times, she put herself forward as a role model for millions of women who face a similar dilemma. Such candor and forthrightness are rare among celebrities.
Yet, she is extremely fortunate in one respect. She has the financial resources to afford both the testing that found her heightened risk and the consequent surgery. As she noted in her op-ed, many women do not.
The test can cost more than $4,000 and the surgery many times that. Insurance coverage varies widely. Many women do not find out they have a defective gene because they cannot afford to. And if they do find out, they cannot afford protective steps like surgery.
Alexis Skoufalos
Not so easy, is it?
Childhood obesity affects 1 in every 3 children, but most parents are uncomfortable talking with their children about weight, not knowing what to say or how to say it. For many of us, questions about a child's weight are particularly difficult to answer, since feelings about overweight and obesity are often complicated by both personal issues and the conflicting messages communicated about weight through media and society at large. In fact, a WebMD/Sanford Health survey found that parents of teens find it more difficult to talk about weight with their child than talking about sex, drugs, alcohol or smoking.
The issue is compounded by the fact that there are limited resources to help parents respond to their children's questions about weight. Parents looking online or in a local library for information on how to address a child's weight would be hard pressed to come up with something that is useful or goes beyond the basic rhetoric about eating less and exercising more.
Erica Cohen
The Health Insurance Portability and Accountability Act (HIPAA) was enacted in part to protect private patient health information from disclosure to unauthorized sources. The confidentiality section of HIPAA provides severe penalties in response to most unauthorized disclosures.
However, the law provides exceptions for disclosing patient health information in certain circumstances, including "to avert serious and imminent threats to health or safety." But many health care providers are so concerned with the consequences of a HIPAA violation that they are overly cautious and refuse to disclose patient information, even when permitted by an exception.
According to a government memo describing a recent House Energy and Commerce Subcommittee on Oversight and Investigations hearing aimed at exploring "how HIPAA may interfere with patient care and public safety, either through misunderstanding, or proper application, of the law," some healthcare providers "apply HIPAA regulations overzealously" preventing family members and law enforcement from obtaining needed information.
David B. Nash, MD, MBA, Founding Dean of the Jefferson School of Population Health
In recent months, I have been witness to a genuine groundswell of interest in improving the methods in which patient safety measures are taught, across the board, in medical education.
In January, there was the release by the Association of American Medical Colleges (AAMC) of "Teaching for Quality," a report on integrating quality improvement and patient safety across the continuum of medical education. The report articulates a broad vision for health care delivery, offers a strategy to increase faculty capacity, and makes three core recommendations focused on quality improvement and patient safety. I have been on the steering committee at the AAMC since the inception of this program, therefore I can vouch that the report addresses the need to increase the capacity of the academic medical centers, teaching hospitals, and medical schools of the U.S. to meet the challenges of health care in the 21st century. These challenges are numerous and include healthcare redesign, accountable care, cost containment, and the quality of care gap.
On top of "Teaching for Quality," there was the announcement that the American Medical Association (AMA) will award $10 million in grants over five years to a group of medical schools to engage in a broad range of teaching innovations, including new ways of teaching and assessing core competencies, individualized learning plans, and a greater focus on patient safety, quality improvement and health care financing.
Robert I. Field, Ph.D., J.D., M.P.H., Professor, School of Law & Drexel School of Public Health
They tried to vote it down in Congress. Then they tried to convince the Supreme Court that it violates the Constitution. Then they tried to convince the voters to elect a president who would repeal it. Then they tired to convince Congress to repeal it.
So far, they have lost every time. But they haven't given up.
Obamacare opponents are, yet again, intensifying their efforts to block implementation of the law. This time, they are appealing to the court of public opinion.
Erica Cohen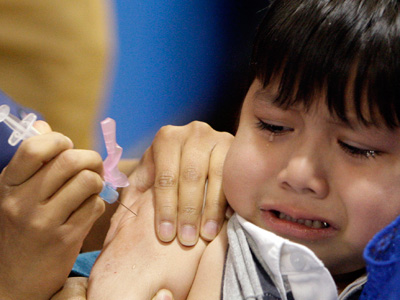 Vaccines save lives. It has been proven time and time again for diseases ranging from polio to measles to the flu. The more people a community has who are vaccinated, the healthier it is.
Those who remain unvaccinated leave themselves susceptible to serious infectious diseases. This puts everyone else at risk. That is why every state mandates that children receive vaccinations against a number of diseases, including polio and measles, as a condition of entering school.
If vaccination rates were to significantly decline, the United States could face a public health crisis.