Howard J. Peterson
Howard J. Peterson, MHA, Managing Partner of TRG Healthcare, a national healthcare consulting firm
President Obama in a speech to Congress in September 2009, stated that the central goal of the Accountable Care Act (aka Obamacare), is extending health care coverage to the "…more than 30 million American citizens who cannot get coverage." Yet here we are less than two weeks away from the end of open enrollment and the number of Americans who lack insurance is still 30 million. A 'back of the envelope' estimate helps make the point. Although the math cannot be precise, the underlying logic is difficult to refute.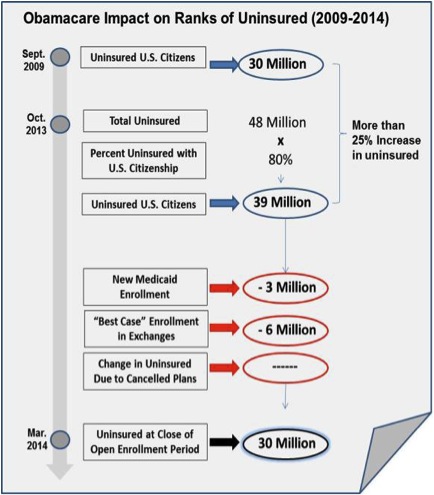 Modern Healthcare reported a total of 48 million uninsured at the beginning of the Obamacare roll-out in October 2013.
Relying on statistics from the Kaiser Family Foundation, it is reasonable to assume 80 percent of these 48 million are U.S. citizens, eligible for health care coverage under the Federal law. This indicates that the magnitude of the uninsured grew from 30 million U.S. citizens in 2009 to 39 million U.S. citizens in 2013 – a more than 25% increase in the time leading up to open enrollment.
Howard J. Peterson, MHA, Managing Partner of TRG Healthcare, a national healthcare consulting firm
The economic condition of U.S. hospitals is more tenuous than private sector businesses. Citi Healthcare Investment Banking Group reports that hospital operating margins are 2 to 3.8%. These margins are very low when compared to target profits for commercial enterprises.
Three factors will further compromise hospital financial health under Obamacare: downward pressure on payments, disproportionate growth of the Medicaid population and the impact of high deductible plans sold on the insurance exchanges.
Generally, hospitals will experience a decline in their payments for services. However, their costs will continue to rise regardless of payment levels, reducing hospital profitability as they grow.
Howard J. Peterson, MHA, Managing Partner of TRG Healthcare, a national healthcare consulting firm
We are one month into the official roll out of the Affordable Care Act (ACA). It is quickly becoming clear that the ACA has explicit policies, and the Obama Administration has unspoken intentions that will produce unforeseen consequences for our healthcare system and could have broad societal implications.
Just last week we were alerted to widespread health insurance policy cancellations despite repeated assurances by President Obama that we "could keep our health plans if we liked our health plan 'period'." We now know that there was an explicit policy to eliminate a broad number of individual health policies, three million so far and projected to be as many as 15 million. The likelihood of these cancellations was known as early as 2009. Regardless, throughout the President's second term candidacy the ACA was sold on the basis that if you liked your plan you could keep your plan.
Consider this development a bellwether for more to come. Another arena of likely impact is critical access hospitals (CAH's), those under 25 beds and located in rural areas. The Department of Health and Human Services has decided to reassess the status of these hospitals with a plan to decertify many of our CAH's for failing to fulfill certain national location requirements (i.e., they must be 35 miles from the next hospital). Nearly 75% of these hospitals, including many in Pennsylvania, could be affected, losing their enhanced Medicare payments and becoming economically unviable.